New Canadiana :: Basic Nature – Circles + Lines
---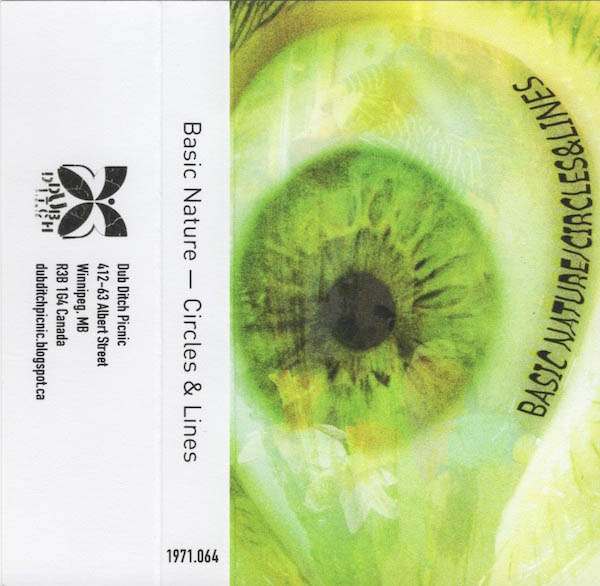 Basic Nature
Circles + Lines
Winnipeg, MB
From the infinity sunset of Claire Marie Guimond:
Sunset tonight just for me and you and all our friends equally. When it goes away were they all counting the fadeout? There are enough scenic views to go around. Everyone you know, summer love: in true love with all your friends and the scene and comfortable shoes. Everyone you know, they come to your show. & I say thank you for sharing this moment – your very own – your own tiny hearts with jigsaw edges that need the hand to guide into the big picture. Big landscape drawing of the moment forever, the little features, freeze! Let's not make any sudden movements.
Du coucher de soleil infini de Claire Marie Guimond:
(Traduit par Julie Mayer)
Ce soir, le coucher de soleil est juste pour moi et vous, de même que tous nos amis. Lorsqu'il s'en est allé, ont-ils compté le temps qu'a duré le fondu au noir? Il y a assez de vues scéniques pour ça. Tous les gens que vous connaissez se joignent dans un amour d'été : véritables amoureux de tous vos amis, de la scène et du shoegaze confortable. Tous les gens que vous connaissez, ils viennent à votre spectacle. Et je vous dis merci de partager ce moment de gloire (ce moment bien à vous) qui s'applique à vos propres petits cœurs aux bords en dents de scie, ces derniers nécessitant que la Main les guide vers la vue d'ensemble. Un grand panorama étire le moment pour toujours, les petits détails, plus un geste! Ne faisons aucun mouvement brusque.
Basic Nature – Circles and Lines
Basic Nature – Winged Creature
---
---
---