New Canadiana :: Klondike – AFRICA to MIDI
---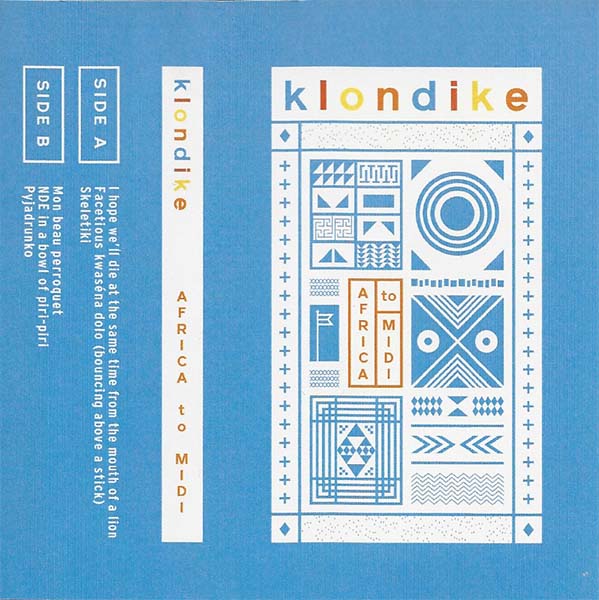 Klondike
AFRICA to MIDI
Montréal, QC
From the wide-eyed infinity of Adam Bradley:
Transmissions from a universe of fractal beings, pulsing and morphing through all colours in a cosmic dust cloud. Dancing with twitchy grace, small spheres and spinning triangles climb over one another, racing to the top of a hill of green fire. Strange caverns drip with digital stalactites, carpeted with code, inhabited by spritely sprites and wide-eyed A.I. Birds bobbing in chipper chirping mechanical harmony, singing in infinite combinations of every sound ever known.
De l'infinité aux yeux écarquillés d'Adam Bradley:
(Traduit par Jessica Grenier)
Des transmissions provenant d'un univers habité par des êtres fractals pulsant et se transformant à travers le spectre des couleurs dans un nuage de poussière cosmique. Dansant avec une grâce nerveuse, de petites sphères et des triangles tournants s'imbriquent les uns dans les autres, essayant d'arriver au sommet d'une montagne de feu vert. Des stalactites numériques se forment au-dessus du sol composé de code d'étranges cavernes, habitées par des farfadets follets et des oiseaux dotés d'intelligence artificielle, les yeux écarquillés, s'agitant au rythme d'une harmonie mécanique en chantant les combinaisons infinies de tous les sons jamais connus.
Klondike – I hope we'll die at the same time from the mouth of a lion
---
---
---