New Canadiana :: Brady Allard – Days Leave
---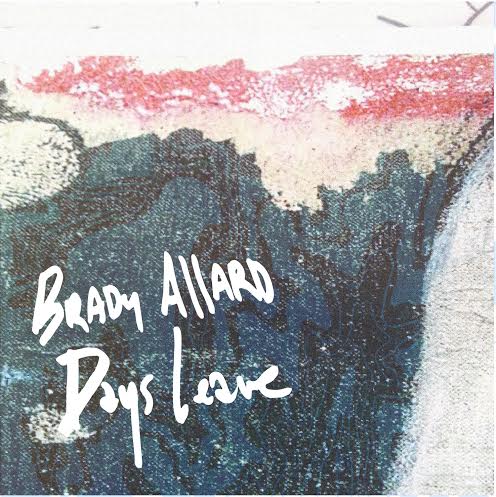 Brady Allard
Days Leave
(Self Released)
Winnipeg, MB
From the messy hairbrush of Katie Jensen:
The crowd is hushed. Wobbling guitars tilt and bend, plucking gilded strings with fingerfuls of dripping ambrosia. Wry, reverberating vocals fill the creases of every corner with winking warmth. Honeyed tones are anchored by dry, rattling snare hits and descending bass notes falling like footsteps on a staircase.
A conjurer enters the room. She is followed closely by a thousand men whose unhinged hopes rattle like the tin cans of freshly-bred honeymooners.
Her eyes soften into a false focus and melt in twin cerulean drips. She will not complete you. She will not fulfill her promises. She can only walk in a circle, clutching a broken flaxen strand, an ouroboros gnawing on its own smile.
De la brosse à cheveux embroussaillée de Katie Jensen:
(Traduit par Jessica Grenier)
La foule se tait. Des guitares vacillent en ondulant, leurs cordes dorées pincées par des doigts dégoulinant d'ambroisie. Une voix narquoise résonne sur tous les murs, remplissant leurs coins d'une chaleur intermittente. Les sons mielleux sont soutenus par les martèlements secs de la caisse claire et les notes de la basse, comme des pas pesants descendant un escalier.
Une illusionniste entre dans la pièce, suivie par un millier d'hommes dont les espoirs inarticulés crépitent comme les cannes de conserve de nouveaux mariés tout neufs.
Ses yeux s'adoucissent en fixant presque le vide, fondant en deux gouttes céruléennes. Elle ne sera pas ton autre moitié. Elle ne respectera pas ses promesses. Elle ne peut que marcher en rond, une mèche blonde à la main, un ouroboros mâchonnant son propre sourire.

Brady Allard – The Way You Move
---
---
---