How To Start Taking Concert Photographs
---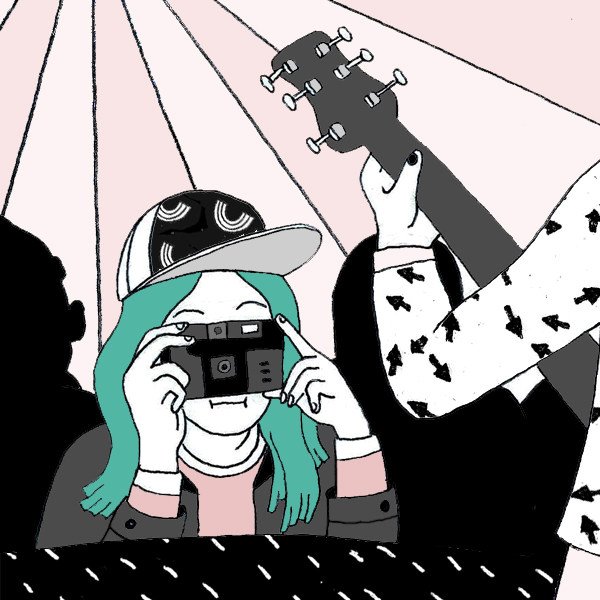 How To Start Taking Concert Photographs
Penny Clark
Toronto, ON
Cover Art: Andrea Manica
From whatever of Penny Clark:
Piece editors: Edited by Maegan, Matthew, Ariel, Magnus & Jarrett during a How To How-To workshop for CJSF 90.1 FM in Vancouver, BC.
I am an amateur photographer who knows very little about the mechanics of photography other than what I've picked up from taking a boatload of photos. But! I have had my photos published in multiple publications, including festival program guides, CITR 101.9's magazine half Discorder Magazine, and The Globe & Mail. So if you want to take some concert photos and you have no idea what you're doing with a camera, do not let that stop you! Here are some of things I've picked up while bumbling around with a camera that might help you as you get started.
I use a DSLR camera that was several models out of date when I bought it in 2009. The auto-focus doesn't work and (most of the time) neither does the flash. But that's okay! It does the trick and it produces a quality image. When I take concert photographs, my objectives are to a) Get a shot of each band where everyone looks cool and b) Annoy the artists and audience members as little as possible.
These are the steps I take in pursuit of these objectives:
1) Setting up the shot.
In low-light scenarios such as a music concert, black and white photography is everyone's friend. This prevents odd colourations from ruining what could be a good photo and makes everyone's cheekbones look better. Be my guest and take colour photos but make sure you grab a couple in b/w, just in case.
High angles are also an asset. In general, people in photos just look better from above. I don't know why. Try getting on your toes when you're taking the shot or looking for a higher place around the sides of the stage to prop yourself up. If that's not available, try holding your camera higher up but if your camera uses a viewfinder instead of a display window, be conscious of where you're aiming the lens or you'll end up taking a picture of some disembodied heads.
2) Quality control: Just because you can take a million photos doesn't mean you should. Here's why: Every time you hold up your camera, you are blocking the view of the people behind you. Flash photos are conspicuous and they can tend to disrupt the flow of the performance, for both the audience and the artists. Don't rely on good odds. With a bit of patience and set up, you can get a good photo on purpose. When you get home and have to upload and sort through one thousand pictures, you will hate yourself.
3) Be a part of the crowd. As a rule, people are generally pretty tolerant of photographers but don't push your luck. It's not worth ruining everyone else's night. Instead, try dancing into the audience to take your picture. If that's not for you (you don't dance), learn the key unobtrusive photographing stations. These are generally located toward the far sides of the stage. Take shots from both sides.
4) Share your work. Volunteer as photographer for blogs and magazines. Put pictures on your own Flickr and Tumblr but also consider putting a note asking people to ask for permission to use your photos. I used to just leave my photos up for unqualified grabs but eventually I began finding them published without even being aware that anyone had liked my photographs well enough to publish them.
Taking photos can be a really fun way to enjoy a show and it's awesome and satisfying when they turn out. So go forth and try it out!
Penny Clark is the How-To Editor at Weird Canada and plays power chords in a band called Tough Age. She has been taking amateur photos since 2008 and some of these can be found in Discorder Magazine, The Globe & Mail, the Vancouver Fringe Festival and the New Forms Festival program guides, and on the cover of the Korean Gut 7" called Lava Flow, out on Kingfisher Bluez.
Des whatever de Penny Clark:
(Traduit par Flora Hammond)
Comment prendre des photos de concert lorsque l'on débute en photographie
Je suis photographe amateure et m'y connais très peu en photographie : ce que j'ai appris, je l'ai appris en prenant photo après photo après photo. Pourtant, mon travail est apparu dans de nombreuses publications, incluant des programmes de festivals, le magazine de CITR 101.9 Discorder Magazine et The Globe & Mail. Même si tu penses ne pas savoir ce que tu fais lorsque tu tiens une caméra, photographie sans arrêt! Voici quelques astuces que j'ai apprises en caracolant de fosse en fosse, caméra en bandoulière —j'espère qu'elles encourageront tes débuts.
J'utilise toujours un appareil réflex. Il était déjà dépassé de plusieurs modèles lorsque je l'ai acheté en 2009, la mise au point automatique ne fonctionne pas (la plupart du temps), le flash non plus. Cela dit, ce n'est vraiment pas un problème, il fait quand même des photos de qualité. Quand je prends une photo lors d'un concert, mes objectifs sont, a) de saisir un cliché de chaque groupe où tous les membres sont visibles et paraîssent à leur avantage b)de déranger les artistes et le public aussi peu que possible.
Voici les étapes qui me permettent d'atteindre au mieux ces objectifs :
1) Anticipation des prises de photos. Dans les scénarios tels un concert, la lumière se fait rare, le noir & blanc est ton meilleur ami. Il évite que des couleurs étranges ruinent une bonne photo qui serait autrement réussie—et qui n'a pas l'air d'avoir un visage plus saillant et sexy en noir et blanc? N'hésite pas à prendre des photos en couleurs, mais juste au cas où, assure-toi que tu as aussi quelques clichés en noir et blanc.
Les prises de vues en hauteur sont aussi un atout. Je ne sais pas pourquoi, mais en général, un sujet apparaîtra sous son meilleur jour lorsqu'on le capture de haut. J'essaye de me dresser sur la pointe des pieds pour prendre mes photos ou bien de localiser un point élevé à proximité de la scène. Si cette option n'est pas envisageable, je tiens mon appareil en hauteur. Attention : si tu utilises un appareil avec un viseur plutôt qu'un écran d'affichage, sois attentif lorsque tu positionnes ton objectif sinon tes photos risquent de n'être qu'un nuage flou de têtes sans corps.
2) Contrôle de qualité : Ne prends jamais une tonne de photos juste parce que tu as un appareil numérique. Voici pourquoi :
À chaque fois que tu brandis ton appareil, tu bloques le champ de vision des personnes qui se trouvent derrière toi.
Utiliser le flash lorsque l'on prend une photo passe rarement inaperçu et peut interrompre la continuité de la performance, aussi bien pour le public que les artistes.
Ne compte pas trop sur la chance. Avec un peu de patience et d'installation au préalable, il est possible de planifier la prise d'une bonne photo.
Tu vas te détester lorsque tu rentres chez toi et que tu te retrouves avec un millier de photos à télécharger et trier.
3) Fonds-toi dans la foule! Les gens sont généralement très tolérants vis-à-vis des photographes, mais ne prends pas le risque de les froisser inutilement. Ça ne vaut pas la peine de gâcher la soirée de tout le monde autour de toi. Essaye plutôt de danser avec le reste du public pour prendre tes photos. Si ça n'est pas vraiment ton style et que toi et la danse ne faites pas équipe, apprend à repérer les endroits où tu peux prendre des photos sans obstruer la vue des autres spectateurs. Ils se trouvent souvent sur les côtés extrêmes de la scène : prends des photos depuis la gauche ainsi que la droite.
4) Partage ton travail. Propose-toi comme photographe bénévole pour des blogues et des magazines. Poste tes photos sur ton Flickr et Tumblr et réfléchis à la possibilité d'ajouter une légende précisant que l'on devrait demander ta permission avant d'utiliser tes photos. Dans le passé, je laissais la liberté à n'importe quelle publication d'utiliser mon travail, mais j'ai commencé à trouver mes photos publiées un peu partout, dans des publications où personne n'avait jugé utile de me prévenir.
Prendre des photos peut-être une super façon de profiter d'un concert et de les voir à nouveau une fois le moment passé est extrêmement satisfaisant. N'hésite pas et lance-toi !
Penny Clark est l'éditrice « How to » de Weird Canada et joue des power chords dans le groupe Tough Age. Elle prend des photos en amatrice depuis 2008 et l'on peut retrouver certaines d'entre elles dans Discorder Magazine, The Globe & Mail, les guides du Fringe Festival de Vancouver et du New Forms Festival et la couverture du single de Koren Gut « Lava Flow », disponible chez Kingfisher Bluez.
---
---
---