New Canadiana :: Solar Coffin – Cold Furnace
---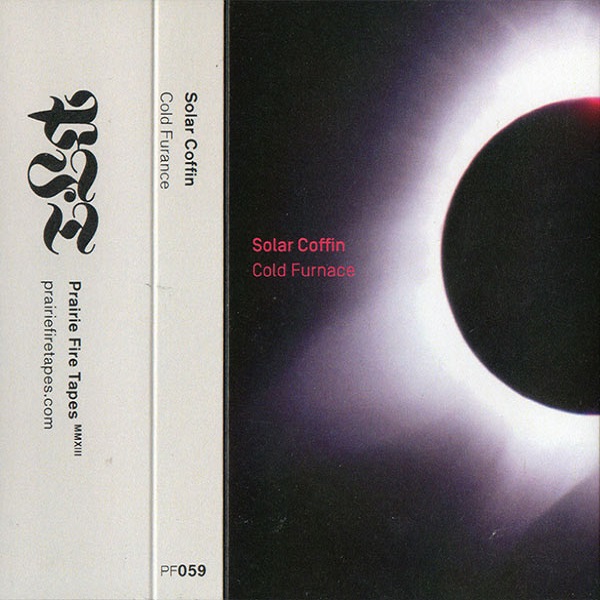 Solar Coffin
Cold Furnace
Winnipeg, MB
From the space funeral of Kevin Hainey:
You know you're going to get something worthwhile when Winnipeg's multi-disciplinary sonic experimenter Fletcher Pratt steps up to the recorder, and his latest analog synth obsessed project with Erik Larsen is no slouch on delivering the creeped out alien soundscape goods. In true Tangerine Dream and outsider electronic composition form, Solar Coffin's elongated tracks for future vehicles often begin in free-form stasis before drifting away to let some sequenced rhythms take over and provide airy beds for further wind-fuelled exploration. The duo dig deep into the moon's terrain and keep their cosmic vehicles moving along freshly oiled and analog enough that they certainly stand amongst the tallest heads and shoulders. Solar Coffin will surely uncover many bold new worlds as they continue astral travelling.
Des funérailles spatiales de Kevin Hainey:
(Traduit par le journal de rêves de Louis-Félix Pellerin)
Tu sais que tu peux t'attendre à quelque chose qui en vaut la peine quand l'expérimentateur sonique multidisciplinaire de Winnipeg Fletcher Pratt s'amène en studio. En collaboration avec Erik Larsen, son dernier projet fou du synthé-analogue ne lésine pas sur les paysages sonores étrangers troublés. Empruntant la forme de composition de Tangerine Dream et d'outsider électronique, les morceaux allongés de Solar Coffin pour les véhicules de demain commencent souvent en stase libre avant de partir à la dérive pour laisser place à des rythmes séquencés, procurant des lits aérés afin de mettre du vent dans les voiles et continuer l'exploration. Le duo s'enfonce profondément en terrain lunaire en s'assurant que ses véhicules cosmiques continuent leur périple sans manquer d'huile et qu'ils sont assez analogues, prouvant qu'ils font certainement partie des plus brillantes étoiles de notre époque. Solar Coffin continuera sûrement de découvrir de nouveaux mondes pleins d'aventures au cours de son voyage astral.

Solar Coffin – Cold Furnace Side A Pt. 1
---
---
---