Ex Libris :: Aaron Webster – Humour -vs- Hell Vol. I
---
From the zine filled bedroom of Erin War:
Zine introductions usually start out sounding something like this: "I'm sorry for getting this out so late" or "this zine took so long to finally get together." But not the one for Humor -vs- Hell. Aaron dives right in but not without warning. Writing that this was their plan the whole time, Aaron presents us with a drunk introduction that is not as incoherent and regretful as you might think.
HvsH is only thirteen pages long but it's stacked. The Greatest Giggle in History is a fable about a great cloud of gloom that threatens a population of pot smoking hippies with its negative thoughts and bad trips. Ham sandwiches are thrown into a Glowing Triangle to make it funny. Themes that seem obscure in the beginning of Aaron's pieces show themselves before the conclusion and come full circle.
The futuristic kittens, humorous ham sandwiches, and talking household appliances that populate Aaron's writing show up through a combination of a few different styles of writing and genres that are commonly found in zines, but not usually combined. Aaron keeps the reader focused and resists the temptation to wander off into convoluted imagery that no one understands but the author. It's not something you would normally find me picking up at a zine fair, but having selected it at total random, I enjoyed it. Playful, creative, and with good formatting, HvsH is a great contribution to the East Coast zine scene.
De la chambre remplie de magazines d'Erin War:
(Traduit par Jessica Grenier)
Les introductions des fanzines commencent souvent par quelque chose du genre « Désolé pour le retard de ce numéro » ou « ça a finalement été très long avant de réussir à monter ce fanzine », mais ce n'est pas le cas avec Humor -vs- Hell. Aaron plonge au cœur du sujet, mais pas sans avertissement : il nous offre une introduction enivrée qui n'est pas aussi remplie de regret et d'incohérence qu'on le pourrait penser.
HvsH ne fait que 13 pages, mais elles sont pleines à craquer. The Greatest Giggle in History est un conte à propos d'un énorme nuage de morosité qui menace une population de hippies fumeurs de pot avec des pensées négatives et des bad trips. Dans Glowing Triangle, les lancers de sandwichs au jambon le rendent divertissant. Des sujets qui semblent obscurs au début des textes choisis se dévoilent avant la fin, bouclant ainsi la boucle.
Les chatons futuristes, les sandwichs au jambon humoristiques et les électroménagers parlants qui peuplent l'écriture d'Aaron parsèment une combinaison de divers genres littéraires et styles d'écriture que l'on retrouve souvent dans les fanzines, mais rarement combinés ensemble. L'auteur sait conserver l'attention du lecteur tout en résistant à l'envie de se perdre dans des images alambiquées qu'il serait le seul à comprendre. C'est un magazine que je n'aurais pas spontanément choisi dans un salon en temps normal, mais je l'ai choisi au hasard, et j'ai bien aimé. Joyeux, créatif et avec un bon format, HvsH est une belle contribution aux fanzines de la côte est.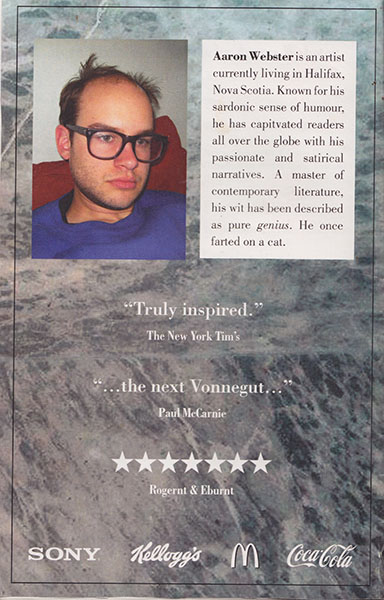 ---
---
---