New Canadiana :: Walking – Psychoplasmics
---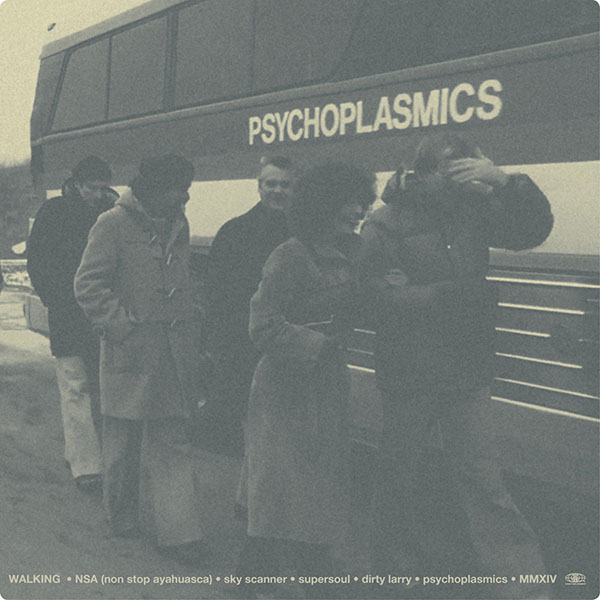 Walking
Psychoplasmics
(Self Released)
Montréal, QC
From the built up mystery of Christina Bell:
Psychoplasmics is a psychological technique wherein patients undergo treatment in the hopes that they will be freed from "troubling emotions." Obviously tuned into the deep healing power of their aural creations, Montréal duo Walking adopted the name as the title of their prolonged psyche-jam of an album. Aside from a bit of distant background chatter, the tracks are instrumental, leaving the extra smooth drum lines and guitar riffs to keep up the coolly sedated narrative of the album. Title track "Psychoplasmics" plays like it could be the soundtrack to a hazy quasi-western movie with an ultimately nonchalant feel. This album gives off the kind of kaleidoscopic positive vibes that you almost forget to notice because you're feeling so damn good.
Du mystère édifié de Christina Bell:
(Traduit par la paupière lourde de Jessica Grenier)
Psychoplasmics est le nom d'une technique utilisée lors du traitement psychologique des patients dans l'espoir de les libérer de leurs « émotions pénibles ». C'est aussi celui choisi par le duo montréalais Walking – manifestement concentré sur le pouvoir guérisseur de ses créations auditives – pour cet album de psyché-jam prolongé. Si ce n'est des murmures que l'on entend, les pistes sont instrumentales, laissant les riffs de guitare et la batterie très douce veiller à la narration sédative de l'album. La piste éponyme aurait pu être la trame sonore d'un quasi-western brumeux penchant vers la nonchalance. Cet album émet un genre d'ondes positives kaléidoscopiques qu'on ne remarque presque pas parce qu'on se sent juste trop bien.

Walking – NSA (non stop ayahuasca)
---
---
---