Far Shores // Inferred Views : Phil Osborne
---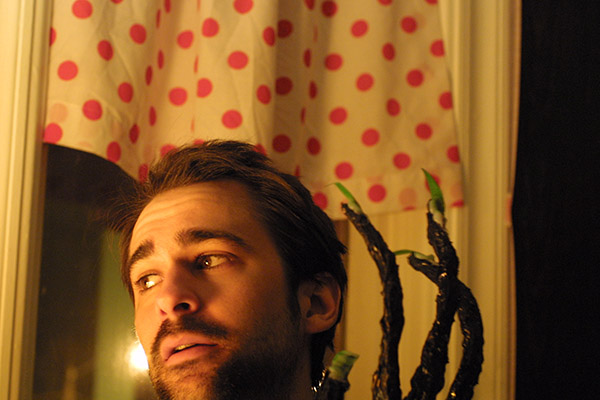 Phil Osborne
Artist, Animator, Sculptor, Monster Maker
Ottawa, ON
From the pinpointed jazz of Julia Dickens:
Local Ottawa (by way of Victoria) monster-maker Phil Osborne has been oozing and sliming his way into our hearts with his tripped out show posters, psychedelic band projections, and lysergic hand drawn and clay animations. Included in such is the video for "Cemetery House" by Montreal-via-Victoria band/rat pack, Babysitter. Phil also has been known for creating his own brand of DIY capitalism, from the Monster Party Art Gallery in Victoria, to Osborne Oddities, his weekend-only living-room cabinet of curiosities. Phil closed his store somewhat recently, but his wares are still available to purchase on Etsy and brand spanking new Ottawa record shoppe, Gabba Hey. He recently participated in a two month group exhibition at Saw Gallery.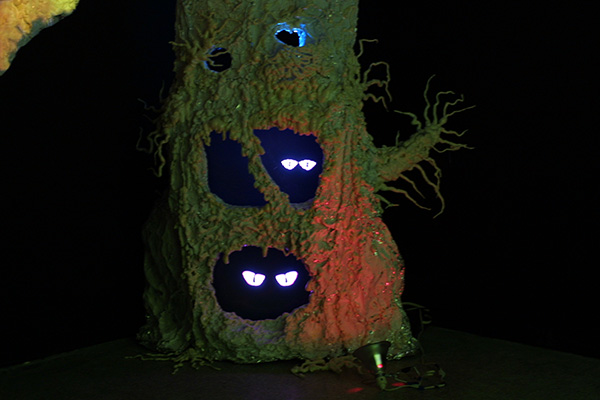 If you could pinpoint a favourite project – even if it's not the thing you're most well known for, but were really happy about or jazzed on – does anything stand out?
The thing I've done that meant the most to me, and I've done it twice in Victoria, [was the] Monster Party Art Gallery. That was something that I had planned when I was 18-19, when I got into the idea of decorating my room, and possibly other places in the future, but I didn't know where or how, or how a gallery worked, or what a gallery was. I was just like "I'm gonna sketch these out," these ideas for kinda Peewee's Playhouse kids show environments, kinda like wacky horror, colourful, 60s – 80s interactive puppet environments. Fast forward 10 years later, when I'm living in Victoria, I was like "fuck that, I'm just gonna do it now." I had this studio in downtown Victoria surrounded by the acupuncture and yoga studios. It was a pretty big space, and I was living there but like you couldn't live there, it was above a nightclub. It was really bad; horrible working conditions, but I was like: "I have to do that idea I've always had." So I quit my job and got a business licence and just opened my own gallery. I had, by then, amassed enough of my own work to have a store. I had the pot heads, the screen prints, and the puppets, videos, it was all there.
People would come in and there would be a puppet moving, like, freaking people out, or a little mouse in a mouse hole, peeking, like, I'd be hidden behind the wall, you know… people would come in and they'd be like AH! [Phil makes the sound of a surprised or scared person] That was an idea that meant a lot to me… [to say] "fuck work, I'm just gonna do this", try to get into the business side of it for the first time. That was the beginning of me trying to sell my art. Before that I didn't even have an Etsy store. It started with that… and then I moved it to a record store, upstairs, Talk's Cheap Records.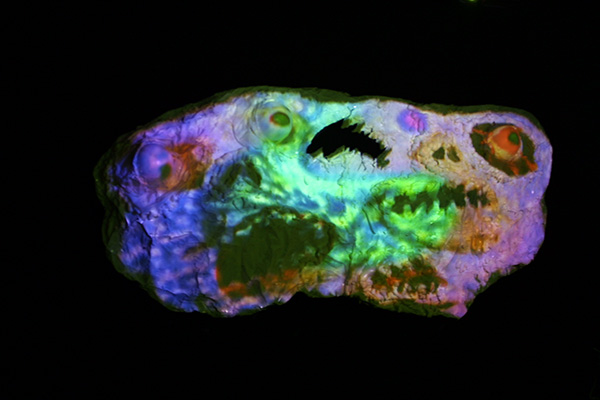 Why don't you tell me about your recent project at SAW Gallery?
Jason [from SAW Gallery] asked me to do the show. I had done a fundraiser there, and he's familiar with my stuff from the Saw Youth Program. We didn't know each other back then. I would have never thought we would be collaborating so closely together. We're really into the same shit, like, he's helping me out, he's sending me to Sudbury to another—
What's going on in Sudbury?
I don't know the details, it's pretty, kinda sketchy. [Last year] they put all the artists in cages? They do this every year. One time they put them in this shitty, seedy hotel, and now it's an abandoned, decrepit mall…the Galerie de Nouvel Ontario asked like 15 to 20 different Canadian galleries to send them a different artist of their choice, so because I just did that show, SAW Gallery sent me because they like what I do. It's mostly geared towards installation it sounds like? We're going to be in vacant spaces that used to be businesses, and there are still businesses in there apparently, but its mostly falling apart, and we're going to, uh, do our thing in there, like share some spaces or each get a space or something like that. And then people come in and shop and see what you're doing and there's going to be an opening. But I don't think it runs for long. And there's going to be bands playing for the opening night.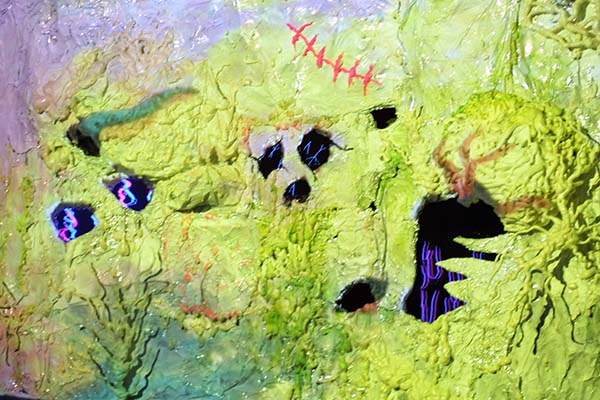 Ok, back to talking about the show at Saw. Can you describe the project to me?
So, it was inspired by the David Hoffos show, if you know him. He had a show at the National Gallery, I went to see it twice. If it was there now I would go every day. One of his pieces was a projection on a piece of cardboard of a woman drinking a coffee in the dark. It looks like a real person, it looks 3D but then you get close and then realize that it's a projection on layers of cardboard. That gave me some ideas, because I'm really interested in trying to make, this is like a theme in some of my art, is trying to make the cartoon world a real thing, or a hallucination or something that's fantasy or science fiction, real. I was inspired by that, so what I did was… it's three projectors, in the dark, three different walls… it's so visual it's hard to describe it… You'll see it move, because it's animation. Ok, there' s a few different pieces. There's a big monster: there's a tree with holes in it, cartoon eyes that look left and right and pop in and out of the darkness of the tree, this eerie kind of halloween-y tree. And then there's two planets, just floating there, and then there's a big wall of… it's like an organic horror wall with holes in it and a tentacle that comes out with claymation bugs going inside the holes. That's [an] animation projection on this kind of zitty, bumpy, foam structure. It looks like really intense acne, tumours, veins, really organic. Everything is made out of foam, and there are monitors inside the structures showing animation. So not only is it animation projected on the structure, but the structure itself has animation inside of it that doesn't interfere. The animation that's projecting isn't interfering with what's on the monitor because it's light itself. So the monster, for example, is a random monster with random disconnected monster mouths and eyes that are just kind of freaking out kind of like a kids drawing. Inside there's a hole in the middle of the head and there're these cracks. I put a monitor inside that, in that hole and there's an animated cartoon-y brain kinda freaking out. All the animations are on a three minute loop. Sometimes they get darker, the colour gets darker and it changes the mood of the room and everything appears brighter, like the planets become lighter. The planets look like a cartoon-y version of Mars, with volcanos erupting, zits and bubbles forming, everything is changing colour, all the pieces change colour, psychedelic kinda like the stuff I do at rock shows, with an overhead projector and food colouring and olive oil.
There's no concept, they're not even meant to be in the same room. It's kind of just like experiments of this kind of medium that's new to me that [I realized] I could do a lot with .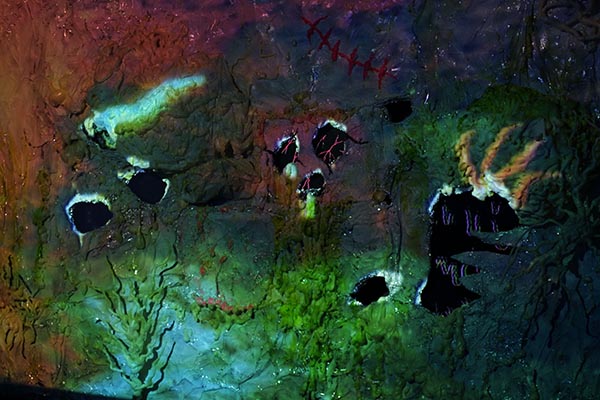 You seem like a pretty process-oriented person: everything is part of or sort of exists in the same world. It feels like your projects kind of bleed into one another. Working on one project will lead into a film you want to make later on, that sort of thing. That's the impression that I get.
One medium enters another. How it came about was because Jason was like: "you should do an installation," because nobody else was going to do an installation. He was like: "go nuts… projectors, monitors, we'll get it for you." So it was based on what he said, what he randomly threw at me. I was like: "oh yeah, that thing I wanted to do!" or "that would be a good way [to do it], with projections." I like the idea of the puppets and scaring people, but I'm not going to be there for two months. So how do I do that? Well, with video. So with the monitors and projectors. Jason said he's seen a lot of shows, but that he couldn't compare [my installation] to anything else, that it was essentially original. That he's seen a lot of installations with projections, but he's never seen one that combined both like that. So there's something there. And that's what I want to do with the Sudbury thing … to make it 3D. That's the thing [with] 3D: if you're really far away, you're like: "is that alive?" Like, it's in the dark and… it's 3D! Again, it fits with the idea of trying to make the cartoon world a real thing. And also my disappointment with all the drugs I did that never made me hallucinate. Like, I wanna hallucinate with art and I want to make other people hallucinate together, they can all see the same thing.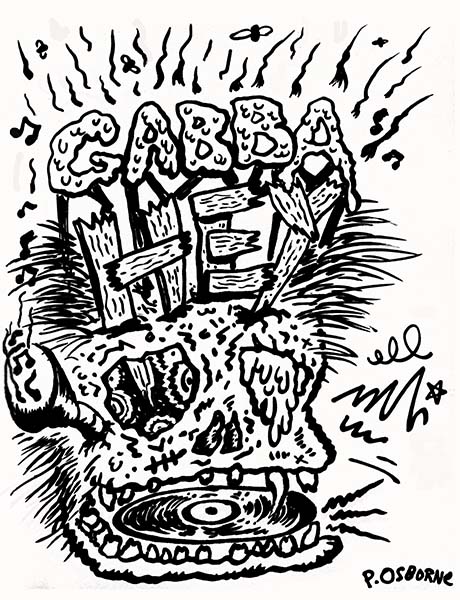 Are you doing any music videos for anyone in the near future?
I'm finishing two now, one for Street Meat, and that's totally improv, basically it's like a mixture of a bunch of faces, cartoon-y faces, made up of clay animation parts and line animation parts. Moving, stop motion kinda objects, like a pair of scissors becoming eyes, a face that's constantly changing, faces made out of many different things. And then another thing for a friend in Victoria, Slim Sandy, who is a rockabilly guy. That one [is all ready].
Alright! Any other projects you want to mention that are coming up? What's the five year plan? Will you ever get a website?
I will have a website this year I hope, but for now I'm on people's blogs like this one right now and Youtube and Etsy and Ebay and Facebook. I will always be making toys and animations, but I hope to make at least one short film involving weird alien puppets.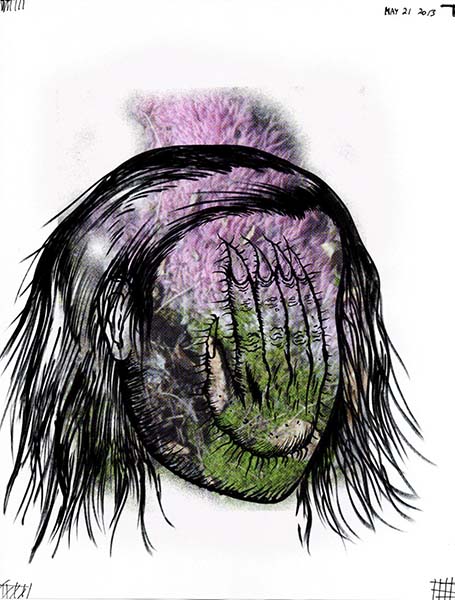 De la surexcitation ponctuelle de Julia Dickens:
(Traduit par Jessica Grenier)
Le manufacturier de monstres originaire de Victoria, Phil Osborne, a su s'immiscer dans les cœurs à Ottawa avec ses affiches de spectacle complètement démentes, ses projections musicales psychédéliques et ses animations lysergiques en plasticine ou faites à la main (comme le vidéo de « Cemetery House » fait pour Babysitter, la meute de Montréal). Phil est aussi connu comme le créateur de sa propre marque capitaliste à la DIY, de la Monster Party Art Gallery à Victoria en passant par Osborne Oddities, son salon qui devient un cabinet de curiosités les fins de semaine. Phil a récemment fermé sa boutique, mais on peut toujours acheter ses trucs sur Etsy et dans un tout nouveau magasin de disques à Ottawa, Gabba Hey. Dernièrement, il a participé à une exposition de groupe qui a duré deux mois à la Galerie Saw.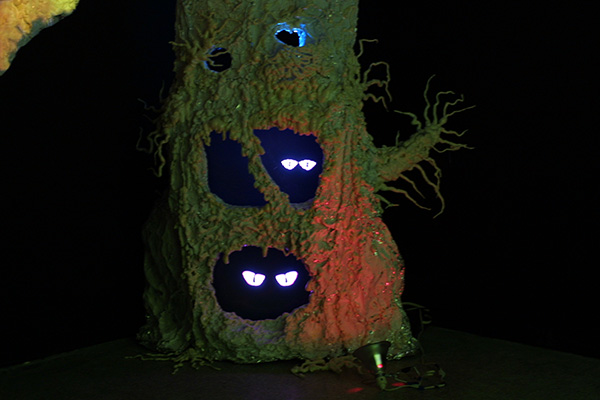 Si tu pouvais nommer un projet préféré – qui t'a emballé ou que tu es vraiment content d'avoir fait, même si ce n'est pas un de tes plus connus – qu'est-ce que ce serait?
Un que j'ai fait et qui me tenait vraiment à cœur (et je l'ai fait deux fois à Victoria) [c'était le] Monster Party Art Gallery. C'était quelque chose que j'avais planifié quand j'avais 18-19 ans : l'idée m'était venue de décorer ma chambre, et peut-être éventuellement d'autres endroits, mais je ne savais pas où ni comment, ni même ce que c'était une galerie d'art ou comment ça marchait. J'étais juste « Je vais faire ces sketchs », des idées un peu dans le style de l'émission pour enfants Peewee's Playhouse, un peu comme de l'horreur farfelue et colorée, avec des marionnettes interactives des années 60-80. Dix ans après, j'habitais à Victoria et je me suis dit « fuck that, je vais le faire maintenant ». J'avais un studio au centre-ville, entouré de locaux de yoga et d'acupuncture. C'était un endroit assez grand, j'habitais là, mais je n'avais pas vraiment le droit, c'était en haut d'un bar. C'était vraiment moche, les conditions de travail étaient horribles, mais je me disais : « Il faut que je fasse cette idée que j'ai toujours eu. » Alors j'ai démissionné, j'ai obtenu un permis d'exploitation et j'ai ouvert ma propre galerie d'art. À ce moment, j'avais accumulé assez de mes œuvres pour avoir un magasin. J'avais les pots en forme de têtes, les sérigraphies, les marionnettes, les vidéos… tout était là.
Chaque fois que quelqu'un rentrait, une marionnette s'activait et leur faisant peur, ou une petite souris dans son trou sortait la tête, ou j'étais caché derrière un mur, tu vois le genre… Donc les gens rentraient et ils étaient comme AH! [Phil imite un cri surpris ou effrayé] C'était une idée qui me tenait à cœur… [de juste dire] « fuck le travail, je vais faire ça », d'essayer de voir le côté entrepreneurial pour la première fois. C'était les débuts de la vente de mon art, avant même que j'aie une boutique Etsy. C'est comme ça que ça a commencé, et après je l'ai déplacé dans un magasin de disques, Talk's Cheap Records.
Parle-moi de ton dernier projet à la Galerie SAW.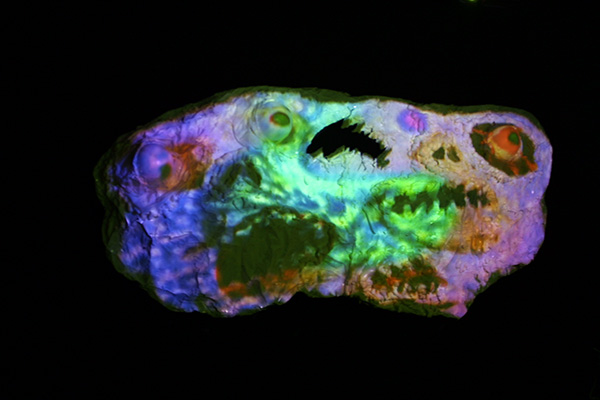 Jason [de la Galerie SAW] m'a demandé de faire l'exposition. J'y avais déjà fait une collecte de fonds, et il connait mon travail par le programme jeunesse de SAW. On ne se connaissait pas à l'époque. Jamais je n'aurais pensé qu'on en viendrait à collaborer autant. On aime le même genre de trucs, et puis il m'aide, comme il va m'envoyer à Sudbury pour…
Qu'est-ce qui se passe à Sudbury?
Je ne sais pas les détails, c'est quand même un peu louche. [L'an passé], ils ont mis les artistes dans… des cages? Ils font ça chaque année. Une fois, ils les ont mis dans un hôtel miteux et là, c'est un centre commercial abandonné… La Galerie de Nouvel Ontario a demandé à 15-20 galeries d'art canadiennes de leur envoyer différents noms d'artistes, alors comme je venais juste de faire cette exposition, la Galerie SAW a envoyé le mien vu qu'ils aiment ce que je fais. J'ai entendu que ça s'enlignait vers des installations..? On va être dans d'anciens commerces vides – il parait qu'il y en a qui marchent encore, mais c'est en train de tomber en ruine – et on va, eh, faire nos trucs là, comme se séparer les espaces entre nous ou quelque chose du genre. Et les gens vont venir magasiner et ils vont voir ce qu'on fait – mais je ne pense pas que ça va durer longtemps. Il va y avoir un vernissage et des groupes vont jouer pendant la soirée.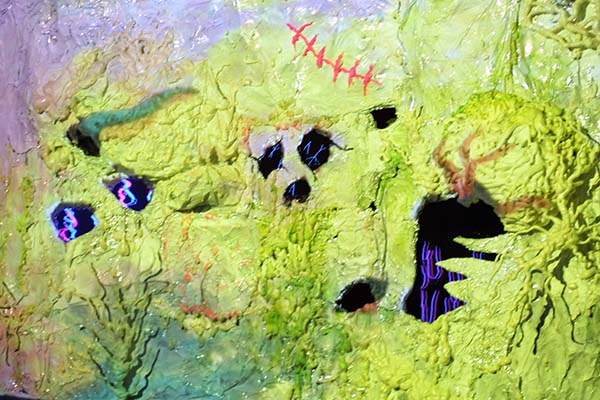 OK, si on revient sur l'exposition à SAW, est-ce que tu peux me décrire le projet?
J'ai été inspiré par l'installation que David Hoffos avait faite à la National Gallery, je ne sais pas si tu le connais. J'étais allée la voir deux fois. Si elle y était encore, j'irais la voir tous les jours. Une des pièces était la projection d'une image – une femme buvant du café dans le noir – sur un morceau de carton. On aurait dit que c'était une vraie personne, en 3D, mais en s'approchant, on voyait que c'était une projection sur des couches de carton. Ça m'a donné des idées… parce que c'est un thème dans une partie de mon art. Je voulais vraiment essayer de faire… de rendre le monde du dessin animé comme s'il était réel, ou une hallucination ou quelque chose comme du fantastique ou de la science-fiction. Ça m'a inspiré, alors ce que j'ai fait c'est… c'est trois projecteurs sur trois murs différents, dans le noir… C'est tellement visuel que c'est difficile à décrire… On va le voir bouger, parce que c'est animé. OK : il y a plusieurs pièces différentes. Il y a un gros monstre, il y a un arbre inquiétant avec des trous, comme on en voit à l'Halloween, et des yeux en dessin animé qui regardent à gauche et à droite en apparaissant et disparaissant dans les trous noirs. Et il y a deux planètes qui font juste flotter, et il y a un grand mur de… c'est comme un mur d'horreur organique avec des trous, et il y a un tentacule qui sort avec des insectes en plasticine qui rentrent dans les trous. C'est une projection de dessin animé faite sur une structure en mousse bossée, comme si elle était couverte d'acné vraiment intense, de tumeurs, de veines… Tout est fait de mousse, et il y a des moniteurs dans les structures qui montrent des animations. Donc en plus d'être projetée sur la structure, l'animation est aussi montrée dans la structure, mais ça ne fait pas d'interférence. Celle projetée n'interfère pas avec ce qui est sur le moniteur parce que c'est de la lumière. Alors, le monstre, par exemple, c'est un monstre générique avec des bouches et des yeux d'autres monstres aléatoires, faits un peu comme un dessin d'enfant, qui paniquent. Au milieu de la tête, il y a un trou et des craques. Il y a un moniteur à l'intérieur avec un dessin animé de cerveau en train de s'agiter. Toutes les animations font une boucle de trois minutes : parfois, elles deviennent plus sombres, les couleurs sont plus foncées et ça change l'ambiance de la pièce, ou tout devient plus clair, comme les planètes. Les planètes sont comme une version dessin animé de Mars – avec des volcans en éruption, des boutons et des bulles qui se forment – toutes les pièces changent de couleur, c'est psychédélique, un peu comme ce que je fais pour les spectacles rock avec un rétroprojecteur, de l'huile d'olive et du colorant alimentaire.
Il n'y a pas de concept, ils n'ont même pas été faits pour être dans la même pièce. C'est plus une expérience avec ce genre de médium qui est nouveau pour moi, et [que j'ai réalisé] qui me permettrait de faire beaucoup de choses.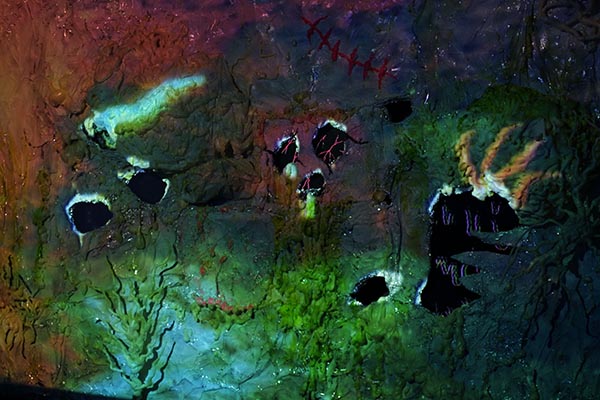 On dirait que tu es une personne axée sur le processus : tout fait partie du même monde. C'est comme si tes projets se fondaient un peu les uns dans les autres. Par exemple, travailler sur un projet va mener à un film que tu veux faire plus tard. C'est l'impression que ça me donne.
Les médiums se rejoignent. C'est arrivé parce que Jason était comme « tu devrais faire une installation », vu que personne d'autre n'allait en faire. Il disait « ce que tu veux, des projecteurs, des moniteurs, on va te l'avoir ». Alors c'était basé sur ce qu'il disait, ce qu'il me lançait au hasard. J'étais comme « oh ouais, ce truc que je voulais faire! » ou « ça serait une bonne façon [de faire telle chose], avec projections ». J'aime l'idée des marionnettes et de faire peur aux gens, mais je ne serai pas sur place pendant les deux mois, alors comment je fais ça? Eh bien, avec une vidéo, alors avec des moniteurs et des projecteurs. Jason a dit qu'il avait vu beaucoup d'installations et qu'il ne pouvait comparer [mon installation] à rien d'autre, que c'était vraiment original. Il a vu plein d'installations avec des projections, mais jamais une qui les combinait comme ça. Donc, il y a quelque chose là-dedans. Et c'est ce que je veux faire avec le truc à Sudbury… le faire en 3 D. C'est ce qui est bien avec la 3D : si on est vraiment loin, on se dit « est-ce que c'est réel? » Et là, c'est dans le noir… et c'est 3D! Encore une fois, ça va avec l'idée de rendre le monde animé réel. Et aussi ma déception de toutes les drogues que j'ai essayées qui ne m'ont jamais fait halluciner. Je veux halluciner avec l'art, et je veux faire halluciner les gens, et qu'ils voient la même chose tous ensemble.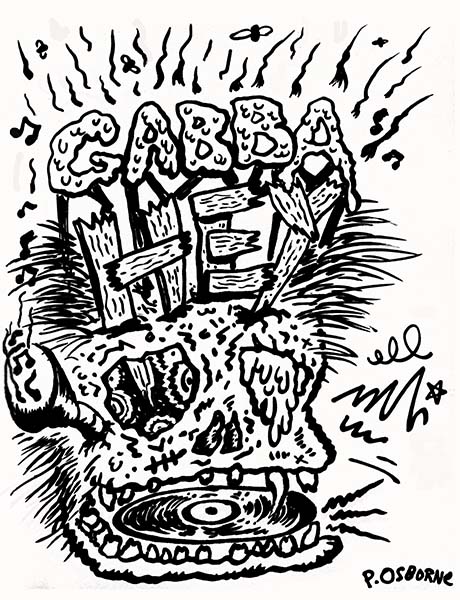 Est-ce que tu vas faire des vidéos pour des groupes de musique dans un futur proche?
Je suis en train d'en terminer deux, un pour Street Meat qui est totalement improvisé, en gros c'est un mélange de plein de visages en dessin animé, avec des parties en plasticine ou en ligne. Des objets qui bougent, image par image, comme une paire de ciseaux qui devient des yeux, un visage qui change constamment ou qui est fait par plein de choses différentes. L'autre est pour un ami à Victoria, Slim Sandy, qui est du genre rockabilly. Celui-là [est en ligne].
OK! Est-ce qu'il y a d'autres projets qui arrivent dont tu voudrais parler? Le plan des cinq ans? Enfin un site web?
J'espère avoir un site web cette année, mais pour l'instant je suis sur YouTube, Etsy, Ebay, Facebook et sur des blogues, comme celui-ci. Je vais toujours faire des jouets et des animations, mais j'espère faire au moins un film avec des marionnettes d'extraterrestres bizarres.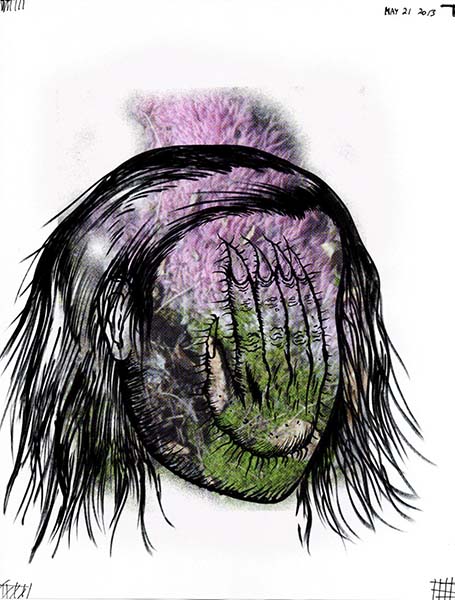 ---
---
---