New Canadiana :: Sean Nicholas Savage – Bermuda Waterfall
---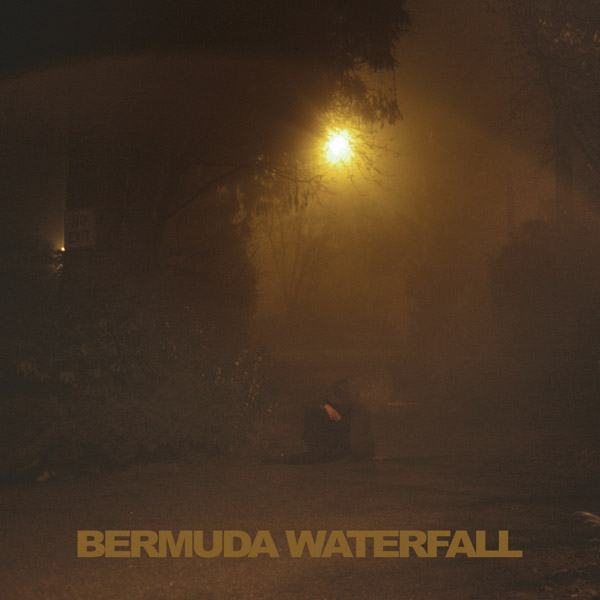 Sean Nicholas Savage
Bermuda Waterfall
Montréal, QC
From the graveyard tan of Michael Deane:
It's been a year, so let's talk about Sean again. He's back as the humorous, sad romantic; the anything-goes poet-pop motivator of the highest level; a man lost and found and still moving on. From pop to post-funk to hip-moving chanteur to drunk philosopher to wise and savage sage. He's back. And though we all know the best way to experience this is just to sit with it and listen for a week straight, here's the play-by-play in case you need further convincing.
"Boogie Nights" kicks things off with a Moroccan air, full of Flamenco guitar plucking while battling falsettos create the mood of tanning in a graveyard while some emaciated crooning ghouls try to obscure your sun. Want vocals? Tough luck, you gotta wait for "Naturally", kicking in with no drums, spare percussion, and wavering quivering quavering synths and guitars pouring out all over each other while King Sean sadly sings, then powerfully swingingly utters the downer but hopeful melody that is, by now, a staple in Seannie's sound stable. The ascending guitar riff that defines the pre-chorus almost steals the show from Sean's perfectly annunciated "Naturally" chorus.
Next comes "The Rat", which sounds nothing like "The Rat", and is instead full of pre-programmed synth beats, bordering on corny and still pushing it all forward – you know, it's Sean! Brilliant vocal melodies take over, while the stiff pre-programmed synths sound like '80s Cohen in a discotheque in Tangiers. Things burn out soon after ignited. Strange ways. Then he's back with this gem I've been waiting 18 months to hear a proper recording of: "Heartless" – nice guitars, stilted Duran Duran electro drums, pulsing programmed bass, but none of that really matters, because the vocals are what count on this (and most everything Savage). Lyrics are on point, vocal progression is beautiful, timeless and confusing, back-ups are sweet and thick and touching. Jungle metaphors run deep and obscure. Don't ever expect anything less.
"Empire" is up next, with the smoothest and most no-holds-barred '80s cornball-sounding verse yet, in a good way. This just makes the bed for the chorus to tear up. The pre-chorus has some THOMAS flavour, then the vocal ascension comes to a crushing conclusion – Empire of my soul, right on – with enough whoo-ooos and off-kilter vocal magnificence that will make you feel those real things.
Then we hit the midway point, breaking it up with "Hangin' On" – which is good, and actually kind of sounds like ex-Edmonton compatriot, Mac DeMarco. Then things return to perfect form with the title track, getting all minor key, while still owning this laid back lounging soft-rock. Take out Cohen's '80s brooding rumble, keep the form and add more hooks, and you've got "Darkness." "Hands Dance" takes a very hard left, sounding almost happy and optimistic, with some Muppets on the back-up chorus. It's a land that Savage has not yet ventured into, and makes this reviewer even more excited for what this man still has to write and record.
"Please Set Me Free" is a return to form – '80s drum triggers, references to Chinatown, asking to be set free, awesome and off-putting back-up vocals on the chorus. A sweet and slow burn, with rain sound effects, and talk of ordering rice. The boy knows and the boy knows it. Next up is a song that sounds like "Benny and The Jets" , but instead of being confident and anthemic, it takes a step back, gets very self-conscious and critical, and destroys the form with vulnerability. Storytelling at its most Savage. Finishing things off, there is a breezy '80s Lover's Rock R&B number, bringing in some early UB40 vibes, and Sean sounds happy for maybe the only time on the whole album. Sean is a natural national treasure. He is as exciting as it gets, and I can't wait for more.
Du bronzage funèbre de Michael Deane:
(Traduit par le teint macabre de Louis-Félix Pellerin)
Ça fait un an, alors revenons donc sur Sean. Il reprend son rôle de sentimental humoristique, mais triste; un motivateur poète pop du plus haut calibre pour qui tous les moyens sont bons; un homme perdu, mais retrouvé qui continue sa lancée. Après un long parcours, passant de chanteur polyvalent, que ce soit de pop, de post-punk ou simplement de musique qui fait déhancher, à philosophe poivrot, puis à sage sauvage, il est de retour. Et même si on sait déjà que la meilleure façon de ressentir son oeuvre est de se canter et de l'écouter sans arrêt pendant une semaine, voici une récapitulation morceau par morceau au cas où vous n'êtes pas encore convaincus.
« Boogie Nights » débute avec un air marocain plein de pincements de guitare style flamenco accompagnés de faussets luttant les uns contre les autres, créant une ambiance de bain de soleil au cimetière en compagnie de goules émaciées qui fredonnent et bloquent vos rayons de lumière. Vous voulez des paroles? Pas de chance – va falloir attendre « Naturally » qui commence sans batterie, percussion de réserve, le tremblotement des synthés et des guitares s'enterrant mutuellement, tandis que King Sean chante tristement avant de proférer avec une force virevoltante cette mélodie triste, mais pleine d'espoir qui est maintenant une partie fondamentale de son oeuvre. Le riff de guitare montant qui définit le préchoeur vole presque la vedette aux paroles parfaitement chantées de Seannie dans « Naturally ».
S'ensuit « The Rat », qui diffère totalement d'un morceau du même nom et qui déborde plutôt de beats synthés préprogrammés qui frôlent le cucul, mais qui arrivent quand même à faire bouger les choses – du Sean tout craché, quoi! De superbes mélodies vocales prennent le dessus alors que les synthés lourds sonnent comme du Cohen des années 80 jouant dans une discothèque à Tanger. Les choses s'éteignent peu après avoir été allumées. Étranges façons. Puis, après 18 mois à attendre un vrai enregistrement, il me revient avec ce petit bijou : « Heartless »; de la bonne guitare, du Duran Duran guindé, de la batterie électrique, de la basse bien rythmée; mais rien de ça n'est vraiment important parce que les paroles sont ce qui compte ici (et Savage encore plus). Elles sont à point; la progression vocale magnifique, éternelle et laissant perplexe; la chorale, elle, est douce, dense et touchante. Les métaphores sur la jungle sont ancrées profondément en plus d'être assez obscures. Ne vous attendez jamais à rien de moins.
L'album enchaîne avec « Empire » et ses doux couplets qui vont chercher le plus cucul (dans le bon sens du terme) des années 80. Cela n'est qu'une préparation pour la chorale, car ça va déchirer! On peut ressentir du THOMAS dans la préchorale avant que l'ascension vocale n'atteigne une conclusion écrasante : Empire of my soul, oh ouais. Cette toune est remplie de wouhous et d'une magnificence vocale un peu tordue qui va vous faire ressentir les vraies choses.
On arrive à la moitié de l'album avec « Hangin' On », qui en plus d'être bien, sonne un peu comme Mac DeMarco, ancien camarade d'Edmonton. C'est alors que la chanson éponyme fait son entrée, ramenant le tout à sa forme parfaite, tombant en mode mineur tout en conservant un son soft-rock bien décontracté. Abandonnez les grondements maussades des années 80 de Cohen, gardez la forme, ajoutez plus de crochets, et vous voilà avec « Darkness ». « Hands Dance » vous prend à revers avec son ton optimiste et joyeux et sa chorale composée de Muppets. C'est un territoire encore inconnu pour Savage, ce qui ne fait qu'attiser mon anticipation pour les oeuvres futures de cet homme.
« Please Set Me Free » effectue un retour aux formes avec des déclencheurs de batterie des années 80, des références à Chinatown, une soif de liberté ainsi qu'une chorale qui est à la fois époustouflante et perturbante. Une combustion douce et lente accompagnée du tambourinement de la pluie et d'intentions de commander du riz. Il s'y connaît, le gars et il. Le prochain morceau est similaire à « Benny and The Jets », mais au lieu d'évoquer la confiance et d'avoir un air hymnesque, il prend du recul, devient très timide et critique de lui-même et détruit la forme avec vulnérabilité. Du récit à son plus Sa(u)vage. Le tout se termine avec une performance R&B enjouée de Lover's Rock des années 80 qui amène une ambiance qui rappelle UB40 à ses premiers jours. C'est peut-être le seul moment dans tout l'album où Sean semble joyeux. Il est un véritable trésor national. Il n'y a pas plus excitant, et je suis impatient d'entendre ce qui va suivre.

Sean Nicholas Savage – Heartless

Sean Nicholas Savage – Darkness
---
---
---