New Canadiana :: Fleshtone Aura // Dylan Nyoukis – Split //// Fleshtone Aura – AREA
---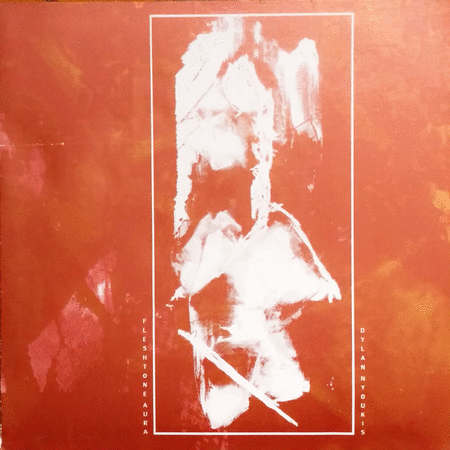 Fleshtone Aura // Dylan Nyoukis
Split
Toronto, ON // Brighton, UK
Fleshtone Aura
AREA
Toronto, ON
From the freed mind and followed ass of Kevin Hainey:
Two oceans-apart aural collage masters team up to flambe their best dashes of spice across this pair of tenderized and marinated beef steaks. Toronto's resident evil Fleshtone Aura (a.k.a. Andrew "No C" Zukerman) has been summoning strange sensations for over a decade now with duo du jour Gastric Female Reflex. He's undergone a plethora of personality crises with memorable recording identities like Various Artists, Untitled (to which his previous Chocolate Monk CDR was accredited), DJ Longhorn Grille and Charles Balls, but since Fleshtone was coloured in 2011, this has been Zukerman's most ambitious project.
The Beniffer LP is marbled clear, black and green and comes in an ornately silkscreened cover. It is a split with Brighton, UK scene survivor Dylan Nyoukis (Blood Stereo, Prick Decay), whose influence has been tantamount in experimental areas of modern composition since the early '90s. The two have been supporters of each other for many years now so a split LP makes perfect sense given their similar visions. Nyoukis also runs the envelope-pushing (albeit one full of psychedelic drugs) Chocolate Monk label which released the amazing AREA. This is music arranged to be chaotic, heavily inspired by ideas commissioned during 20th century composition's heyday rather than pop and rock's obsessions with keeping time and marching to repetition. If anything, this is music that aims to break down those conditioning influences.
De l'esprit libéré et du cul captivant de Kevin Hainey:
(Traduit par l'âme vagabonde de Louis-Félix Pellerin qui est inexplicablement attirée vers les arrière-trains)
Ces deux maîtres de la ratatouille musicale s'associent pour flamber cette paire de steaks marinés à l'aide de leurs meilleures épices, malgré les océans qui les séparent. Depuis plus d'une décennie, le démon local de Toronto, Fleshtone Aura (alias Andrew « No C » Zukerman), invoque d'étranges sensations avec le duo du jour Gastric Female Reflex. Il a traversé de nombreuses crises d'identité et est passé d'une personnalité mémorable à l'autre, notamment Various Artists, Untitled (c'est sous ce nom qu'il a sorti son dernier CD, Chocolate Monk, DJ Longhorn Grille et Charles Balls, mais Zukerman entreprend son projet le plus ambitieux depuis la mise en couleur de Fleshtone en 2011.
Son LP Bennifer, d'un marbré clair, noir et vert, vient dans une pochette dont la couverture est richement sérigraphiée. C'est un split avec Dylan Nyoukis (Blood Stereo, Prick Decay), un vétéran de la scène brightonienne dont l'influence est omniprésente dans le secteur expérimental de la composition moderne depuis le début des années 1990. Puisqu'ils s'encouragent mutuellement depuis des années et qu'ils partagent une vision similaire, un album split est la suite logique des choses. De plus, Nyoukis est à la tête du label discographique innovateur (innovations sans aucun doute influencées par la drogue psychédélique) Chocolate Monk qui était derrière l'incroyable AREA. C'est de la musique arrangée dans le but d'être chaotique, en plus d'être grandement influencée par la composition musicale du début du XXe siècle plutôt que par l'obsession à maintenir le rythme et marcher au pas des répétitions amenée par le pop et le rock. En fait, si on y pense, ce qu'on retrouve sur ce split, c'est le genre de musique qui vise à démolir les conventions modernes.
Fleshtone Aura – Level 2 [Split]
Fleshtone Aura – Puddle of Andrew [AREA]
---
---
---