Ex Libris :: Lines of Work: Stories of Jobs and Resistance
---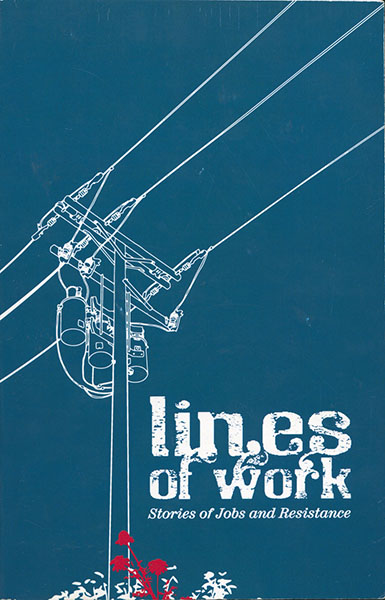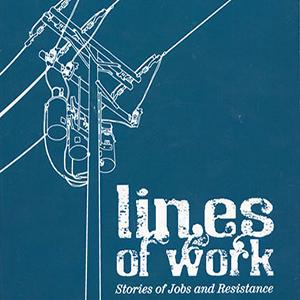 Lines of Work: Stories of Jobs and Resistance
Various Authors
Edited by Scott Nikolas Nappalos
236 pages; soft cover, perfect bound
Edmonton, AB
From the working class hands of Meghan Sangster:
Fuck work. Fuck feeling like shit and falling asleep at the wheel and almost crashing your truck. Fuck chronic pain and its accompanying short fuse that affects your relationships with friends, family, and lovers. Fuck not having a dental plan. Fuck the capitalist mechanization of care work that generates worker apathy and ableist assumptions about the elderly. Fuck depression, but first fuck the job insecurity and hounding poverty that keeps it so strong. Fuck the colonial borders that divide and destroy so many families. Fuck not-for-profits that mistake their neoliberal ethos for radical subversion. Fuck the managerial decisions that force genderqueer people to use washrooms that are not of their choosing (fuck gender binaries). Fuck racism and its constant, bone grinding assaults. Fuck misogyny and its ever-close companion patriarchy. Fuck how exploitive managerial techniques echo the emotional abuse and economic vulnerability that so often traps people in domestic violence. And fuck the alienation that tells workers there is nothing they can do about any of the above.
Misogyny is everyone's labour issue. Racism is everyone's labour issue. The continued colonization of Canada and the maintenance of colonial borders is everyone's labour issue. Lines of Work is a collection of beautiful testaments from people who are working everyday, constantly negotiating these tandem oppressive systems lodged in the sludge of capitalist machinery. Lines of Work shares what workers do against the deadening, indefinite assaults of labour's daily grind and the possibility for resistance in the very process of encountering something unknown and seemingly limitless. We can look at Goliath and tremble – sometimes there is no other choice – but well aimed rocks can accomplish incredible things.
Des mains ouvrières de Meghan Sangster:
(Traduit par la soif de justice de Louis-Félix Pellerin)
Fuck la job. Fuck manqué avoir un accident en s'endormant au volant parce qu'on se sent comme de la marde. Fuck la douleur chronique qui nous rend agressifs avec nos proches, nos amis et nos amants. Fuck pas avoir d'assurance dentaire. Fuck la mécanisation des services de santé qui entraîne l'apathie chez les employés et les préjugés découlant du capacitisme à propos des personnes âgées. Fuck la dépression, mais surtout, fuck la précarité d'emploi et la pauvreté rampante qui la nourrissent. Fuck les frontières coloniales qui divisent et détruisent un nombre incalculable de familles. Fuck les groupes sans but lucratif qui prennent leur philosophie néolibérale pour une subversion radicale. Fuck les décisions administratives qui forcent les personnes genderqueer à utiliser des salles de bain qui ne correspondent pas à leur identité (fuck le binarisme des genres en passant). Fuck le racisme et ses attaques qui nous broient les os. Fuck la misogynie et son horrible p'tit copain le patriarcat. Fuck la façon dont les techniques de gestion exploitatrices font écho à l'abus émotionnel et à la vulnérabilité économique qui confinent trop souvent les gens dans une situation de violence familiale. Et fuck le cynisme qui fait croire aux travailleurs qu'ils ne peuvent rien faire contre tout ça.
Nous sommes tous concernés par la question de la misogynie dans le monde du travail. Nous sommes tous concernés par la question du racisme dans le monde du travail. Nous sommes tous concernés par la colonisation constante du Canada qui maintient les frontières coloniales. Lines of work est une collection de poignants témoignages de gens qui luttent chaque jour contre ces systèmes oppressifs qui se chevauchent, embourbés dans la gadoue du capitalisme. Ce recueil parle du combat quotidien mené par les travailleurs contre les assauts incessants et abrutissants de la corvée qu'est le travail, ainsi que de la possibilité de résister face à quelque chose d'inconnu et d'apparemment sans limites. On peut continuer de trembler devant Goliath, on peut rarement faire autrement; mais parfois, une roche bien placée peut accomplir de grandes choses.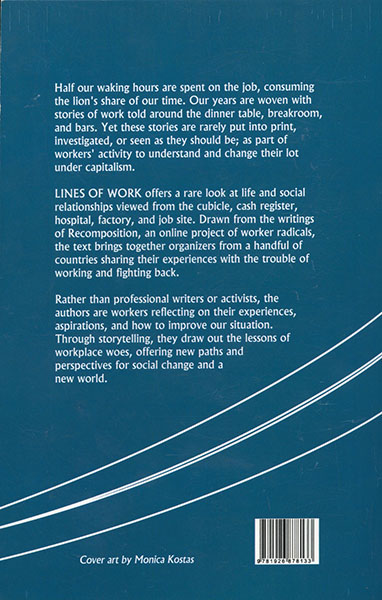 ---
---
---