How To Interview
---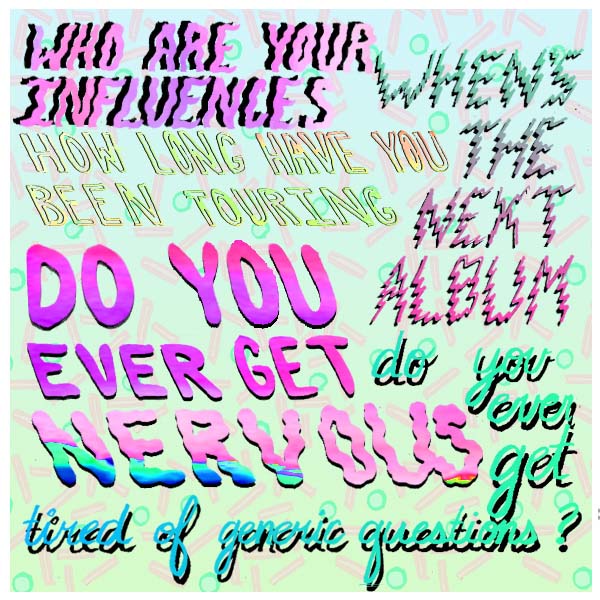 How to Interview
Alison Lang
Toronto, ON
From the weird Halloween cat show of Alison Lang:
Interviewing someone you've never met can be one of the scariest parts of covering the music scene. If you are shy/in awe of someone/not good on the phone/not in the mood/tired/hungover/under time constraints, the anticipation before you interview a musician can cause extreme anxiety. Then you actually have to do the thing.
Depending on the mood the musician is in, your interview can either be one of the most satisfying, inspiring conversations ever …or it can be totally horrible and you cringe your way to the end, praying for completion. Here's how to get the most out of your interviews:
1. Be prepared
This seems obvious but sometimes – especially when you are on a super-tight deadline – it is easier said than done. Whether you're interviewing someone for a zine or a newspaper or a blog, your life will be easier if you know as much as you possibly can about the person you're speaking with:
We are gifted to be living in the age of the Internet, where you can find out a lot of information easily and quickly. Read other stuff that's been written about the band.
Find the local paper or alt-weekly in their city and search those archives, dammit!
Go to zine archives and look around for fanzines that might have some pieces or stories from the bands. (Find the zine library or a good zine distro in or near your city. Anchor Archive Zine Library in Halifax, the Toronto Zine Library and QPIRG Concordia have a lot of resources both online and onsite. Maximum RocknRoll has an extensive web archive – for a small fee you can download a digital version of classic issues all the way back to '82.)
Check out show reviews from the plethora of Canadian music blogs out there – Exclaim, Grey Owl Point, Herohill, Southern Souls and more. If you know people who know the bands, talk to them. Find out what they love and hate.
2. Ease into the conversation.
Sometimes it's easiest to start things off by getting someone talk about something other than themselves and their work. Did the band/musician just play a cool festival recently? Ask them who they saw and who they loved. Did they eat the most amazing tacos? What a coincidence, you also love tacos. Are they super into cats? Tell them about the weird Halloween cat show you went to that one time. Be on the lookout for weird details that will lead to an interesting conversation– talk about a venue in Canada that you've both barfed in. If all else fails, talk about B.A. Johnston. Every musician in Canada has at least one B.A. Johnston story. These are conversational inroads. These are the jewels in your crown. Things to keep in mind:
It's ok to joke around and be a goof at first. Be disarming. Be yourself. If you're comfortable using a more formal "interviewer tone" that's fine if it works for you, but don't assume or pretend to know every reference and nuance that comes your way. Don't be scared to ask questions about stuff you haven't heard of – you'll get better answers!
If they are a band that gets interviewed a lot, they may have some unconscious barriers up, or they might be on their 8th interview of the day, and they're tired. If they are a band that is just starting out, this might be one of their first interviews, and they might be nervous too! Take it easy.
3. Try to ask the questions you need, but also ask the questions you want.
This is where reading old interviews with the band can help. They may get asked the same questions a lot – "What are your influences?" "What's it like being an all-female three-piece in a mostly male punk scene?" "Do you miss being at home?" Stuff like that. Sometimes this is unavoidable and you have to ask these questions to get the quotes you need for your story. Sometimes, though, certain questions can be re-phrased or avoided altogether and you can still have a good story.
If you're asking about being an all female three-piece, why not cite a specific event in the band's history and ask 'em for more detail about that? Why not, instead of asking about influences, mention a specific song from the band's record that reminds you of something else – a band you love, or an experience from your own life – and ask where their story came from?
Try not to recycle the same Q's if you can. Try to stump the band and surprise 'em.
And for sure, ask the crazy fanboy/fangirl questions you HAVE to know the answers to….but save 'em 'til the middle/end, once you've warmed them up and hopefully won them over.
4. Don't be afraid to stray away from your prepared questions.
If the conversation is going to an unexpected place, sometimes it's ok to let it go there – but sometimes it isn't. It's important to know when you should intervene and set the interview back on track.
If the musician is unleashing some philosophical and/or profound personal truths – or they're just telling a hilarious tale that might have nothing to do with any of their shows or their record – sometimes it's ok to just let it go there and enjoy what they're saying.
If they are launching into personal attacks or some kind of vendetta, this is not really something you can use in your story (unless you plan on getting the other side of the perceived grievance) so you may want to gently nudge them elsewhere.
5. For the love of God make sure your recorder is turned on and you have fresh batteries and/or make sure your phone is charged and make sure your recording app is on and running. EVERYONE MAKES THIS MISTAKE TRY NOT TO BECAUSE IT FEELS SO HORRIBLE.
6. Mark your spots in the conversation
You can do this by turning your recorder on and off, or some recorders will let you actually mark when a new question is asked. This will help you a lot when you're doing the transcribing, the most HATED PART of interviewing.
7. Don't get defensive.
Sometimes musicians are pissy or sassy or cranky or not very talkative. A lot of them will be talking to you from the road, and being on tour is exhausting and they are probably super tired and hungover or broke, or they might be coming off a bad show, or something else might be buggin' 'em. They're human. Don't take it personally – they don't know you, and it's not your fault they're in a shitty mood. It happens. If the interview seems to be going badly or stalling altogether, just try to get through your questions the best you can and wrap that shit up. If you have time, get an email address and mention you might follow up on a few things later, and they can reply to you when they want. Don't get snippy or cranky at them though, it won't help, and it might burn bridges down the road. Plus, you're the interviewer – you can take the high road.
8. Be gracious.
Unless the musician(s) were total unresponsive dicks, be grateful for your experience. Thank them. Thank the publicist who connected you. Let them know the interview went well (even if it was just ok). They want to know – it's part of the whole publicity game. Let the band/publicist know when your story is posted.
9. Make sure you're really LISTENING.
The interviewee may drop an interesting fact as an aside (maybe the fact that they're moving, or even that they might be leaving the band). Sometimes it's good to listen hard to pick up changes in tone, or little hints that the person might want you to ask about something that they're too shy/coy/anxious to bring out straightaway. Sometimes people need coaxing, and you need to be really listening to them to know when to jump in.
10. Don't be scared to go smaller/indie/local.
Everyone wants to interview their idols, but the most satisfying interviews are quite often the ones you don't expect – the road dogs who have an impassioned small-town fanbase, the locals who are just starting out and getting a tiny bit of buzz. These connections might last forever – one good experience can lead to you having a good rapport with a band for their entire career, and maybe they can help you out sometime too. If you put out good vibes during your interview you will invariably get something back in return. That's why we do this, right?
Interviewing is an amazing skill to develop, and if you approach it with the right preparation and mindset, it can be an immensely enriching experience regardless of the outcome. It will teach you how to be an active listener, and you will also learn insane things about what musicians do and get insights and stories that most people don't normally have the privilege of hearing. The skills of a good interviewer are also analogous to being a good conversationalist and can help you become a more empathetic, thoughtful human.
Alison Lang is the editor of Broken Pencil, a magazine that covers zine culture and the independent arts. The best interview she ever had was with voice actor Michael Winslow, who conducted half the interview in the voice of Stripe from Gremlins.
De l'étrange exposition féline d'Alison Lang:
(Traduit par Geneviève Faubert)
Interviewer une personnalité que tu n'as jamais rencontrée peut représenter l'un des défis les plus angoissants d'une couverture de la scène musicale. Que tu sois timide, en admiration devant l'artiste en question, mal à l'aise au téléphone, d'humeur peu encline, en proie à la fatigue, que tu aies la gueule de bois ou des échéances strictes à respecter, l'appréhension qui précède une interview peut causer une grande anxiété. Vient alors le moment de passer à l'action.
Selon l'humeur du musicien, l'interview peut se transformer en une conversation des plus inspirantes et gratifiantes… ou elle peut tourner au cauchemar et te faire grincer des dents en priant pour que ça en finisse. Voici divers conseils afin de tirer le meilleur parti de tes interviews :
1. Prépare-toi.
La préparation peut te sembler un facteur incontournable, mais il n'est pas toujours évident de bien se préparer, surtout si tu es confronté à une échéance serrée. Qu'elle soit réalisée pour un magazine, un journal ou un blog, l'interview se déroulera beaucoup mieux si tu te renseignes au préalable à propos des artistes en question :
Quelle chance de vivre à l'ère d'Internet : tu bénéficies ainsi d'un accès facile et rapide à une foule de renseignements. Lis les articles déjà publiés sur le groupe.
Trouve le journal local ou les hebdomadaires alternatifs de la ville du groupe et fouille dans les archives, bordel!
Consulte les archives de fanzines et recherche ceux pouvant contenir des articles ou des récits à propos du groupe. (Recherche la bibliothèque de fanzines, ou un bon distributeur, dans ta ville ou dans les environs. L'Anchor Archive Zine Library à Halifax, la Toronto Zine Library et le QPIRG (Quebec Public Interest Research Group) de l'Université Concordia offrent une multitude de ressources sur place et en ligne. Maximum RocknRoll regroupe des archives web bien documentées : moyennant une somme modique, tu pourras télécharger la version numérique de numéros classiques qui remontent à 1982.)
Consulte la myriade de blogues canadiens à la recherche de critiques de concerts : Exclaim, Grey Owl Point, Herohill, Southern Souls, etc. Communique avec tes connaissances qui entretiendraient des liens avec les membres d'un groupe. Apprends-en plus sur ce qu'ils aiment et ce qu'ils détestent.
2. Mets les gens à l'aise dès le départ.
Il est parfois plus facile d'entamer une conversation en faisant parler son interlocuteur d'autre chose que de lui-même ou de ses réalisations professionnelles. L'artiste ou les membres du groupe ont-ils participé à un festival cool ces derniers temps? Questionne-les à propos des concerts auxquels ils ont assisté ou des artistes qu'ils affectionnent. Ont-ils eu la chance de goûter aux meilleurs tacos? Quelle coïncidence : tu adores les tacos! Vénèrent-ils les chats? Parle-leur de cette étrange exposition féline à thématique Halloween à laquelle tu as déjà assisté. Sois à l'affût de ces détails bizarres qui mèneront à une conversation intéressante; par exemple, parle de cette salle de spectacle quelque part au Canada où l'artiste et toi avez tous deux vomi. Si rien de tout cela ne réussit, évoque B.A. Johnston. Tous les musiciens canadiens ont au moins une histoire de B.A. Johnson à raconter. Voilà quelques pistes de conversation, les armes secrètes dont tu disposes.
N'oublie pas les points suivants :
Il est tout à fait acceptable de blaguer et de faire le bouffon au début de l'interview. Use de charme et reste toi-même. Si tu es à l'aise avec le fait d'utiliser un ton plus formel, n'hésite pas si ça fonctionne pour toi, mais ne prétends ou ne présume pas connaître toutes les nuances et références dont on te parlera. N'aie pas peur de poser des questions sur ce que tu ne connais pas : tu recevras ainsi des réponses plus étoffées.
Si les membres du groupe sont abonnés aux interviews, ils se sont peut-être inconsciemment fixé des barrières, ou peut-être sont-ils fatigués après la huitième interview de la journée. Si tu as affaire à un nouveau groupe, il s'agit peut-être de la première interview des membres. Ils peuvent aussi afficher une certaine nervosité! Vas-y doucement.
3. Tente d'obtenir les réponses dont tu as besoin, mais pose aussi les questions qui te tiennent à cœur.
C'est ici que la lecture préalable de vieilles interviews du groupe peut te venir en aide. On pose peut-être souvent les mêmes questions : « Quelles sont vos influences? » « Comment un groupe composé de trois femmes évolue-t-il au cœur d'une scène punk qui compte surtout des hommes? » « Le confort de votre foyer vous manque-t-il? » Ces questions, et d'autres du genre, sont parfois inévitables dans l'obtention des citations dont tu as besoin pour ton article. Toutefois, tu peux parfois reformuler, ou tout simplement éviter, certaines d'entre elles et quand même mener à bien ton récit.
Si tu interroges les artistes sur le fait d'être un groupe constitué de trois femmes, pourquoi ne pas rappeler un événement spécifique de leur histoire pour obtenir plus de détails à ce sujet? Au lieu de les questionner sur leurs influences, fais mention d'une chanson particulière de leur album qui te rappelle autre chose (un groupe que tu aimes, ou une expérience que tu as vécue, par exemple) et demande-leur la source de leur inspiration.
Évite de toujours répéter les mêmes questions, dans la mesure du possible. Tente de prendre les membres du groupe au dépourvu et de les surprendre.
Bien sûr, pose toutes ces questions typiques de fan fini dont tu te dois de connaître les réponses… en prenant soin de les garder pour le milieu ou la fin de l'interview, une fois qu'ils seront réchauffés et que, espérons-le, tu auras gagné leur confiance.
4. N'hésite pas à t'éloigner des questions déjà préparées.
Si la conversation prend une tournure inattendue, il faut parfois laisser les choses aller, selon les circonstances. Il est important que tu saches quand intervenir afin de ramener l'interview sur la bonne voie.
Si l'artiste te confie des propos de nature philosophique ou personnelle, ou s'il te relate une histoire hilarante qui n'a peut-être rien à voir avec ses spectacles ou albums, le contexte te dictera parfois de laisser les choses suivre leur cours et d'apprécier l'histoire qui t'est racontée.
Si l'artiste se lance dans des attaques personnelles ou une quelconque vendetta, tu devrais peut-être le ramener gentiment sur la bonne voie, car ces propos ne te seront d'aucune utilité lors de la rédaction de ton article (à moins que tu ne veuilles obtenir l'autre version des faits du présumé conflit).
5. Je t'en supplie, assure-toi que ton enregistreur est en marche et que les piles sont neuves, ou que ton téléphone est chargé et que ton application d'enregistrement est en marche. CETTE ERREUR EST TRÈS COURANTE : ÉVITE-LA À TOUT PRIX OU TU VIVRAS UN MOMENT HORRIBLE.
6. Use de marqueurs de référence lors de la conversation.
Tu y arriveras en allumant et en éteignant ton enregistreur. Certains appareils te laisseront même créer une marque chaque fois qu'une nouvelle question est posée. Cette étape t'aidera beaucoup lors de la transcription de l'interview, la partie LA PLUS DÉTESTÉE du processus.
7. Ne sois pas sur la défensive.
Les musiciens sont parfois irritables, d'humeur massacrante ou peu bavards. Nombreux sont ceux qui seront en tournée lorsqu'ils te parleront : probablement fatigués, ils auront la gueule de bois et plus un sou en poche, leur plus récent concert se sera peut-être mal déroulé ou ils vivront une autre situation contraignante. Les artistes sont humains. Ne le prends pas personnel : ils ne te connaissent pas, et ce n'est pas ta faute s'ils sont d'humeur exécrable. Ce sont des choses qui arrivent. Si l'interview semble mal se dérouler ou encore stagner, fais de ton mieux afin de poser tes questions et de boucler l'entretien. Si le temps te le permet, demande un courriel aux musiciens en mentionnant que tu feras peut-être un suivi ultérieur sur certains points, auquel ils pourront répondre quand bon leur semblera. N'adopte pas une attitude hargneuse ou négative à leur égard, ce qui n'arrangerait rien et pourrait brouiller vos relations futures. C'est toi qui mènes l'interview, après tout : il ne tient qu'à toi de rester digne et de faire preuve de professionnalisme.
8. Témoigne de la gratitude.
À moins que les musiciens ne se soient comportés en parfaits bâtards insensibles, sois reconnaissant d'avoir passé ce moment en leur compagnie. Remercie les artistes, ainsi que l'agent de publicité qui t'a mis en contact avec eux. Dis-leur que l'interview s'est bien déroulée (même si tu l'as trouvée plutôt ordinaire). Ils veulent en savoir plus, ça fait partie du manège de la publicité. Informe le groupe ou l'agent de publicité de la date de parution de ton article.
9. Assure-toi de BIEN ÉCOUTER.
L'interviewé mentionnera peut-être au passage un fait intéressant (un déménagement ou le départ d'un membre du groupe, par exemple). Parfois, tu auras tout intérêt à tendre l'oreille afin de capter un changement dans le ton, ou de saisir une perche que l'artiste, trop timide, évasif ou anxieux, te tend à propos de sujets qu'il n'ose pas aborder directement. Tu devras parfois amadouer les gens, et une bonne écoute est nécessaire afin de saisir toutes les occasions de le faire.
10. N'aie pas peur de t'aventurer au coeur de la scène underground, indie ou locale.
Tout le monde rêve d'interviewer son idole, mais les interviews les plus gratifiantes sont souvent celles auxquelles on ne s'attend pas : les artistes en tournée perpétuelle qui comptent de fervents adeptes dans les petites villes ou les nouveaux groupes du coin qui génèrent un buzz à peine perceptible. Ces rapports pourraient durer au fil du temps : une bonne expérience t'amènera peut-être à tisser des liens solides avec un groupe tout au long de sa carrière. Peut-être même pourrait-il te donner un coup de pouce de temps à autre? Si tu dégages des ondes positives lors de l'interview, tu obtiendras invariablement quelque chose en retour. C'est la raison pour laquelle on fait des interviews, non?
L'art d'interviewer est une compétence extraordinaire à développer; si tu te prépares bien et que tu te présentes dans un bon état d'esprit, tu sortiras grandi de l'expérience, peu importe le résultat. Tu apprendras ainsi à faire preuve d'une écoute active, et tu découvriras des choses incroyables à propos de la vie de musicien, des histoires et des réflexions que la plupart des gens n'ont pas le privilège d'entendre. De plus, les aptitudes d'un bon intervieweur se transposent à l'art de la conversation et peuvent t'aider à devenir un être plus empathique et attentionné.
Alison Lang est la rédactrice en chef de Broken Pencil, un magazine sur la culture et les arts indépendants. Sa meilleure interview à vie a été celle de Michael Winslow, acteur spécialisé dans le doublage, qui a effectué la moitié de l'interview en empruntant la voix de Stripe du film Gremlins.
---
---
---