Ex Libris :: Guillaume Morissette – New Tab
---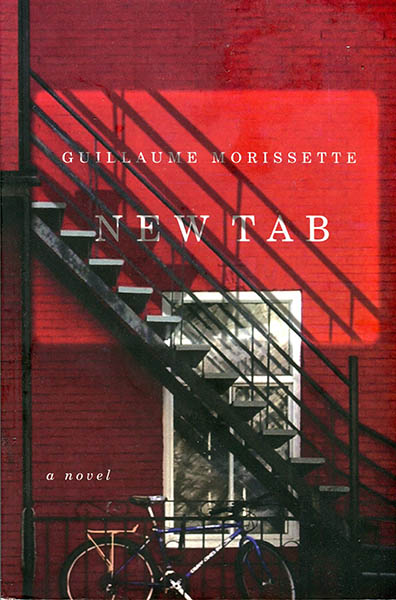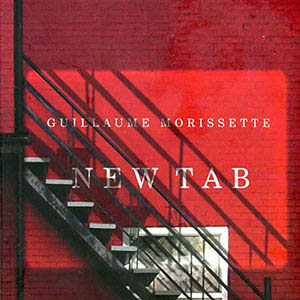 New Tab
Guillaume Morissette
212 pages, perfect bound
Montréal, QC
From the groove/routine/rut (D.C. al Fine) of Jordan Voith:
In New Tab, Morissette maintains a quotidian focus, and the effect is one of bittersweet boredom and comfort in familiarity. Protagonist Thomas navigates empty employment, abortive courtships, and casual substance abuse; it's an old landscape, arable for a type of solidary ease, but not much more. Comfort invites inertness, and inertness invites lack. In response, Morissette proffers a Seinfeldian zen as panacea. He gives the void a bear-hug (might as well get cozy with your most enduring companion), and in his embrace, absence starts to look an awful lot like substance. Sure, a steady diet of bad beer and worse hangovers might not be enough in the conventional sense, but when you think about it, it's not not enough, either. The universe abides, man.
Du rythme/de la routine/du ronron (D.C. al Fine) de Jordan Voith:
(Traduit par Jessica Grenier)
Dans New Tab, Morissette continue de s'intéresser au quotidien en dépeignant le confort de ce qui est familier et la douce amertume de l'ennui. La vie de Thomas, le protagoniste, est ponctuée de relations avortées, du manque d'emplois et de consommation occasionnelle de drogue. C'est un ancien paysage, parfait pour une certaine aisance solidaire, sans plus. Le confort invite l'inertie, et l'inertie amène le manque. Pour réponse, Morissette présente comme panacée une zénitute Seinfeldienne. Il donne un gros câlin au vide (aussi bien être à l'aise avec son compagnon le plus persistant); et dans cette étreinte, l'absence se met à ressembler énormément à de la substance. C'est sûr qu'au niveau conventionalité, une routine de mauvaise bière et de gueules de bois encore pires n'est peut-être pas suffisante, mais quand on y pense, ce n'est pas pas suffisant non plus. C'est simple, l'univers approuve.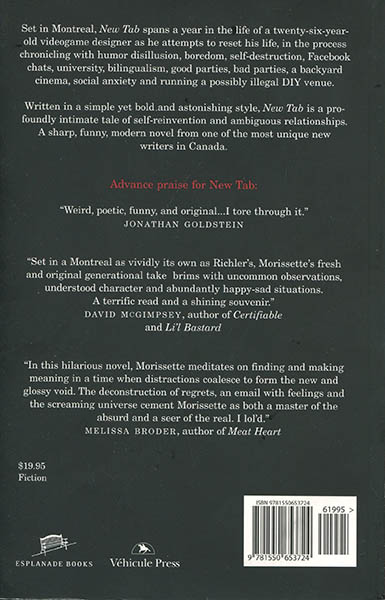 ---
---
---