Ideas :: Weird Generations
---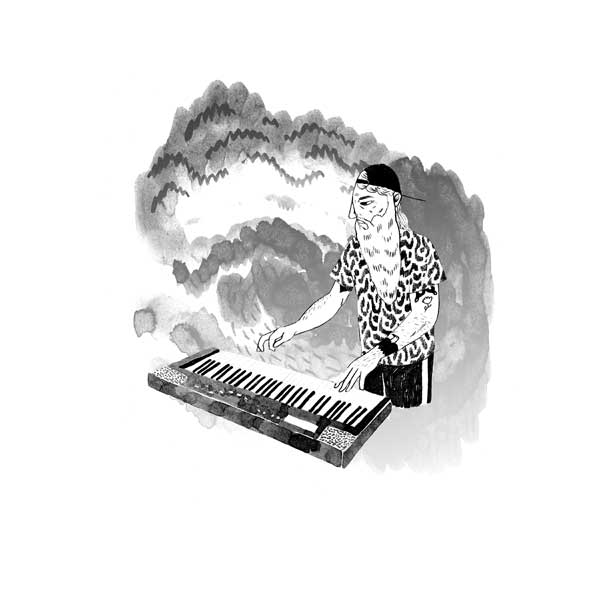 From the arthritic hand of David Dacks:
Making anomalous music is a privilege. This becomes clear if you stick with it long enough. But it's a hell of a long journey and the reasons you started making music will change over time. Respect is due to those who stick to their vision, but respect is earned by keeping open ears and an open mind.
Don't fight getting older; just stay enthusiastic. Enthusiasm is key to relating to inquisitive souls of all ages, cultural backgrounds and even language preferences. Your sense of enthusiasm helps to determine how people respond to you.
If you fancy yourself being devoted to music for life, this goes double. Triple for those who seek to express themselves at the fringes of mass cultural approval. As the cliché goes: 'music has the power to inspire'–but more often than not, it has the power to disappoint, and this feeling of disappointment lasts a lot longer. Don't get disillusioned. Enthusiasm isn't an end in itself, but without it, you won't seek out new ideas. Chasing coolness brings diminishing returns; being enthusiastic keeps your fire burning.
You don't want to relate to these people because you fear it's like seeing a much older and more pathetic version of yourself.
Two situations cemented my outlook. The first was a crossroads in life. The second was a crossroads in outlook.
My music career started to fall apart after I hit thirty. After years of hauling around my entire home studio to smoke infested clubs in the years prior to laptop-based electronics, my gear was breaking down and I had less desire to replace it. I had started to work full time and couldn't hack those Thursday night gigs anymore. What was most dispiriting was that my friends had stopped coming out to gigs, not that they ever had a huge appetite for "electro-jazz in dub".
Who was left?
Older guys in the corner or right up front. Folks who would call into my campus radio show and blow me away with their musical knowledge, but faded into the woodwork at live events. Or maybe they would had anyone else been there. You don't want to relate to these people because you fear it's like seeing a much older and more pathetic version of yourself.
I asked myself: who were "my people" anyways? My fast-disappearing peer group of a few years prior? The subset of that group who came along for the first few stops of my musical ride? New faces on the scene, now maybe 10 years younger? Or these folks in the front or at the side who I didn't know but actually paid cover? There's a point (usually more than one) in which everyone makes a transition; where those things that made you fall in love with music start to compete with other priorities. Either you adjust or move on. There's a point where you have to decide that you're doing what you're doing for the sake of a lifelong commitment to communicating through sound, or just playing a game that's less fun all the time.
So, who were "my people"? All of the above.
Starting to ask those questions affected my outlook on what might come next, and changed my perspective on the past. I realized that I was prey to the consciousness of generational divide which is essentially rockist. The youthful affiliation among artistic non-conformists most resembles the audience dynamics of rock music: a genre where the age of the audience drops off sharply after the age of 30, where close friendships are said to take the place of family, and all of it is aided and abetted by mass marketing messages that want to reinforce ageism as an aspect of branding youth culture. The universalist messages of "us" "kids" "next gen" and so forth are repeated constantly by and for this audience – Dad Rock is evil, even if you both love Fleetwood Mac, 'cause he doesn't love it the same way as you. You can't construct a market segment unless you define it against something, or someone, else.
I realized that I was prey to the consciousness of generational divide which is essentially rockist.
But things don't have to play out this way. If you think genre dynamics no longer exist, then you'd be surprised to see the age strata at reggae gigs (lots of old dreads who positively make the party), or jazz shows or hip hop shows (which, when I was coming up, contained toddlers to uncles in whose crates DJs would dig). At the same time, I've witnessed the sharp ageism of rock subculture within other forms of aggressive music from metal to noise, and it's partly a consequence of the rebellious (or at least antagonistic spirit) that says on the one hand "fuck you, I'm not like you", and on the other seeks unity in this condition. Clearly, the tension of exclusion and unity has been profitable for advertising.
Over time, those who are truly passionate about music reveal themselves. Music ferments in weird and wonderful ways. When considering one's own trajectory to outsider or outward bound sounds, know that it's a long journey. Youthful pretensions to tortured genius give way to painful choices, but if you are able (and if life circumstances permit you) to seek more knowledge, greater understanding of music as an ever expanding universe becomes more obvious. To truly explore anomalous music, to really develop an individual language, you've got to open up instead of maintaining the barriers that made sense to your post-teenage self. I've been involved with more music since the age of 30 than ever before. If that makes me sound like an old hippie, so be it. Life's too short to dwell on appearances.
David Dacks has done music in public for 27 years. He's been a performer, DJ, label owner, remixer, journalist, and a radio programmer. Currently, David is the Artistic Director of The Music Gallery in Toronto.
De la main arthritique de David Dacks:
(Traduit par Aliké Harel)
Composer de la musique atypique est un privilège. Le sentiment d'être privilégié devient flagrant si l'on persévère assez longtemps. Toutefois… c'est toute une épopée et les motivations qui vous ont d'abord poussé à faire de la musique évolueront. Si les artistes fidèles à leur vision sont respectés, il n'en demeure pas moins que le respect s'acquiert en gardant une oreille attentive et un esprit d'ouverture.
N'essayez pas de défier votre âge, cultivez simplement votre enthousiasme. Cette qualité est essentielle pour se lier à des esprits inquisiteurs de tout âge, de toute ascendance et, même, de tout groupe linguistique. Votre élan d'enthousiasme permet de définir la réaction que vous générez chez vos interlocuteurs.
Si vous considérez la musique comme une vocation pour la vie, on double la mise. On la triple pour ceux qui convoitent de s'exprimer en périphérie du consensus de la culture de masse. Comme le dicte le cliché « la musique a le pouvoir d'inspirer ». Pourtant, la plupart du temps, elle a le pouvoir de décevoir, sentiment qui perdure bien plus longtemps. Il ne faut pas se laisser gagner par le désillusionnement. L'enthousiasme n'est pas un but en soi, mais sans lui, personne ne cherche de nouvelles idées. Affecter le détachement a une incidence néfaste; laisser l'enthousiasme nous habiter anime la flamme.
On évite ce genre de personne, par peur de voir un reflet pathétique de soi-même à un âge plus avancé.
Deux circonstances ont renforcé ma perspective au cours de ma vie. La première a été la croisée des chemins de vie. La deuxième a été la croisée des perspectives.
Ma carrière musicale a commencé à se désintégrer quand j'ai passé le cap des trente ans. Avant l'arrivée de l'électronique et des portables, j'ai passé des années à trimbaler mon studio maison dans les clubs où flottaient des volutes de cigarette. Mon équipement tombait alors en pièces, mais j'étais moins enclin à le renouveler. J'avais commencé à travailler à temps plein et je n'arrivais plus à encaisser les numéros du jeudi soir. Le plus démoralisant, c'était de voir que mes amis ne venaient plus aux spectacles, sans vouloir prétendre qu'ils se régalaient d'« électro-jazz dub » non plus.
Qui restait-il?
Les anciens dans le coin ou à l'avant. Les gens qui appelaient à mon émission de radio étudiante et m'époustouflaient d'abord avec leur culture musicale, mais qui se fondaient ensuite au décor pendant les spectacles. Du moins, ils l'auraient fait si la salle eût été bondée. On évite ce genre de personne, par peur de voir un reflet pathétique de soi-même à un âge plus avancé.
Je me posais la question : qui est « mon public », finalement? Ma clique de connaissances d'autrefois qui s'amenuisait à vue d'œil? L'extension de cette clique qui suivait pour les premières percées de mon parcours musical? Les nouveaux visages du milieu, de peut-être dix ans mes benjamins? Ou les autres, ici et là, que je ne connaissais pas, mais qui payaient leur place? À un moment (souvent à plusieurs reprises), une transition s'opère en chacun de nous, le moment où ce qui nous a fait tomber amoureux de la musique doit rivaliser avec de nouvelles priorités. Il faut s'adapter ou passer à autre chose. Éventuellement, vous devez décider si ce que vous faites, vous le faites au nom d'un engagement pour la vie à communiquer par le son… ou s'il s'agit d'un simple jeu de moins en moins amusant.
Au bout du compte, qui était « mon public »? Toutes ces réponses.
Ces questions qui germaient en moi ont marqué ma vision de l'avenir et ont changé ma perspective du passé. J'ai compris que j'étais en proie à une prise de conscience, celle de la différence intergénérationnelle qui s'apparente sommairement à la dynamique propre au rock. L'affiliation à la jeunesse au sein des artistes non conformistes ressemble tout à fait au jeu de forces de la musique rock : un genre dont le public de plus de trente ans s'effrite de façon radicale, un milieu où les bonnes amitiés substituent la famille, et la dynamique du monde du rock est nourrie par le marketing de masse qui renforce l'âgisme, maintenant partie intégrante de la culture de la jeunesse. Les messages universalistes tels « nous, les jeunes », « la prochaine génération » et ainsi de suite sont repris constamment par la jeunesse… pour la cibler (du rock de boomer, c'est honteux, si votre paternel et vous aimez tous les deux Fleetwood Mac, lui a une façon bien personnelle de le faire). On ne peut pas bâtir un segment de marché sans le définir par contraste à un autre segment, ou une autre personne.
J'ai compris que j'étais en proie à une prise de conscience, celle de la différence intergénérationnelle qui s'apparente sommairement à la dynamique propre au rock.
Pourtant, les choses n'ont pas forcément à suivre ce cours. Si vous croyez que la dynamique interne des genres ne font plus effet, vous seriez étonné de voir la tranche d'âge dans l'assistance des spectacles reggae (beaucoup de dreads poivre et sel qui s'avèrent « l'âme » de la fête), ou de spectacles jazz ou hip-hop (où, lorsque j'assistais, se trouvaient des bambins et des oncles vers qui les DJ se tournaient pour faire des trouvailles). En même temps, j'ai aussi été témoin d'âgisme accrue dans la sous-culture rock, dans ses variantes agressives du métal au bruitiste, et cet âgisme est en partie une conséquence du sens de la rébellion (ou du moins d'antagonisme) qui veut à la fois clamer « va chier, j'sus pas comme toi » et trouver le lien qui unit le milieu. Il est clair que cette tension entre le sentiment d'exclusion et le besoin de rassemblement a profité au monde de la publicité.
Le temps finit par dévoiler le visage des vrais mordus de la musique. Ferments de la musique, dans toute leur splendeur et leur excentricité. Lorsqu'on pose un regard sur le parcours propre à la musique marginale ou exploratoire, on doit savoir que le chemin est long. Ambitions de jeunesse et génie en mal font place aux choix pénibles. Pourtant, si vous pouvez (et si les aléas de la vie vous le permettent) approfondir vos connaissances, votre compréhension de la musique, en tant qu'univers en croissance constante, deviendra limpide. Afin d'entièrement explorer la musique atypique, pour vraiment développer votre propre langage, il faut vous ouvrir et, donc, ne pas vous fier aux barrières qui semblaient logiques lors de la postadolescence. J'ai touché à plus de musique que jamais après mes 30 ans. Si cela fait de moi un vieux hippy, tant pis. La vie est trop courte pour s'attarder aux apparences.
David Dacks fait de la musique sur la scène publique depuis 27 ans. Il a été musicien, DJ, propriétaire d'une maison de disques, remixeur, journaliste et programmateur de radio. En ce moment, David est directeur artistique de la Music Gallery à Toronto.
---
---
---