Ex Libris :: Do Not Resuscitate: The Marvelous Beauhunks [Stephen C. Wright]
---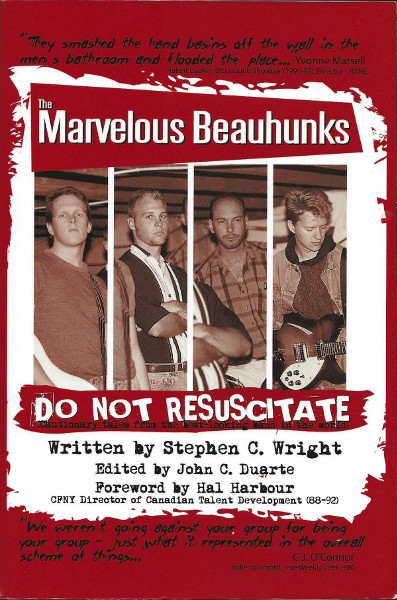 Do Not Resuscitate: The Marvelous Beauhunks
Stephen C. Wright
(iUniverse)
Bloomington, IN
softcover, perfect bound
404 pages
From the ticket-strewn floors of Alexandra Jaworiwsky:
The Marvelous Beauhunks barely existed. What did exist was a full speed coaster of loop-di-loops, corkscrews and break-neck turns into the early nineties during the era of CFNY's The Spirit of Radio. Amplifiers buzz on the pages where words exist like lyrics detailing the story of The Marvelous Beauhunks, "the best looking band in the world." The best friends of misfits, the Beauhunks were powerful pop infused with the soul of their british icons. They inhaled cigarette smoke and exhaled a passion that almost took Toronto by storm. Almost. Stephen Wright, drummer of the Beauhunks past and present, curates the autobiography with a strange beat, illustrating the short-lived span of the Marvelous Beauhunks with first hand accounts, set lists, and press clippings from the time that they were almost the next big thing. The music scene is detailed in true rock and roll fashion, the Toronto venues of the present, gracing the pages of the past.
The Beauhunks climbed quickly and fell hard. The book is a crash of cymbals, a fight to the finish, but a passionate pop-rock performance and a memoir of the band you wish you had heard. Do not resuscitate.
Des planchers couverts de billets d'Alexandra Jaworiwsky:
(Traduit par Andréanne Dion)
Les Marvelous Beauhunks ont à peine existé. Leur existence a été une montagne russe de boucles, de vrilles et de virages à toute allure au début des années 90, à l'époque de l'émission The Spirit of Radio sur la station CFNY. Le bourdonnement des amplificateurs retentit dans les pages où des mots qui ressemblent à des paroles de chansons racontent l'histoire des Marvelous Beauhunks, « le plus beau groupe du monde ». Meilleurs amis des marginaux, les Beauhunks jouaient du pop percutant infusé de l'âme de leurs héros britanniques. Ils respiraient de la fumée de cigarette et expiraient une passion qui a presque pris Toronto d'assaut. Presque. Batteur passé et présent des Beauhunks, Stephen Wright produit l'autobiographie sur un rythme étrange et illustre la courte vie des Marvelous Beauhunks avec des récits de première main, des set lists et des découpures de journaux du temps où ils ont presque été les prochaines stars. La scène musicale est décrite dans un genre fidèle au rock'n'roll, et les salles de spectacle torontoises du présent ornent les pages du passé.
Les Beauhunks ont atteint rapidement le sommet et sont redescendus brutalement. Ce livre est une collision de cymbales, une lutte pour atteindre la ligne d'arrivée, mais une performance pop-rock passionnée et les mémoires d'un groupe que vous auriez aimé connaître. Ne pas réanimer.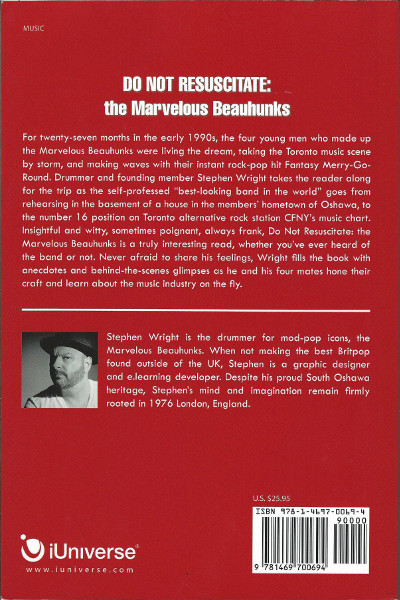 ---
---
---