New Canadiana :: Organ Eyes – Visual Meetings
---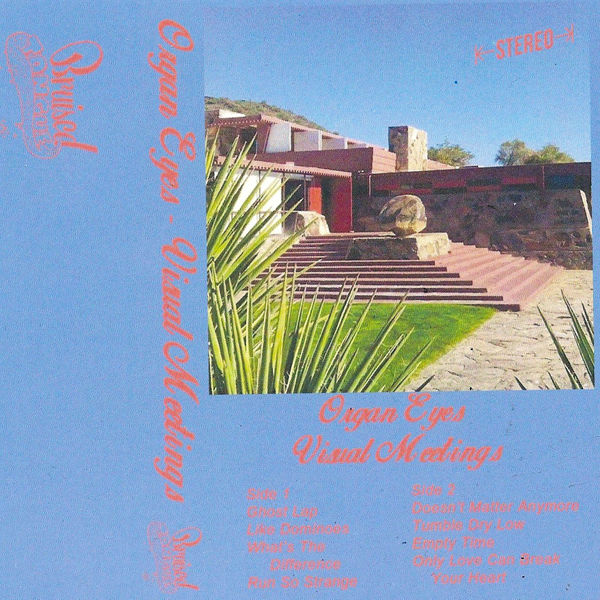 Organ Eyes
Visual Meetings
Ottawa, ON
From the daybreak and eventide of Brian Fauteux:
At dawn, Visual Meetings is perhaps the darkest. Waves of heavy fog, moving in from beyond. Rolling hills break up the heavy, low clouds with a hypnotic rhythm that mirrors our pulse. Yet, there is a warmth that carries through. As it brightens, strings and "Ahs" and an upbeat kick call-and-respond to a poppy psychedelic sensibility. Glowing, growing, spiraling and winding into a room that echoes, revealing its vastness. At dusk voices near and far, past and present, remind us that it's only love that will break our hearts.
De l'aube jusqu'aux dernières lueurs de Brian Fauteux:
(Traduit au rythme de Louis-Félix Pellerin)
C'est aux premières lueurs du jour que Visual Meetings est à son plus sombre. Un épais brouillard surgit de l'au-delà. Un vallon de collines perce les nuages volant à basse altitude avec un rythme hypnotique qui évoque notre pouls. Pourtant, on peut sentir le passage d'une certaine chaleur. Alors que la journée avance, des coups de cordes, des multiples « Ah ! » ainsi qu'un bon coup enjoué réagissent harmoniquement à une sensibilité pop-psychédélique. Le son brille, croît, serpente et se répercute à l'intérieur d'une chambre avec un écho qui révèle son immensité. Au crépuscule, des voix de près et de loin, d'antan et d'aujourd'hui nous rappellent qu'il n'y a que l'amour qui peut nous briser le cœur.
---
---
---