New Canadiana :: Mormon Crosses // Diane – Split Tape
---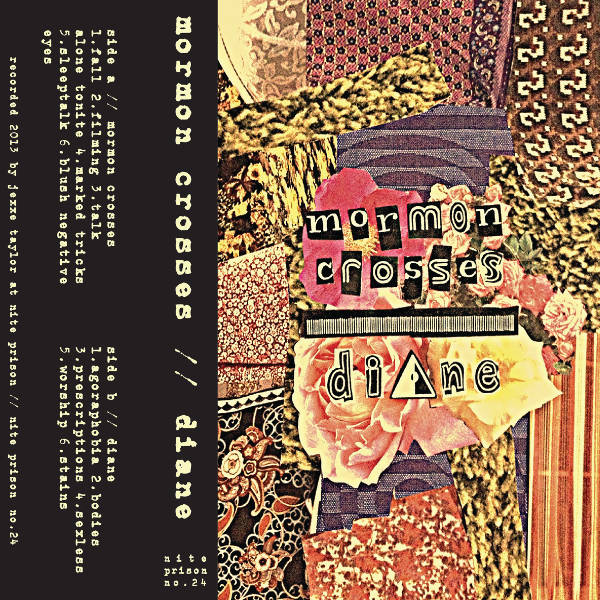 Mormon Crosses // Diane
Split Tape
(Nite Prison)
Vancouver, BC
From the crackling disdain of Kristian North:
Sometimes I wonder what the fuck is going on. I know these things are subjective, but I also question one's grasp on their own subjectivity when flooded with so much useless information, which begs questions like: Does anyone even make it through a song that isn't accompanied by HD visuals anymore? Can you get excited about music with 10 windows open? Do you even bother with bass or is it just iMac speakers, or your smartphone in a cup? A brief look at the ratios of your Bandcamp page stats should show you what the future of music listening looks like for us. Thanks, Steve Jobs!
Mormon Crosses and Diane are too warm and full of emotion for this cold, digital pseudo-reality. Your computer is cheap plastic and this music makes it a paperweight. Why would you waste your time with memes and YouTube nostalgia when you could be trying to play drums like Bryce? Hit the three-minute mark of "Blush Negative Eyes" and your computer speakers will crackle with disdain (and anyways, when was the last time you hit a three-minute mark on the Internet?). "Worship" contains a kind of explosive, youthful energy that tomorrow's tablet zombies will read about on their government mandated, surgically implanted, hitchhiker's guides to the boring galaxy. Buy the tape or go stream some minimal synth music from your grandma's Facebook page.
Du dédain crépitant de Kristian North:
(Traduit par l'effervescence puérile de Geneviève Faubert)
Veux-tu bien me dire ce qui se passe? Je sais que ces choses-là sont subjectives, mais je remets aussi en question le contrôle que nous détenons sur notre propre subjectivité lorsqu'autant de renseignements inutiles nous submergent. Des questions du genre s'ensuivent : peut-on encore écouter jusqu'à la fin une chanson dénuée d'effets visuels de haute définition? La musique arrive-t-elle à t'emballer lorsque l'écran devant toi affiche dix fenêtres différentes? Les sons graves comptent-ils pour toi, ou n'utilises-tu que les haut-parleurs de ton iMac, ou ceux de ton téléphone intelligent amplifiés par un gobelet? Un bref coup d'œil à la proportion des statistiques de ta page Bandcamp devrait suffire à te montrer à quoi ressemblera, selon nous, l'écoute musicale à l'avenir. Merci Steve Jobs! Mormon Crosses et Diane sont beaucoup trop vivants et remplis d'émotions pour cette pseudo-réalité froide et numérique. Ton ordinateur est fait de plastique bon marché, et ce genre de musique le transforme en presse-papiers. Pourquoi perdre ton temps avec la nostalgie des mèmes et de youtube quand tu pourrais t'exercer à jouer de la batterie comme Bryce? Écoute "Blush Negative Eyes" pendant plus de trois minutes, et ton ordinateur crépitera tout son mépris mais peu importe : à quand remonte la dernière fois où tu as écouté une chanson en ligne pendant plus de trois minutes? "Worship" possède une sorte d'énergie juvénile et explosive, que les zombies à comprimés de demain découvriront dans leur guide ennuyant du voyageur galactique imposé par le gouvernement et implanté par chirurgie. Achète la cassette ou va écouter de la musique minimale synthétique en lecture en continu sur la page Facebook de ta grand-mère.
---
---
---