New Canadiana :: Kyle Bobby Dunn – Fragments and Compositions of Kyle Bobby Dunn
---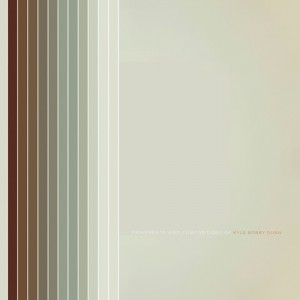 Kyle Bobby Dunn
Fragments and Compositions of Kyle Bobby Dunn
Montréal, QC
From the sedentary lifestyle of Javier Fuentes:
Sedimental strings and pianos lend their voices to the silence of a melting glacier. Extending their warmth to the lowest points on a sullen horizon, the melting compositions stretch themselves out over the vast imaginary spaces we fill with regret and sorrow. Time turns to stillness as we sit entranced by the moving textures that seem so distant yet personal. A suspension of worries and anxieties speaks to our suppressed language of sensitivity. What happens after the stillness belongs to the unknown, but the fragments are all we need right now.
Du mode de vie sédentaire de Javier Fuentes:
(Traduit par les ennuis et les angoisses de Raphaël Foisy)
Les cordes et les pianos de Sedimental prêtent leurs voix au silence d'un glacier en fonte. Prolongeant leur chaleur jusqu'aux points les plus bas d'un horizon nuageux, les compositions en fusion s'étirent au-dessus des vastes espaces imaginaires que nous remplissons de regret et de chagrin. Le temps s'immobilise, alors que nous nous asseyons, exaltés par les textures en mouvement qui semblent si distantes et pourtant si personnelles. La suspension des ennuis et des angoisses parlent à notre sensibilité linguistique étouffée. Qu'arrive-t-il lorsque l'inertie appartient à l'inconnu, mais les fragments sont tout ce dont nous avons besoin pour l'instant.

Kyle Bobby Dunn – Tout Voyeurs

Kyle Bobby Dunn – Sedentary II
---
---
---