New Canadiana :: Special Costello – Stoner Nights
---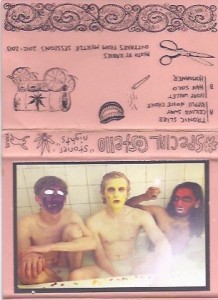 Special Costello
Stoner Nights
(Self Released)
Halifax, NS
From the Dionysian spirit of V. Rachel Weldon:
Ever since being handed the Agoraphobia demo by Baby Cages' songstress Halloway Jones — which did, as expected, sweep me up in the weird and beautiful songwriting, and rich whimsical wailing of Jeremy Costello — I've been dreaming in Costello-vision. In my head, it's like Bowie and Lynch are not just working together, but actually sharing a brain.
Stoner Nights wanders in, modest and unassuming, like a shift of gaze. Served up on a platter of slacker-virtuoso bedroom recordings, strangers might be taken by the range of stylistic polygames. "Ivory Wallet" is a virtual pleasure cruise through a post-disco digital wasteland, the grooviest glimpse of SC yet. But "Ceiling Sway" is the flood point, a Costelloist ballad that strikes my Nietzschean sensibility; thanks in no small part to Nick Dourado's steady crashing drums, it overflows through cracks in molten crust with a slow ecstatic bubbling. Special Costello is no longer the artist. They have become the work of art.
De l'esprit dionysiaque de V. Rachel Weldon:
(Traduit avec Nic-Co-lo-Davian amour par L. Frank)
Depuis que la chanteuse Halloway Jones de Baby Cages m'a donné la démo Agoraphobia, je rêve en Costello-vision. Comme attendu, la démo m'a emporté dans les compositions belles et bizarres et la voix riche et capricieuse de Jeremy Costello. Dans ma tête, Bowie et Lynch ne font pas que travailler ensemble, c'est comme s'ils partageaient le même cerveau.
Stoner Nights apparaît tranquillement, modeste et sans prétention comme le mouvement subtil d'un regard. Ses enregistrements de chambre à coucher d'une virtuosité nonchalante et sa gamme de jeux stylistiques risquent toutefois d'intéresser les nouveaux venus. « Ivory Wallet » est une croisière virtuelle à travers des ruines numériques post-disco, jusqu'à présent la chanson de SC qui a le plus de groove. Mais « Ceiling Sway » est le point culminant, une ballade costelloïste qui touche ma sensibilité nietzschéenne. Grâce aux rythmes constants et écrasants du batteur Nick Dourado, elle déborde au travers des fissures de la croûte fondue avec un bouillonnement lent et extatique. Special Costello ont cessé d'être les artistes. Ils sont devenus l'oeuvre d'art.

Special Costello – Ceiling Sway

Special Costello – Ivory Wallet
---
---
---