New Canadiana :: Black Baron – Divine Chains
---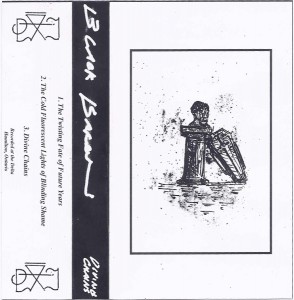 Black Baron
Divine Chains
Hamilton, ON
From the cold fluorescent light of Chizz Mbamalu:
From the second the drumsticks count the time in, you're swept into the underworld of Black Baron's Divine Chains. This tape is full of gloomy, droning vocals, atmospheric swells and thick, chunky drums that romanticize loaded subjects such as self-loathing and self-awareness. Each catchy, guitar-slathered song bleeds seamlessly into the other, as we are invited into their unspeakable journal entries. "The Cold Fluorescent Lights of Blinding Shame" combines speedy picking, barely-there bass and urgent drumming, giving a summery feel to the foreboding lyrics. The title track employs that same hornet-esque sound but slows it down, giving more priority to the dreamy guitars, passionate drumming and sombre lyrics of being trapped and trying to escape from pain.
This four-song tape ends as fast as it begins, which is incredibly necessary. Its purpose is to take you through the emotions you push deep down inside you, the ones you ignore. Black Baron reminds you that it's necessary to bring out your demons in order to understand yourself.
De la froide lumière fluo de Chizz Mbamalu:
(Traduit par Marcin Lasinski)
Dès le moment où les baguettes commencent battre la mesure, on est emporté vers le monde souterrain de Divine Chains par Black Baron. Cette cassette est pleine de chants sombres et ronronnants, de vagues d'ambiance et d'une batterie aux sonorités épaisses, idéalisant des sujets chargés comme la haine de soi et la conscience de soi. Chaque chanson entraînante est enduite de guitares qui se dissolvent les unes dans les autres pendant que nous sommes invités à consulter des extraits épouvantables de leurs journaux intimes. « The Cold Fluorescent Lights of Blinding Shame » est un mélange de picking rapide, de basse à peine audible et de batterie urgente, donnant un air estival aux paroles inquiétantes. La chanson-titre utilise le même son frelonesque mais le ralentit, donnant plus de priorité aux guitares chimériques, à la batterie passionnée et aux paroles sombres qui décrivent la sensation d'être pris au piège en tentant d'échapper à la souffrance.
Cette cassette de quatre chansons se termine aussi vite qu'elle a commencé, ce qui est absolument nécessaire. Elle a pour but de te guider à travers tes émotions refoulées, celles que tu ignores. Black Baron te rappelle que c'est nécessaire de faire ressortir tes démons afin de te connaître toi-même.

Black Baron – The Cold Fluorescent Light Of Blinding Shame
---
---
---