How To Host Your Own Not Enough Fest in Your City
---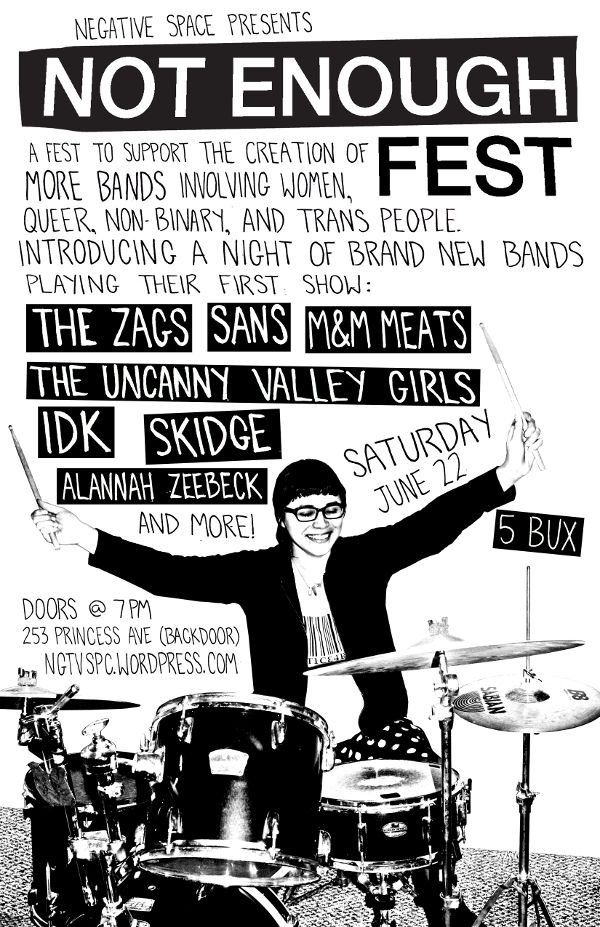 How To Host Your Own Not Enough Fest in Your City
Kara Passey
Winnipeg, MB
Photos: Warren Humeny
Piece Editor: Eileen Wennekers
From the barrier breakdown of Kara Passey:
"Hey, we should do this."
Maybe it was being ignored in music stores, or jamming with patronizing dudes, or even the ex-boyfriend who told me that girls' voices are just not fit for punk rock. Even with over a decade of music lessons under my belt, I spent a long time feeling too inadequate to play power chords. It wasn't until my early 20s that I finally met a group of people who respected this apprehension, and helped me break down some of the barriers I faced.
Recently, Winnipeg had its first Not Enough Fest (NEF). Over the last winter I had joined the Negative Space collective (a collectively run safe(r)-space venue), and stumbled across www.notenoughpdx.com while lost in the endless scroll of tumblr. In Portland, NEF was a queer/LGBTQIXYZ art, music, and performance festival. The festival was an incentive to inspire experimentation, collaboration, and to create all brand new work for the final festival date. A group called No More Fiction, based in New Orleans, did their own version with more of an emphasis on music. I got inspired to plan one in Winnipeg, and I want to share how this happened to people who are interested in doing something similar.
Here are a few things to consider if you are hoping to plan your own Not Enough Fest.
1. Actually do it.
There are a million reasons to not do something and, I won't lie, there was stress that came with doing this project. But, if I hadn't brought the idea up with Negative Space then NEF would not have happened in Winnipeg. That first step where you say, "Hey, we should do this," is really important. Don't wait for someone else to come along; you'll end up disappointed.
2. Recruit people to help you.
That being said, don't do it alone! I lucked out and had a team ready to jump to it, but maybe you don't. Approach like-minded people, tell them what you're doing, host meetings with wine and snacks.
3. Assess your resources.
Our NEF meetings involved a lot of list making. Who can we contact for press? Who can host a workshop? Who can donate equipment? The more people working on your team, the more contacts you have.
4. Write a statement.
A well-articulated statement gives a project purpose. Sure, a festival of brand new DIY bands would still be a really awesome night, but the statement we wrote for our festival really helped push forward our end goal. Having a pre-planned statement made coordinating our tone on Facebook, posters, and even in radio interviews so much easier. Also, having a meeting with organizers and hashing out everyone's feelings on the project will help get everyone's needs met and will let you work as a stronger team.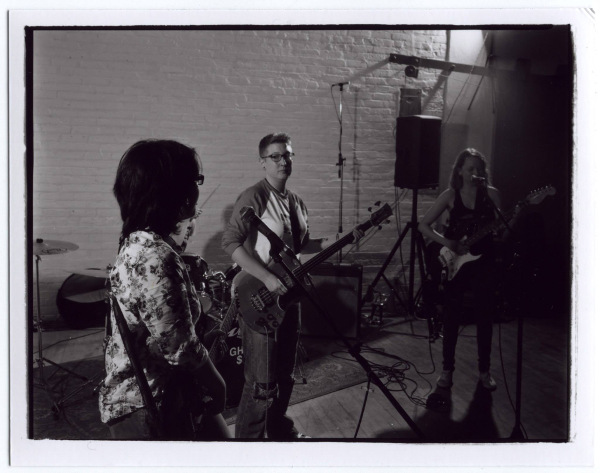 5. Be inclusive.
Negative Space had a policy that at each music show in our venue, there must be at least one female-identifying participant. But, we found that this policy only concentrated on women and decided to use NEF as a way to help break down barriers for queer, non-binary, and trans people as well. Putting the festival together helped Negative Space grow our organization's scope and potential.
Go to shows, see who is not be represented, and help create a community that they will feel welcome and safe in. This takes more than a statement and good intentions, this takes action.
6. Be supportive.
Not all participants will share the same experience. Some will need the safe(r) space to have their first show in, some will need to be shown that they are capable, some will have never have touched a guitar before, some won't be able to afford one, some might not have a place to practice it in.
7. Provide assistance.
Host a panel discussion with local musicians to create a dialogue about the issues we face and how to break them down. Host workshops to teach newcomers their instruments. Gear share and provide jam space.
8. Be approachable.
Emphasize that it is okay to ask for help, and ask people if they need help before they ask you. Keep in touch with participants and encourage them. Don't neglect their attempts to contact you.
The NEF was appealing to me because it is a project that inspires action against the issue of sexism in music. Our end result included an awesome kick-off party, a panel discussion with local female musicians, gear share, online community, and a final festival show that involved nine whole new bands! Negative Space was able to adapt the festival to meet the needs of our community, and hopefully other cities will continue this trend.
Kara Passey is a community activist and front person for the Winnipeg-based pop-punk band Ghost Hole. They enjoy long walks, pizza, and the company of dogs.
Comment organiser ton propre Not Enough Fest
Des barrières éffondrées de Kara Passey:
(Traduit par Marcin Lasinski)
"Hé, on devrait le faire!"
C'est peut-être les fois où je me suis fait ignorer dans les magasins de musique, ou celles où j'ai joué de la musique avec des mecs condescendants, ou même quand mon ex me disait que les voix de filles n'étaient pas fait pour le punk. Peu importait que j'aie eu plus qu'une décennie de leçons de musique derrière moi, j'ai passé beaucoup de temps à me sentir trop inadéquat pour jouer des accords de puissance. Ce n'est que pendant ma jeune vingtaine que j'ai finalement rencontré un groupe qui respectait cette inquiètude: ils m'ont aidé à franchir certains obstacles auxquels j'avait dû faire face.
Winnipeg a récemment accueilli son premier Not Enough Fest. Au cours de l'hiver précédent j'ai rejoint le collectif Negative Space (une salle safe(r)-space et accueillante qui est opéré collectivement), et je suis tombé sur www.notenoughpdx.com durant un autre déroulage interminable sur le site Tumblr. NEF était un festival queer/LGBTQIXYZ d'art, de musique et de performance. Le festival encourgeait l'inspiration à l'expérimentation, à la collaboration et à créer un travail tout nouveau pour le dernier jour du festival. Un groupe s'appelant No More Fiction, basé à la Nouvelle-Orléans, on fait leur propre version avec une emphase plus forte sur la musique. J'ai été inspiré d'en organiser un à Winnipeg, et je voulais partager mon expérience pour les gens qui serait intéréssé de réaliser quelque chose de similaire.
Voici quelques choses à considérer si tu veux organiser ton propre Not Enough Fest.
1. N'y réfléchis pas trop, fais-le!
Il y a un million de raisons pour ne pas faire quelque chose et, sans mentir, un certain stress est apparu en travaillant sur ce project. Mais, si je n'avais pas parlé de l'idée avec les gens de Negative Space, le NEF n'aurais pas eu lieu à Winnipeg. Ce premier pas, quand tu dis "Hé, nous devrions faire cela" est très important. N'attends pas jusqu'à quelqu'un d'autre t'accompagne; tu sera déçu.
2. Rallie des gens pour t'aider.
Ceci dit, ne le fait pas tout seul! J'avais la chance d'avoir une équipe toute prête à se montrer à la hauteur de l'occasion, mais peut-être tu n'as pas cette chance. Approche des personnes aux vues similaires, parle-leur de ce que tu fais, accueille les rendez-vous avec du vin et des snacks.
3. Déterminez vos resources.
Pendant nos rencontres, nous créeions souvent des listes. Qui pouvons-nous contacter pour la presse? Qui pourrait accueillir un atelier? Qui pourrait faire don d'équipement? Le plus de gens tu as dans ton équipe, le plus de contacts vous avez.
4. Écrivez un déclaration.
Une déclaration bien énoncée donne à un projet de la résolution. Bien sur, un festival ne comprenant que des groupes DIY flambant neuf serait comme même une soirée géniale, mais la déclaration que nous avons écrit pour notre festival a vraiment aidé à avancer plus vite sur notre but final. Avoir une déclaration préalable nous a aidé à coordonner notre ton sur Facebook, les affiches et même les interviews à la radio. De plus, avoir un rencontre avec les organisateurs et organisatrices pendant lequel tout le monde peut négocier leurs sentiments aide à s'assurer que les besoins de toutes et tous sont satisfaits et vous permet de travailler dans une équipe unie.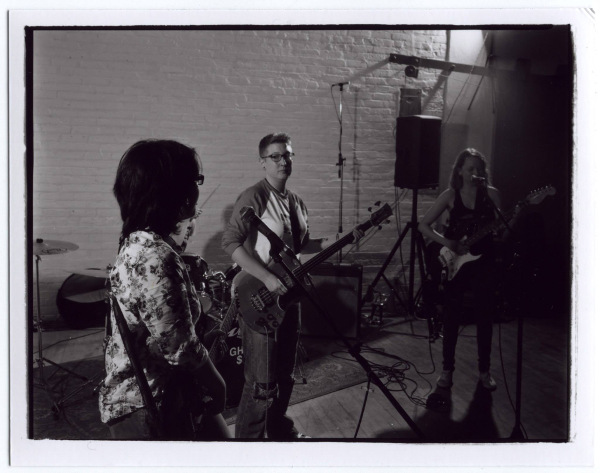 5. Soyez inclusif.
Negative Space avait un principe qu'à chaque concert, il devait y avoir au moins une participante qui s'identifie comme une femme. Cependant, nous avons trouvé que ce principe se concentrait seulement sur les femmes,et nous avons décidé d'utiliser le NEF comme une opportunité d'enfoncer les barrières pour les gens homosexuelles, non-binaire et transsexuelle aussi. Créer un festival a aidé Negative Space à déveloper le cadre et les possibilités de notre organisation.
Allez aux concerts, observez ceux et celles qui n'y sont pas representés, et aidez à créer une communauté dans laquelle ils et elles se sentiront les bienvenus. Il faut plus qu'une déclaration et de bonnes intention; il faut de l'action.
6. Apportez du soutien.
Tous les participants n'auront pas les mêmes experiences. Quelques-uns auront besoin du safe(r) space pour pouvoir faire leur première spectacle; d'autres auront besoin de mots d'encouragement pour croire qu'ils en sont capables; d'autres n'auront jamais touché une guitare; certains n'auront pas les moyens d'en acheter une ; d'autres n'auront pas d'espace pour pratiquer.
7. Fournissez de l'aide.
Tenez une discussion avec les musicien(nes) locaux pour créer un dialogue sur les questions auxquelles on doit faire face, et comment s'y adresser. Accueillez des ateliers pour enseigner aux nouveaux arrivants comment jouer de leurs instruments. Partage l'équipement et fournit un espace de répétition.
8. Soyez approchable.
Soulignez que c'est normal de demander de l'aide et demande si les gens ont besoin d'aide avant qu'ils ne vous le demandent. Restez en contact avec les participants et encouragez-les. Ne negligez pas leurs tentatives pour vous contacter.
Le NEF m'attirait parce que c'est un projet qui inspire l'action contre le problème du sexisme dans la musique. Notre resultat final a compté un coup-d'envoi génial, une discussion avec des musiciennes locales, du partage d'équipement, une communauté en ligne, et un festival qui a inclu neuf nouveaux groupes! Negative Space a été capable d'adapter le festival pour satisfaire les besoins de notre communauté et il faut espérer que d'autres villes vont poursuivre cette tendance.
Kara Passey is a community activist and front person for the Winnipeg-based pop-punk band Ghost Hole. They enjoy long walks, pizza, and the company of dogs.
---
---
---