New Canadiana :: Téléphone Maison – Le rock and roll passait par là?
---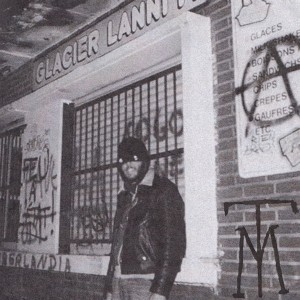 Téléphone Maison
Le rock and roll passait par là?
Montréal, QC
From the circuitous intemperance of Joshua Robinson:
Surging with the resonant percussive pulse of a daydream demon caught in a strange land, Téléphone Maison's Le rock and roll passait par là?? combines the sound of the restless winding world with the engineered static of preternatural haze. This addition to Jeunesse Cosmique's growing list of friendly frantics oscillates to the fervid pitter-patter and mechanical pulsing of waveforms, breaking through the levies holding back the clamour-cuss of technological intemperance. With sounds inverted and turned inside out to reveal the skeletal fragmentation of diodic asymmetry, Téléphone Maison orchestrates the wild groans and underexplored origins of synthetic ear pleasure. This mental pirouette sees one spinning around oneself, cyclically spiralling until all remnants of heard familiarity are rendered mute, reconstituted as circuits vying for control of the space between our ears.
De l'intempérance détournée de Joshua Robinson:
(Traduit par la pirouette mentale de Hugo Hyart-Dauvergne)
Déferlant avec la pulsion percussive résonnante d'un démon rêveur coincé dans un étrange pays, Le rock'n roll passait par là de Téléphone Maison combine un son sinueux et agité avec la statique orchestrée d'une brume surnaturelle. Cet ajout à la liste grandissante de frénésies amicales de Jeunesse Cosmique oscille au crépitement fervent et mécanique d'ondulations pulsatives, perçant les taxes en retenant la clameur-juron de l'intempérance technologique. En utilisant des sons inversés et retournés sans dessus dessous pour révéler la fragmentation squelettique d'une asymétrie à diode, Téléphone Maison orchestre les grognements sauvages et les origines sous-explorées du plaisir de l'oreille synthétique. Cette pirouette mentale nous voit tourner sur nous-mêmes, cycliquement tourner en spirale jusqu'à ce que tous les résidus de familiarité entendus soient rendus muets, reconstitués en circuits rivalisant pour le contrôle de l'espace entre nos deux oreilles.
Téléphone Maison – Les Troubadours Du Roi Beaudouin
Téléphone Maison – Y Pleut Encore
---
---
---