New Canadiana :: Paul Jacobs – Drug Theaters
---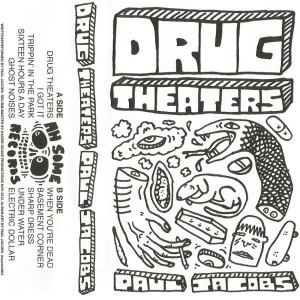 Paul Jacobs
Drug Theaters
Windsor, ON
From the ghostly noises of Kelly MacNeil:
Deep under the mountains of antiquity and reason, water drips from the ceilings in an infinite chorus of reverb. Stalagmites form from these drips, borrowing the reverb while mocking the mountains and their eternal rumbles. Young in contrast to the rocks from which they form, they are the mountain's essence of youth. Paul Jacobs is a stalagmite. He rises from deep undercurrents, and yells into the depths.
Des bruits fantômatiques de Kelly MacNeil:
(Traduit par la chute lente de Catherine Gaucher)
Dans un refrain infini de réverbération, l'eau s'écoule des voûtes profondément enfouies sous les montagnes de l'Antiquité et de la raison. De ces gouttes d'eau s'élèvent des stalagmites, puisant à même les réverbérations et imitant ces montagnes et leurs grondements éternels. D'existence récente en comparaison des roches depuis lesquelles ils se forment, ils sont l'essence de la jeunesse de la montagne. Paul Jacobs est tel un stalagmite. Il s'élève par-delà des lointains courants sous-marins et hurle dans les profondeurs.
---
---
---