Ex Libris :: PostApoc [Liz Worth]
---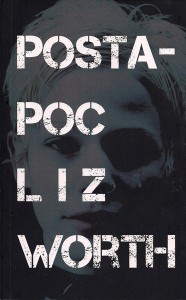 PostApoc
Written by Liz Worth
Toronto, ON
From the left-hand belief of Jesse Locke:
Liz Worth made her name with the Toronto/Hamilton punk tome Treat Me Like Dirt, and this poetic death trip is its illogical extreme. PostApoc's rapidly unraveling plot is seen through the twitching eyes of a suicide pact survivor in the midst of a music scene taking no future to heart. Make-believe bands like Valium serve as stand-ins for the Viletones, Girl for the B-Girls, and Shit Kitten for Simply Saucer, providing the soundtrack for an unholy bender in bizarro Toronto after the world's end.
As the second page explains, "it started with the earth sucking all the moisture back into the ground and replacing it with a slow, quiet dread that hung over the city like a veil." But drought is the least worrisome thing in this dystrophic dystopia run rampant with flesh-eating canines, imploding chests, and the cries of the dead. The first-person narrative switch-turns from an amplification of the unreliable into a drug-addled nightmare; Visions of two-faced praying mantis people, black magic beach houses, and animals with fungus for brains flickering between intervals of true desperation.
Here in the real world, the flip from music journalist to fictional weaver has roots of platinum logic. Liz Worth's blackened prose shoots up from six feet underground, and her characters still get treated like wormfood. Dig!
Des croyances de gauche de Jesse Locke:
(Traduit par les mains effrénées de Joannie Pharand)
Liz Worth s'est fait connaître avec son tome punk en provenance de Toronto/Hamilton Treat Me Like Dirt. Ce présent délire mortel et poétique est extrêmement illogique par rapport à ce tome. Le dénouement rapide de l'intrigue de PostApoc se fait connaître à travers les yeux tremblants d'un survivant à un pacte suicidaire au beau milieu d'une scène musicale ne prenant espoir en aucun futur. Des groupes de musique inventés, tels que « Valium », servent de remplaçants pour the Viletones, Girl pour B-Girls et Shit Kitten pour Simply Saucer. Ils offrent la trame sonore d'une beuverie démente dans la ville bizarroïde de Toronto, après la fin du monde.
Comme la seconde page l'explique, « ça a commençé avec la Terre qui aspira toute l'humidité et la remit dans le sol pour la remplacer par un effroi silencieux suspendu sur la ville comme une voile » (NDT ceci fut traduit par la traductrice de cette critique. Voici le passage en langue originale anglaise : « it started with the earth sucking all the moisture back into the ground and replacing it with a slow, quiet dread that hung over the city like a veil. ») Mais, la sécheresse est la dernière inquiétude à avoir dans cette dystopie dystopique remplie de canidés mangeurs de chair, de poitrines en éclats et de cris de morts. La narration à la première personne oscille entre amplifications invérifiables et cauchemars embrouillés induit par la drogue: des visions de mantes religieuses humaines à deux visages, des maisons ensorcelées au bord de l'eau et des animaux ayant des moisissures en guise de cerveau qui clignote en intervalles de véritable désespoir.
Ici, dans le vrai monde, la journaliste musicale devenue une tisserande de fiction a des racines logiques et exubérantes. La sombre prose de Liz Worth ressort de six pieds sous terre et ses personnages se font encore traiter comme des appâts pour vers de terre. Ça vous plaira !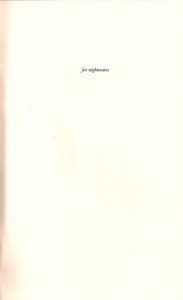 ---
---
---