New Canadiana :: MaicaMia – Des Era
---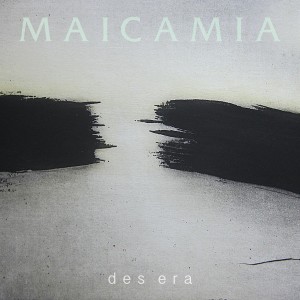 MaicaMia
Des Era
(Self Released)
Montréal, QC
From the post-apocalytic transmission of AnneMarie Papillon:
(Translated by AnneMarie Papillon)
At WC, we were slow to register the existence of MaicaMia. In 2012, back when the band was playing as a duo, they recorded Sparcity Blues, a beautiful work of dimly lit folk and slowcore sadness. Most of us missed it, but the album was acknowledged here.
Since being joined by GY!BE's Mauro Pezzente in the past year, the group has now released Des Era, a collection of dark experiments where the raw complexity of dreadful feelings is used to their advantage. Like a magnetic force of nature, it draws you in. Sparse arrangements chart ethereal explorations of the moon in a post-apocalyptic transmission. It is a blackened aurora borealis awash with sonic experimentation streaking across our winter sky. The hypnotic haziness of Maica Armata's vocals seem to melt all over the cathartic clashes of drums and dense bass notes. MaicaMia deal with an uneasy 21st century blues; pained and haunting, melodic and challenging.
Des transmissions post-apocalyptiques d'AnneMarie Papillon:
Chez WC, nous avons été lents à réaliser l'existence de MaicaMia. En 2012, alors que le groupe n'était qu'un duo, ils enregistrent Sparcity Blues, une excellente oeuvre de folk tamisé et de tristesse slowcore. La plupart d'entre nous ne l'ont pas vu passer, mais l'existence de l'album est reconnue ici.
Au cours de la dernière année, Mauro Pezzente de GY!BE a rejoint le groupe. Ils sortent maintenant Des Era, une collection de sombres expérimentations où la complexité brute de ces émotions qui font peur est utilisée à leur avantage. Comme une force de la nature empreinte de magnétisme, ils nous attirent à eux. Les arrangements minimes semblent évoquer les explorations éthérées de la lune, dans une transmission post-apocalyptique. C'est une sombre aurore boréale inondé d'une expérimentation sonique, laissant ses trainées lourdement teintées dans notre ciel d'hiver. La brume hypnotique qui voile la voix de Armata semble se fondre partout sur les clashs cathartiques de batteries et les denses notes de basses. Maicamia maîtrise habilement un blues quasi perplexe en ce 21e siècle : peiné et obsédant, ambitieux et mélodique.
---
---
---