How To Start A Music Blog When You're 15
---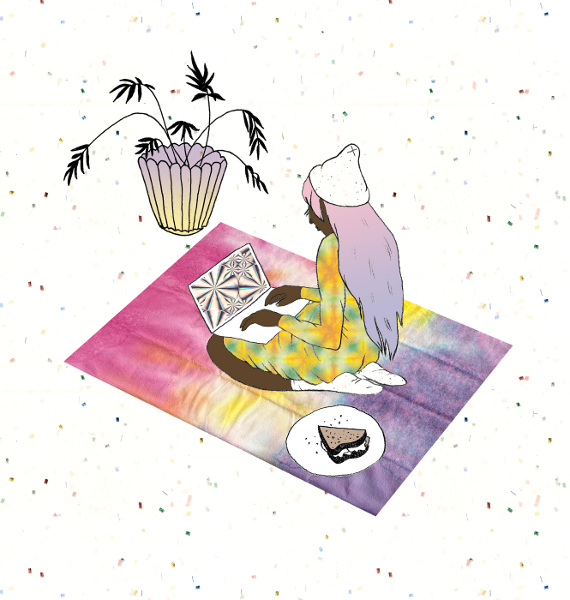 How To Start A Music Blog When You're 15
Shawna Naklicki
Elliot Lake, ON
Cover Art: Tobin Louise Reimer
Piece Editor: Rodney Barnes
You are young. You live in a depressed post-boom retirement town. You have discovered CBC Radio, and find your late nights filled with soft static and international programming. Along with this discovery blooms a whole new world of music – Canadian music – that you've never heard before. You want to talk about it. You want everyone to know about it. You want to be a part of it. In an interweb world of infinite opinions, visions and sounds, you decide you have a voice. You start a blog:
1. Research
Research different blogging platforms before you choose one. Try to get an idea of what you want to get out of it, look at what blogs you read/use, and decide that Weebly is not a good blogging platform. In fact, it is not a blogging platform at all. Maybe I'm biased, but WordPress is the best place to start, as it's both very customizable while remaining user-friendly, working wonderfully for text–based blogs.
For image and video based blogs, Tumblr does the trick. It is quick and easy, but runs the risk of being social network-y, which can appear juvenile and mediocre. Blogger (Blogspot) is outdated in appearance, and customization options are few, but some blogs make it work.
2. Get a good name
Get a good name for your blog, and stick with it. You're not Apple, but branding is important no matter how big or small the project. Try to stay away from these: Sarah's Super Duper Music Blog, i lyke muzik, Shovel, etc. Memorable names are distinct, brief, and appropriate. (Do not in any circumstance name your Canadian music blog Candmu… been there, done that. It was a dark time.)
3. Avoid gushing
When you start writing (especially when it comes to album reviews), avoid gushing. It's easy to get carried away with complimentary words. Great reviews will capture the sound of a record with just their words, like this one, leaving you with the impression that you've already listened to the album. Looking at the review a few hours later can be helpful in seeing if you're over-praising.
4. Proofread!
This rule applies to anyone who writes anything ever. Seriously. It doesn't take all that long and will save you a few face-palms that usually arrive sometime after you prematurely press the publish button.
5. Make friends
Do not be afraid to reach out. Lucky you, you can hide behind a computer screen and use your big vocabulary to make people believe you can't still eat off the kid's menu. Reach out – send emails to your favourite record labels and blogs, tell them you're interested in what they're doing. Having connections is key to running a music blog.
6. Decide how to present yourself
This means you have to decide whether you're going to let people know how old you are. It's never good to lie about it, but people may not take you as seriously if they know your age. Some good adjectives to use instead of your age are: inexperienced, new, humble, spring chicken, wet behind the ears, etc.
7. Don't tell anyone
Don't tell anyone about your blog. Your parents will tell their friends and you'll never be allowed to cuss while ranting and raving about how disappointing the Polaris Prize Shortlist is. Your friends will probably be relatively unimpressed and will not even know what the Polaris Prize is.
8. Tell EVERYONE
Tell EVERYONE about your blog. Having more readers and people who want to know about what you're doing will feel great. Get the word out on social media, Twitter being especially handy. It allows you not only to connect with people in the industry, but also to share things when your time is limited.
9. Have patience
Yes, we are aware that you can't attend 19+ shows. When you get media invites to cool gigs in cities far away from your small Northern Ontario town, hang your acne-ridden head in sadness and wait it out.
10. Write. Write a lot.
Consistency is imperative. Getting discouraged is almost a guarantee, because gratification is not always instant. Nothing remedies it like getting a thank you email from that band whose debut record you decided to review or getting a promo download to that album you were going to buy.
11. Find your niche.
This advice may be overused, but establishing a unique voice is very important and creates a deeper connection with your readers. It is what makes people come back – it's what brought you here.
12. Do not make your hits more important than your content.
Do not, in any circumstance, make your hits more important than your content. Integrity, child! If you find yourself turning into modern day Rolling Stone, you may want to re-evaluate and remember why you're doing this in the first place.
Mistakes will be made. Tears may or may not be shed in hours that may or may not be late. But the rewards are well worth it and with these tips and some old fashioned elbow-grease, you are on your way to becoming a valuable part of a welcoming community that shares your values.
Shawna Naklicki is a young grasshopper who learned (almost) everything she knows about blogging through mistakes. She's been writing with zeal at Sound Vat since age 15. Her proudest moment was finally getting business cards.
(Traduit par Hugo Hyart)
Vous êtes jeune. Vous vivez dans une ville de retraités déprimante à la gloire passée. Vous avez découvert CBC radio et vos nuits se ponctuent de programmes statiques doux et internationaux. En même temps que cette découverte éclot un tout nouveau monde de musique – de musique canadienne – dont vous n'aviez jamais entendu parlé auparavant. Vous voulez en parler. Vous voulez que tout le monde soit au courant. Vous voulez en faire partie. Dans un monde interconnecté infini d'opinions, de visions et de sons, vous décidez que vous avez votre mot à dire.
Vous commencez un blog :
1. Renseignez vous sur
Renseignez vous sur les différentes plateformes de blogue avant d'en choisir une. Essayez d'avoir une idée de ce que vous voulez en faire, regardez ce que les blogues que vous lisez utilisent et décidez que Weebly n'est pas une bonne plateforme de blogue. En fait ce n'est même pas une plateforme de blogue. Peut-être que je suis biaisé, mais WordPress est le meilleur endroit pour commencer, c'est à la fois très personnalisable tout en restant facile à manier et fonctionne très bien pour les blogues à base de texte.
Pour les blogues d'images et de vidéos, Tumblr fait l'affaire. C'est rapide et facile, mais ça prend le risque d'être réseau socialisant, ce qui peut apparaître juvénile et médiocre. Blogger (Blogspot) est dépassé niveau apparence, et les options de personalisations sont peu nombreuses, mais certains blogues s'en sortent bien.
2. Trouvez un bon nom pour votre blogue
Trouvez un bon nom pour votre blogue, et tenez-y vous. Vous n'êtes pas Apple, mais l'effet de marque est important quelque soit la taille du projet. Essayez de vous tenir à l'écart de ceux-ci : Le Blogue de Musique Super Génial de Sarah, i lyke muzik, Shovel, etc. Les noms mémorables sont distincts, bref et appropriés. (N'appelez en aucun cas votre blogue sur la musique canadienne Candmu …. je suis passé par là. C'était une sombre époque.)
3. Quand vous commencez à écrire évitez les gros épanchements.
Quand vous commencez à écrire, (surtout quand vous en venez aux critiques d'albums), évitez les gros épanchements. Il est facile de se laisser emporter en compliments. Les meilleurs critiques capturent le son d'un enregistrement avec leurs simples mots, comme celle-ci, et vous laisse avec l'impression d'avoir déjà écouté cet album. Relire la critique quelques heures plus tard peut aider à voir si vous en faîtes trop.
4. Relisez-vous!
Relisez-vous! Cette règle s'applique à toute personne qui écrit quoique ce soit, mais sérieusement. Ça ne prend pas tant de temps et ça vous évitera quelques mains au front qui se produisent habituellement après avoir poussé le bouton de publication prématurément.
5. Faîtes-vous des amis
Faîtes-vous des amis. N'ayez pas peur d'entrer en contact. Vous avez de la chance, vous pouvez vous cacher derrière l'écran de votre ordinateur et utiliser votre grand vocabulaire pour faire croire aux gens que vous ne pouvez pas encore manger plus qu'un menu enfant. Entrez en contact – envoyez des mails à vos étiquettes et blogues préférés, dîtes leur que ce qu'ils font vous intéresse. Avoir des connections est la clé dans la tenue d'un blogue.
6. Décidez comment vous vous présentez
Décidez comment vous vous présentez. Cela veut dire que vous devez décider si vous allez laisser les gens savoir quel âge vous avez. Ce n'est jamais bon de mentir sur son âge, mais certains ne vous prendront jamais sérieusement si ils le connaissent. Quelques bons adjectifs que vous pouvez utiliser pour éviter de donner votre âge : inexpérimenté, nouveau, poussin, jeunot-e, etc.
7. N'en parlez à personne
N'en parlez à personne. Vos parents en parleront à leurs amis et vous ne pourrez plus dire de gros mots lorsque vous pesterez et râlerez sur la décevante liste de nominés du Polaris Prize. Vos amis seront probablement relativement peu impressionnés et ne sauront peut-être même pas ce qu'est le Polaris Prize.
8. Dîtes le à TOUT LE MONDE
Dîtes le à TOUT LE MONDE. Avoir plus de lecteurs et de gens qui veulent en savoir plus sur ce que vous faîtes fera plaisir. Répandez la nouvelle sur les média sociaux, Twitter est très pratique pour cela. Cela vous permet de connecter avec des gens de l'industrie, mais aussi de partager des choses quand votre temps est compté.
9. Ayez de la patience
Ayez de la patience. Oui, soyez conscient que vous ne pouvez pas aller aux concerts + de 19 ans. Quand vous recevez une invitation pour des gigs sympas dans des villes loin de votre petite ville de l'Ontario du Nord, contenez en tristesse votre tête couverte d'acné et attendez que ça passe.
10. Ecrivez. Ecrivez beaucoup
Ecrivez. Ecrivez beaucoup. Être constant-e est impératif. Être découragé-e est quasiment une garantie, car la gratification n'est pas toujours immédiate. Rien n'y remède aussi bien que de recevoir un mail de remerciement de ce groupe dont vous aviez décidé de chroniquer le premier album ou de recevoir un téléchargement promotionnel pour cet album que vous alliez acheter.
11. Trouver votre niche
Trouver votre niche. Ce conseil est peut-être trop rabaché, mais établir une voix unique est très important et crée une connexion plus forte avec vos lecteurs. C'est ce qui fait que les gens vont vouloir revenir – c'est ce qui vous y a amené.
12. Ne rendez, sous aucunes circonstances, votre nombre de vues plus important que votre contenu
Ne rendez, sous aucunes circonstances, votre nombre de vues plus important que votre contenu. De l'intégrité mon enfant ! Si vous vous retrouvez à devenir un Rolling Stone des temps modernes, vous allez peut-être vouloir ré-évaluer ce que vous faîtes et vous souvenir du pourquoi vous le faisiez au début.
Des erreurs seront commises. Des larmes seront ou ne seront pas versées à des heures qui seront ou ne seront pas tardives. Mais les récompenses le valent bien et avec ces indications et de la bonne vieille huile de coude, vous êtes sur le chemin pour devenir une partie intégrante de la communauté accueillante qui partage vos valeurs.
Shawna Naklicki est une jeune scarabée qui a appris (à peu près) tout ce qu'elle sait sur la tenue de blogue à travers des erreurs. Elle écrit avec zèle sur Sound Vat depuis ses 15 ans. Son plus grand moment de gloire a été de finalement recevoir des cartes de visites.
---
---
---