Far Shores // Inferred Views :: Alexandra Mackenzie
---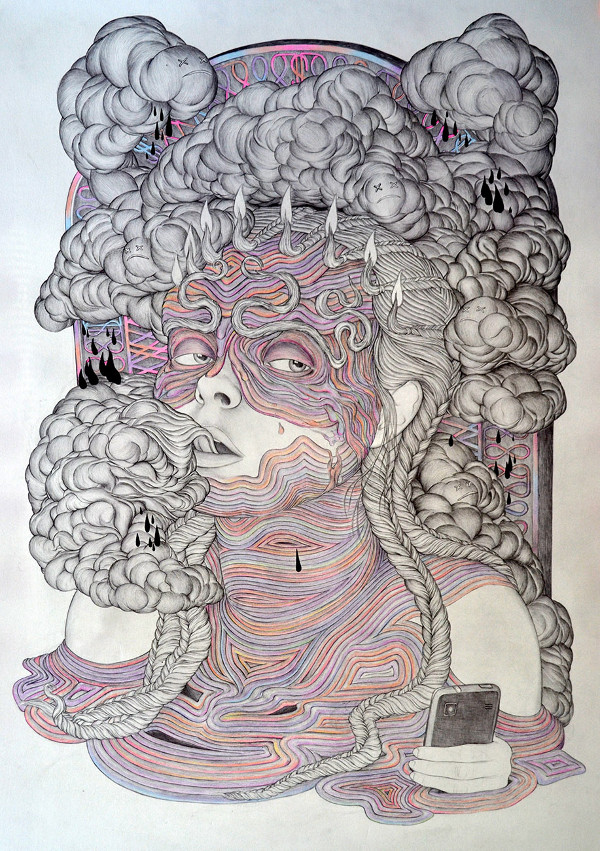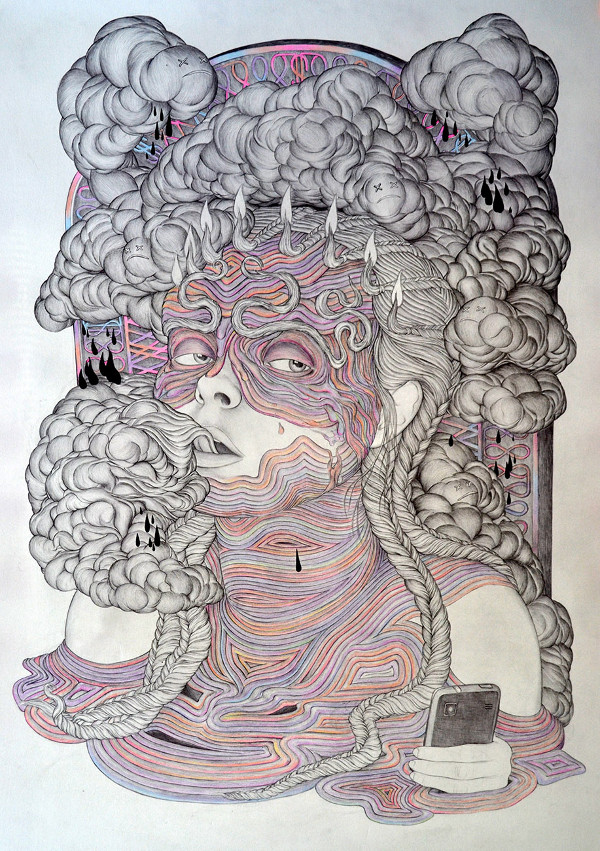 Alexandra Mackenzie
Artist, Musician, Psychedelic Voyeur
Toronto, ON
From the transcendental interconnectedness of V. Rachel Weldon:
Alexandra Mackenzie is an artist centered loosely in this cosmic realm. She creates through multiple mediums, including drawing, screenprinting, and installation. She also emits sounds from a frequency known as Petra Glynt. To help launch our latest section, Far Shores, focusing on the intersections between music and visual art, we sent her a series of questions through the ether.
V. Rachel Weldon : How do you feel about autonomous art, or art for art's sake? Do you think art should address a cause or imbalance in our world?
Alexandra Mackenzie: It's not my place to say how others should focus their art — to each their own — but seeing as we already live in such a society of self and of spectacle I have a hard time putting my support in art purely for art's sake. I understand why art-making can often be a release for some, [a kind of art] that is therapeutic or healing. I also understand and encourage art-making for the sake of finding one's voice, but I feel that if a person choses art as their "life-calling" there are some social responsibilities that come with that. Existential post-modern angst never helped anybody. I suppose that's where the artist's role comes in.
In your opinion, what is the role of an artist: to change, to interpret, or to transcend reality?
For myself I feel the need to respond to problems within our society, the things that make me angry, the things I feel are unjust. It's that rage that writes songs and generates the momentum to make visual work.
Maybe the artist's role is to represent their stance or perspective of the world, and share it from a neutral platform. Images reign in our society. The artist have the ability to offer a compelling representation of their thoughts and feelings and I think that's a powerful voice. If the artist can combat apathy or provide insight and/or draw attention to the issues that plague our society (and world) than I feel that is a voice that should be used and explored.
What is the value of psychedelic experience (generally, and specifically to you)?
I'm sure there are unlimited answers to this question… :)
Psychedelic experience (mine has been with Psilocybin, a.k.a. magic mushrooms) puts things into perspective… makes me aware of my part in an interdependent, infinite network that connects all life… For real! Plus for me, it is humbling. I appreciate being reminded that I am part of something much bigger than what our brains can perceive, though that tiny role is still important for the health and balance of the whole.
I feel the greatest benefit of psychedelic experience is the ego loss. When humans act with entitlement we are not moving forward as a species… we can't install old tar sands pipelines for the sake of maintaining jobs and profits, it's careless and doesn't consider the benefit of the whole: the water supply, the air we breathe, the indigenous communities, and the state of present and future life on this planet that are/going to be affected. In this case humans are taking more than what is sustainable within unsavoury practices, and I feel this is a matter of entitlement, thinking that it is ours to take… There is a balance that must be maintained in all aspects of life and I think the psychedelic experience is one of many valuable lessons and windows into understanding that balance.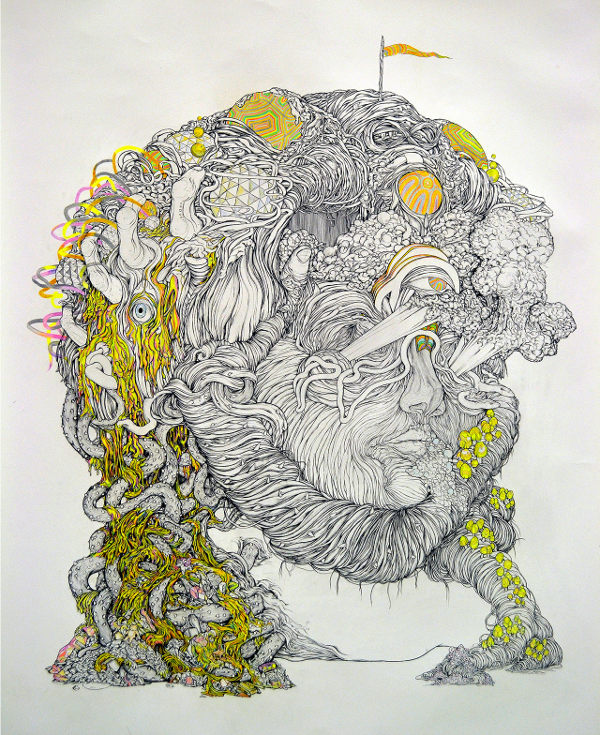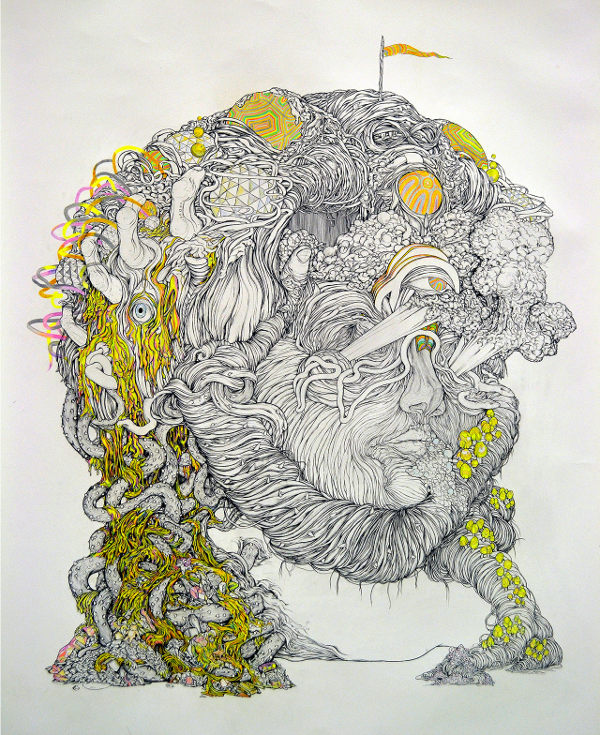 Your intricate drawings are a feast for the eyes, so heavily saturated with symbols and meaning. I'm interested to know how you conceptualize that? Sometimes I interpret it as transcendence and interconnectedness with everything, as in one of my favourites, FTW. Other times, I see it as dirty and suffocating, like pollution or overpopulation, or as symptom of our age of technology and commodification, distracting and uncanny. What are some of the issues you are drawn to address or reflect most in your work?
I really love how you interpret my art! You're totally on the right roll… :) !!!
I am sympathetic to all the human struggles… the ongoing racism, the ongoing oppression of women, the world of identity and gender politics, the ongoing genocide of First Nations… I easily become engrossed with rage which dissolves into apathy when I remind myself that I am a privileged hetero white female. I worry that any action I take may not appear sincere. As a result, and by no means as a "default" choice, I tend to lean toward defending the Earth and direct my focus on environmental issues because they affect us all.
I struggle with what I want to say versus what I am able to represent… My work tries to suggest an urgency for resistance against our current capitalist system — because of what it's doing to the planet and its people. This is so massive and daunting… so my work reflects those feelings too.
I am overwhelmed with the amount of work that has to be done in rethinking how we function as a global whole and I am no expert in devising plans for new localized systems of doing things. But more than ever, I want to see an end to capitalism's "endless growth" and the scars it leaves behind on the planet, and the people who experience the inequity of the capitalist economy everyday.
I also can't help but want to show the beauty and the phenomenological nature of the planet: it is the epitome of meta/psychedelic/supernatural. So it's a balance of these things that I'm working with.
Do you have anything coming up in the near future?
I have been invited to put together a solo multi-media art exhibition at Ed Video in Guelph for the month of April that will coincide with Kazoo! Fest. I'm putting together my first comic for Michael Comeau's comic anthology for April around the theme Human Drama. I'm currently writing a full-length album for my solo music project Petra Glynt, to be released in the summer, and I'm planning a couple tours to follow it, hopefully reaching the EU, the US, and as much of Canada as possible. I am also putting together a new series of drawings for a solo show at Magic Pony/Narwhal sometime within the last quarter of the year… life is beautiful!
Petra Glynt performs at Toronto's Wavelength Music Festival at the Polish Combatants Hall (206 Beverly St.) on Saturday, February 15. This event, co-presented by Weird Canada, also features Colin Stetson, US Girls, Biblical and Gambletron. More info can be found here.
De l'interconnectivité transcendantale de V. Rachel Weldon:
(Traduit par Virginie Langlois)
Alexandra Mackenzie est une artiste qui gravite en toute liberté dans notre royaume cosmique. Elle exprime sa créativité dans de multiples domaines, notamment le dessin, la sérigraphie et les installations. Elle émet aussi des sons à une fréquence connue sous le nom de Petra Glynt. Dans le cadre du lancement de notre nouvelle rubrique axée sur les intersections entre la musique et les arts visuels, nous lui avons envoyé une série de questions par ondes électromagnétiques.
V. Rachel Weldon : Que penses-tu de l'art autonome, ou de ceux qui font de l'art pour faire de l'art? Crois-tu que l'art doit toujours traiter d'une cause ou d'un déséquilibre dans notre monde?
Alexandra Mackenzie : Ce n'est pas à moi de dire aux autres sur quoi ils doivent centrer leur art – à chacun le sien – mais la société dans laquelle nous vivons est déjà tellement axée sur le soi et le spectacle que j'ai du mal à soutenir l'art pour le seul plaisir de faire de l'art. Je comprends en quoi la création artistique peut être une forme de libération pour certaines personnes, j'ai conscience que [certains types d'art] ont des vertus thérapeutiques ou apaisantes. Je comprends aussi et j'encourage la création artistique comme moyen de trouver sa voie, mais j'estime que si une personne choisit l'art comme « voie », c'est un choix qui s'accompagne de certaines responsabilités sociales. La colère existentielle post-moderne n'a jamais aidé personne. J'imagine que c'est en cela que l'artiste a un rôle à jouer.
À ton avis, quel est le rôle d'un artiste : changer, interpréter ou transcender la réalité?
En ce qui me concerne, je ressens le besoin de traiter des problèmes qui se posent dans notre société, des choses qui me mettent en colère, des choses qui me semblent injustes. C'est cette rage qui permet d'écrire des chansons et qui génère l'impulsion nécessaire à l'art visuel.
Peut-être que le rôle de l'artiste est d'exprimer son point de vue ou sa perspective sur le monde et de partager cela au moyen d'une plateforme neutre. Les images sont reines dans notre société. Les artistes ont la possibilité d'offrir une représentation convaincante de leurs pensées et de leurs sentiments; je trouve que c'est un pouvoir fort. Si l'artiste est capable de combattre l'apathie, de mieux faire comprendre certains des enjeux qui gangrènent notre société (et notre monde) ou simplement d'attirer l'attention sur ces problèmes, alors c'est une voie à utiliser et à explorer.
Quelle est l'utilité des expériences psychédéliques (en général et pour toi en particulier)?
Je suis sûre qu'il y a un nombre infini de réponses possibles à cette question… :)
Les expériences psychédéliques (en ce qui me concerne, j'ai testé la psilocybine, c'est-à-dire les champignons hallucinogènes) mettent les choses en perspective… elles me permettent de prendre conscience de mon rôle au sein d'un réseau interdépendant et infini qui relie toutes les formes de vie… Sans rire! En plus pour moi, c'est un exercice d'humilité. J'aime qu'on me rappelle que je fais partie de quelque chose de bien plus vaste que ce que nos cerveaux peuvent percevoir, même si ce rôle infime est malgré tout important pour la santé et l'équilibre du système tout entier.
Je pense que le principal intérêt des expériences psychédéliques, c'est qu'elles permettent de mettre l'ego de côté. Lorsque les êtres humains agissent avec arrogance, cela ne nous fait pas avancer en tant qu'espèce… On ne peut pas construire des pipelines pour transporter le pétrole issu des sables bitumeux simplement pour préserver les emplois et les profits; c'est un acte inconsidéré qui fait fi de l'intérêt général : l'approvisionnement en eau, la qualité de l'air que nous respirons, les collectivités autochtones, et les conditions de vie actuelles et futures sur cette planète, toutes ces choses qui sont affectées ou qui le seront un jour. Dans ce domaine, l'être humain prend bien plus que ce qui est viable en utilisant des méthodes peu recommandables; j'ai l'impression que l'être humain pense être dans son bon droit, qu'il peut se servir librement… Dans tous les aspects de la vie, il y a un équilibre à atteindre et je pense que les expériences psychédéliques sont très utiles pour appréhender cet équilibre.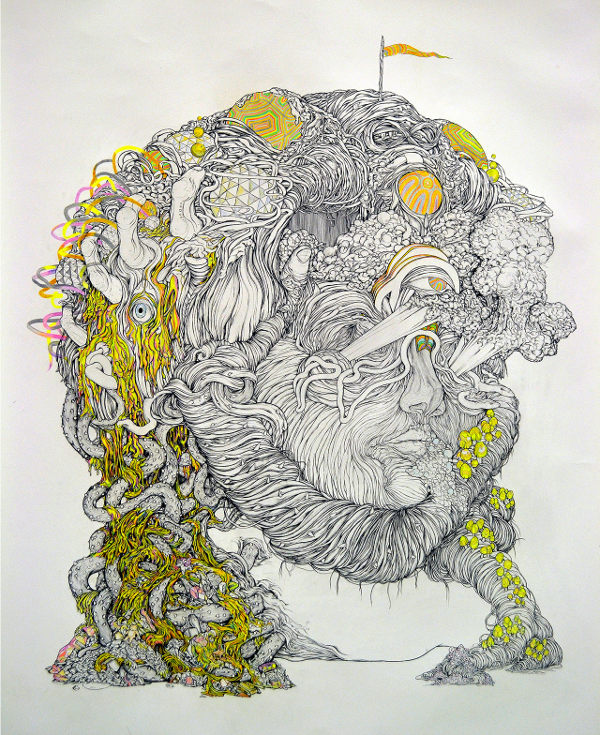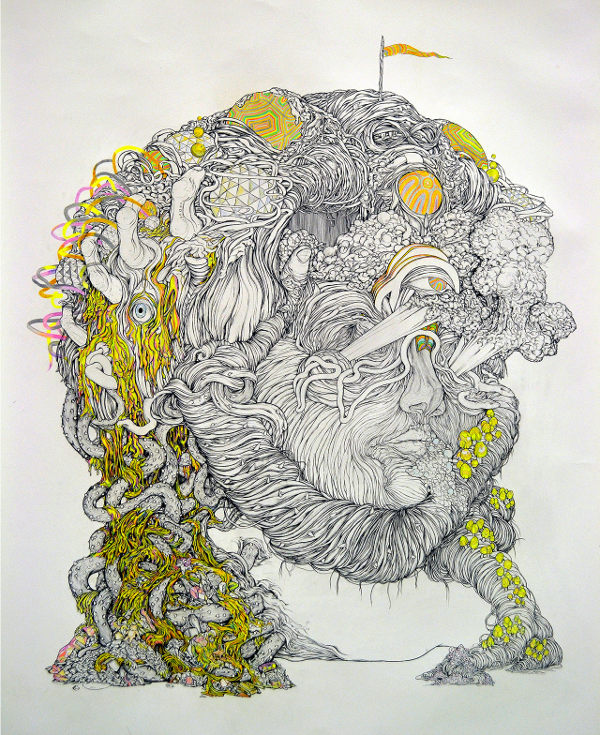 Tes dessins complexes, saturés de symboles et de significations, sont un régal pour les yeux. Comment est-ce que tu conceptualises cela? Parfois, je les interprète comme une transcendance et une interconnectivité avec tout ce qui nous entoure, comme dans un de mes dessins préférés, FTW. À d'autres moments, j'y vois un monde sale et étouffant, du fait de la pollution et de la surpopulation, ou un symptôme de notre ère technologique où la marchandisation à outrance est reine. Quels sont les enjeux que tu as envie de traiter ou d'aborder dans ton travail?
J'adore la façon dont tu interprètes mon art! C'est exactement ça… :) !!!
Je suis sensible à tous les combats menés… le racisme et l'oppression des femmes, des fléaux toujours très présents, les considérations liées à l'identité ou au sexe, le génocide des Premières Nations qui se poursuit… Je me mets facilement en colère puis ma colère se transforme en apathie lorsque je me rappelle que je suis une femme blanche hétéro privilégiée. J'ai peur que mes actes dans ce domaine n'aient pas l'air sincères. Alors je me tourne plutôt – mais pas du tout par défaut – vers la défense de la planète et j'axe mon travail sur les questions environnementales parce qu'elles nous concernent tous et toutes.
Je me débats avec ce que je veux dire par rapport à ce que je suis capable de représenter… J'essaie de suggérer grâce à mon travail l'impérieuse nécessité de faire acte de résistance face à notre système capitaliste actuel, en raison de ses effets sur la planète et sur les peuples. C'est tellement énorme et déconcertant… alors mon travail reflète ces sentiments aussi.
Je suis accablée par la quantité de travail à accomplir pour repenser la façon dont nous fonctionnons comme entité globale et je ne m'y connais pas suffisamment pour concevoir de nouveaux systèmes localisés de faire les choses. Mais plus que jamais, il faudrait qu'on en finisse avec la « croissance sans fin » engendrée par le capitalisme, les séquelles pour la planète et les personnes qui vivent l'injustice de l'économie capitaliste au quotidien.
Je ne peux pas m'empêcher de vous montrer la beauté et la nature phénoménologique de la planète : c'est la quintessence du méta/psychédélique/surnaturel. C'est sur l'équilibre de toutes ces choses que je travaille.
Quels sont tes projets pour les prochains mois?
J'ai été invitée à mettre sur pied une exposition multimédia en solo à Ed Video à Guelph au mois d'avril; l'expo coïncidera avec Kazoo! Fest. Je travaille sur ma première bande dessinée pour l'anthologie de Michael Comeau qui sortira en avril sur le thème du drame humain. J'écris actuellement un album pour mon projet musical solo Petra Glynt, qui sortira cet été, et je prévois de donner quelques concerts après ça, en Europe, aux États-Unis et partout où je pourrai au Canada. Je prépare aussi une nouvelle série de dessins pour une représentation solo à Magic Pony/Narwhal à la fin de l'année… la vie est belle!
Petra Glynt performs at Toronto's Wavelength Music Festival at the Polish Combatants Hall (206 Beverly St.) on Saturday, February 15. This event, co-presented by Weird Canada, also features Colin Stetson, US Girls, Biblical and Gambletron. More info can be found here.
---
---
---