Video :: Petra Glynt – "Sour Paradise" [Dir. Blake Macfarlane]
---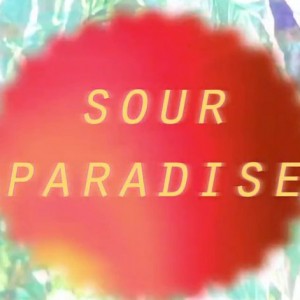 From the plastic buckets and paint cans of Sander Cohen:
In Sub-Saharan African music, drums play a significant role. Not just as a backbone for the music itself or a stimulus to kinetic movement, but also as a symbol of cathartic conditioning. The act of engaging with complicated cross-beats and polyrhythms, whether through playing or dancing, prepares one for keeping positive and grounded when dealing with life's challenges. These rhythms represent the heartbeat and fabric of community and human life, a fabric that is currently sewn thin and tearing under global inequality and environmental degradation.
Toronto's Petra Glynt knows this form of cathartic conditioning very well and with the help of a few friends, her video for "Sour Paradise" strives to unite under the power of communal drums; drums built from paint cans and plastic buckets, the drums of the everyday people. Bursting with psychedelic imagery that shares stylistic similarities with Paw Tracks-related video projects, such as Animal Collective's ODDSAC and Prince Rama's "Never Forever", it's no surprise that several ladies of the Maracatu Mar Aberto percussion ensemble were also a big help behind the scenes. More than anything, the celebration of community is what sticks; helping each other through this candycane wasteland called life. What better way to do that than music, art, dance, and most of all, drums.
Des seaux en plastique et des pots de peinture de Sander Cohen:
(Traduit par les pas de danse de Julie Forget)
Dans la musique subsaharienne d'Afrique, le tambour joue un rôle significatif. Il n'est pas seulement la colonne vertébrale de la musique ou le stimulus du mouvement cinétique, mais il se voit aussi être un symbole de conditionnement cathartique. L'acte d'engager le dialogue avec des cross-beats et des polyrythmes compliqués, soit en jouant ou en dansant, aide à rester positif et raisonnable lorsque confronté aux difficultés de la vie. Ces rythmes représentent le battement de cœur et le tissu de la population et de la vie humaine, un tissu cousu de façon mince en ce moment et qui se déchire dans l'inégalité mondiale et dans la dégradation environnementale.
La Torontoise Petra Glynt connaît très bien cette forme de conditionnement cathartique. Avec l'aide de quelques amis, elle a produit la vidéo « Sour Paradise » dans le but d'unir sous le pouvoir du tambour collectif; un tambour fait de pots de peinture et de seaux en plastique, le tambour des gens ordinaires. Apparaissant soudainement avec une imagerie psychédélique qui partage des similarités avec des projets de vidéo liés à Paw Tracks comme « ODDSAC » d'Animal Collective et « Never Forever » de Prince Rama, plusieurs femmes de l'ensemble de percussions Maracatu Mar Aberto ont été, sans surprise, d'une grande aide dans les coulisses. Plus que tout, la célébration de la communauté est ce qui reste; l'entraide dans ce terrain vague de cannes de bonbon appelée la vie. Quoi de mieux pour le faire que d'utiliser la musique, l'art, la danse et surtout, les tambours.
---
---
---