New Canadiana :: TAXA – Resurrection Year
---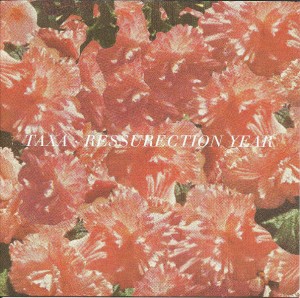 TAXA
Resurrection Year
Vancouver, BC
From the imminent explosion of Kevin Stebner:
Initially, you may think these burly rhythms come from worshippers of the old Great American Steak Religion, yet Taxa take a soul-searching journey to the Valhalla that is Chapel Hill. Imagining mechanic button-ups with embroidered names like "Dale" or "Hank", you wonder if they intend to heal the damage. Instead, you climb the mountain of history and past, feeling a scarily imminent explosion from the Pacific rim. Do you crest the peak, or fall headlong in?
De l'explosion imminente de Kevin Stebner:
(Traduit du sommet de la vague de Justine Gabias)
Au premier abord, on pourrait penser que ces rythmes costauds sont l'oeuvre de fidèles de The Great American Steak Religion, mais les membres de Taxa entreprennent plutôt un voyage spirituel jusqu'au Valhalla qu'est Chapel Hill. Les imaginant portant des chemises de mécanos avec des noms comme « Dale » ou « Hank » brodés sur la poitrine, on se demande s'ils ont l'intention de réparer les dommages. Ils nous font plutôt gravir la montagne de l'histoire et du passé avec le pressentiment d'une explosion horriblement imminente de la ceinture du Pacifique. On touche le sommet de la vague ou on y tombe la tête la première ?
---
---
---