New Canadiana :: Dorothea Paas – A Thirst
---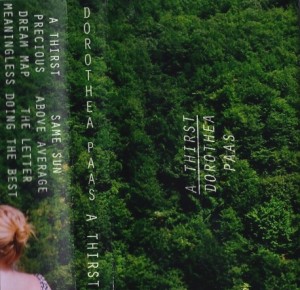 Dorothea Paas
A Thirst
(Self Released)
Kingston, ON
From the strange times of Javier Fuentes:
Kingston's enchanted waters have overflown and revealed another gem in the stream. Fuzzy channels have opened up and let sweet melodies filter through the bedrock. A tape found by the shore guides the way to a relaxing state known only as the end of the mind. The fluttering voice of Dorothea Paas acts like anesthesia as daylight is pushed out by memories emerging from cerebral dust. Pastoral zones are quick to shift back and forth between dreams of broken strings and damaged drum kits jostled by a pair of hands trying to awaken the dormant body. Unwind and immerse yourself in this dream map.
Des temps étranges de Javier Fuentes:
(Traduit par la poussière cérébrale de Virginie Langlois)
Les eaux enchantées de Kingston sont sorties de leur lit et ont révélé une nouvelle merveille. Des canaux flous se sont ouverts et ont laissé de douces mélodies filtrer à travers le substrat rocheux. Une cassette trouvée près de la rive nous guide vers un état de relaxation seulement connu comme la fin de l'esprit. La voix papillonnante de Dorothea Paas agit comme un anesthésique alors que la lumière du jour est expulsée par des souvenirs émergeant de la poussière cérébrale. Les zones champêtres se déplacent rapidement d'avant en arrière entre les rêves de cordes brisées et de batteries abîmées malmenées par une paire de mains qui essaie de réveiller le corps endormi. Détendez-vous et plongez dans ce rêve à l'autre bout du monde.
---
---
---