New Canadiana :: Ambsace – Ambsace
---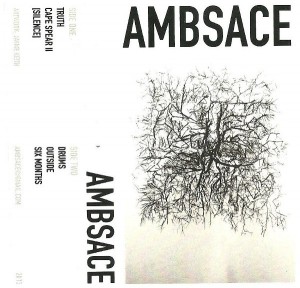 Ambsace
Ambsace
(Self Released)
Toronto, ON
From the cavernous subconscious of Brennan McCracken:
On his latest cassette as Ambsace, J.M. Ladd may gauze his brand of melancholy with a sheathing of lo-fi textures, but make no mistake: this is grand, ambitious music, and when heard in the right context it has amazing emotional potency. The word ambsace may suggest a low point — and the sound of these five songs certainly reinforces that sadness — but something about them proves to be uplifting in unlikely ways. Like approaching headlights in a syrupy fog, this is a brief escape from cacophonic singularity.
Du subconscient caverneux de Brennan McCracken:
(Traduit par la puissance musicale de Julie Forget)
Sur sa plus récente cassette sous le nom d'Ambsace, il se peut que J. M. Ladd panse sa marque de mélancolie d'un revêtement de textures lo-fi, mais croyez-moi : il s'agit d'une musique sensationnelle et ambitieuse et lorsqu'écoutée dans le bon contexte, elle détient une puissance émotionnelle stupéfiante. Le mot ambsace peut suggérer un moment des plus difficiles – et le son de ces cinq chansons renforce sans doute cette tristesse – mais quelque chose à leur sujet révèle un espoir de manière improbable. Comme l'approche de phares dans un brouillard apaisant, voici un moyen de s'évader brièvement de la singularité cacophonique.
---
---
---