Ex Libris :: Why Not A Spider Monkey Jesus? [A.G. Pasquella]
---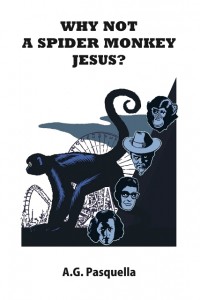 A.G. Pasquella
Why Not A Spider Monkey Jesus?
[163 pages, soft cover]
Toronto, ON
From the atelidaen fervor of Joel Thibert :
What is the difference between a chimpanzee and a spider monkey? Answer: a chimpanzee is a talking, preaching televangelist, and a spider monkey is the chimp's lord and saviour. Reading about the two and their human companions is likely to induce: terror, puzzled laughter, and desire for a soapbox of your own. Any speech in Why Not a Spider Monkey Jesus? is likely to give rise to either: your Billy Graham sensibilities or your fondness for smartly built, over the top gags. Every page of scientists in unrequited love, gregarious sideshow owners, and clandestine poker games pleads the notion that all of this is the greatest Saturday morning cartoon you've never seen.
De la ferveur atélidéenne de Joel Thibert :
(Traduit par Mathieu Bédard)
Quelle est la différence entre un chimpanzé et un singe-araignée? La réponse : un chimpanzé parle et prêche comme un télévangéliste, tandis qu'un singe-araignée est le Seigneur et Sauveur de ce chimpanzé. Incidemment, lire sur ces deux primates et sur leurs compagnons humains peut provoquer : de la terreur, des rires perplexes, le désir de posséder sa propre tribune. En effet, n'importe quel discours tiré de Why Not a Spider Monkey Jesus? est susceptible de faire croître chez vous tantôt la sensibilité d'un Billy Graham, tantôt encore votre penchant pour les gags intelligemment construits et complètement délirants. Chaque page où se côtoient les scientifiques aux amours non réciproques, les forains grégaires et les parties de poker clandestines vous force en fait à admettre que vous tenez entre les mains les meilleurs dessins animés du samedi matin que vous n'avez jamais vus.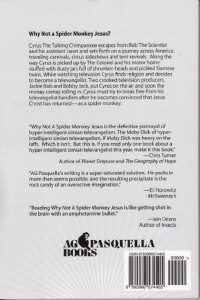 ---
---
---