Weird Stage :: Sucker [Kat Sandler]
---
Sucker
Written and directed by: Kat Sandler
Toronto, ON
From the voyeuristic inclinations of Jenya Doudareva:
Think of your neighbourhood's favourite so-run-down-that-it's-hip bar. It's grungy, intimate, and always happens to attract the sweetest and the most energetic bands to perform. If The Storefront Theatre was a music venue, it would be that bar. This theatre is not your stereotypical performance arts venue. It is cozy, with no defined stage. This lack of a stage makes the audience work harder in order to maintain the proverbial fourth wall and makes you a voyeur of someone's private affairs.
The Storefront Theatre awoke the spectators' voyeuristic tendencies the other day during a performance of a peculiar play called Sucker. You are Stuck in someone's living room. There is a colourful couch, dozens of family pictures on the walls – including one of the Twilight franchise's heartthrob vampire – a camping tent, windows painted black, and jars of blood in the refrigerator… Jamie comes home to his sister Beth after travelling for three months only to find out that she has convinced herself that she is a vampire. Beth is mortified to hear that her atheist brother now wants to be a Rabbi and move to Israel. Jamie is further shocked to find out that they have a tenant living in their deceased parents' bedroom. The tenant's name is Constance and she is convinced that she had killed her abusive husband using her thoughts alone.
The setting is typical yet telling: the living room is lit dimly with mismatched floor and tabletop lamps. Indie tunes are playing in a CD player. You are trying to breathe very quietly so that the dysfunctional grieving family doesn't realize that you are watching them, listening in on their conversations, and laughing at the very absurdity of their situation. Beth is "working up" to drinking blood as a vampire. She is wearing a raincoat and is standing over a big white bucket. She is attempting to take gulps of viscous, cold, coagulating blood only to reduce herself to tears because she cannot bear the taste.
Constance forces Jamie to hear her confession about the death of her husband, seeing as Jamie wants to be a man of God. Despite his lack of initial interest, he grows very empathetic to the troubled woman. Her son ran away from home because he believed his mom to be a monster for wishing death upon his father, despite the fact that that father would habitually beat him. Jamie tenderly kisses Constance. You are unsure if you should even be here, witnessing this very private moment. Still trying to breathe as quietly as you can. You don't want to disturb them.
Du penchant voyeuriste de Jenya Doudareva:
(Traduit par Joannie Pharand)
Pensez à votre bar préféré, celui tellement-délabré-qu'il-est-cool. Un lieu crasseux, intime, qui trouve toujours la façon d'attirer les groupes de musique les plus adorables et énergiques. Si The Storefront Theatre était une salle de concert, il serait ce bar. Le théâtre n'abrite pas votre lieu typique des arts de la scène; il est douillet, sans scène établie. Cette absence de scène force les spectateurs à travailler bien plus fort qu'à l'habitude pour maintenir le fameux quatrième mur. Ça fait de vous un voyeur dans les affaires personnelles de quelqu'un.
L'autre jour, le Storefront Theatre a réveillé mes propres tendances de voyeurisme lorsque j'y regardais une étrange pièce de théâtre appelé Sucker J'étais prise dans le salon de quelqu'un. Un sofa coloré, des douzaines de portraits de famille accrochés sur les murs, incluant celui d'un des vampires idolâtrés de la franchise Twilight, une tente de camping, des fenêtres peintes en noir, des pots remplis de sang dans le frigo… Jamie rentre à la maison pour voir sa sœur, Beth, après un voyage de trois mois, pour se rendre compte qu'elle est convaincue d'être un vampire. Beth est mortifiée d'apprendre que son frère athée veut maintenant devenir un rabbin et déménager en Israël. Jamie est d'autant plus stupéfait d'apprendre qu'ils ont une locataire vivant dans la chambre de leurs parents décédés. La locataire se nomme Constance et elle est convaincue d'avoir tué son mari abusif uniquement par la pensée.
La scène est typique, mais révélatrice : le salon est faiblement éclairé à l'aide de lampes de table et de lampes sur pied mal assorties. Un lecteur CD fait jouer des chansons indies. J'essaie de respirer tout doucement pour que la famille dysfonctionnelle, en deuil, ne réalise pas que je les observe, que j'écoute en secret leurs conversations en riant à l'absurdité de leur situation. Beth travaille « progressivement » à boire du sang en tant que vampire. Elle porte un imperméable, et se tient au-dessus d'une grande chaudière blanche. Elle tente d'engloutir du sang coagulé, froid et visqueux pour finalement fondre en larme, ne pouvant supporter le goût.
Constance force Jamie à entendre ses confessions par rapport à la mort de son mari, puisque Jamie veut devenir un homme de Dieu. Malgré son manque d'intérêt initial, il commence à ressentir de l'empathie envers la jeune femme perturbée. Pour ajouter à ses pensées meurtrières, elle avait un fils qui s'est enfui de la maison, car il pensait sa mère un monstre pour avoir souhaité la mort de son père, malgré le fait que son père le battait régulièrement. Jamie embrasse tendrement Constance. Je ne me trouve pas à ma place, étant témoin de ce moment secret. Je tente toujours de respirer aussi doucement que je le peux. Je ne veux pas les déranger.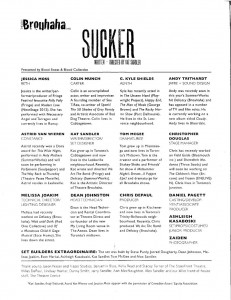 ---
---
---