New Canadiana:: The Yips – The Yips EP
---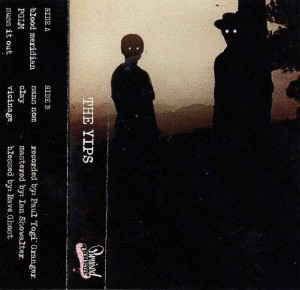 The Yips
The Yips EP
Ottawa, ON
From the nighttime dangers of Jenya Doudareva:
The Yips are howling like a pack of wolves, piercing the cold night air. It's nighttime in a remote village surrounded by dense dark woods, the kind of night when you can't shoo the menace away. This six-song EP is what makes the hair on the back of the villagers' necks stand. The older folk might even be telling their younglings that the Yips hide under their beds at night, ready to pounce if they misbehave.
Opener "Blood Meridian" starts with spine-chilling riffs and grows into something fiery and vibrant. "Clay", "PGLM", and "Sans Nom" bring forth rhythm and noise as menacing and fascinating as nature itself. "Suss it Out" reminds us that spending one's life fearful of the outside world is a dull affair, and perhaps embracing the nighttime dangers is worth it. Finally, "Vicinage", a soulful and eerie tale of loneliness and heartbreak, contrasts the EP's initial ghostliness with touching humanity.
Les cauchemars diurnes de Jenya Doudareva:
(Traduit par les cauchemars diurnes de Catherine Gaucher)
The Yips hurlent comme une meute de loups, perçant l'air froid de la nuit. C'est la nuit dans un village isolé, entouré d'une épaisse forêt, le genre de nuit durant laquelle il est impossible de chasser la menace au loin. Si les villageois ont les cheveux dressés sur la tête, ce EP de six titres en est la cause. Les aînés pourraient même faire croire aux jeunes enfants qu'une fois la nuit venue, les Yips se cachent sous leur lit, prêts à bondir s'ils se méconduisent.
En ouverture, "Blood Meridian" débute avec des accords vous glaçant l'échine et progresse avec fougue et dynamisme. "Clay", "PGLM" et "Sans Nom" mettent de l'avant des rythmes et des bruits aussi menaçants et fascinants que la nature elle-même. "Suss it Out" nous rappelle que passer son existence à craindre le monde extérieur est une terne affaire et peut-être qu'embrasser les dangers nocturnes en vaut la peine. Finalement, "Vicinage" , un mélancolique et étrange conte dépeignant solitude et chagrin, contraste avec l'initial aspect spectral de ce EP par une touche d'humanité.
---
---
---