Imprint :: Kingfisher Bluez
---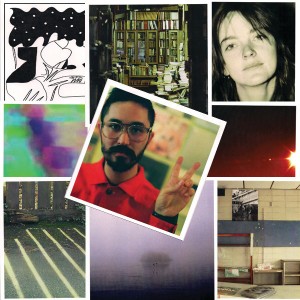 Kingfisher Bluez
Vancouver, BC
From the vibrant plumage of Kyle Valade:
If there is anyone who can testify to the vibrancy of Vancouver's music scene, it is surely Tim Clapp (a.k.a. Tim the Mute). Since 2008, he's released 33 records from his one-man label, Kingfisher Bluez. Those releases have been exclusively on vinyl — generally 7-inches — and mostly made up of local artists. The sounds of the KFB discography range from the sweet-sounding melodies of The Albertans to the haunted croons of Dirty Beaches and the power-punk of the B-Lines. With another release appearing every time I go to the record store, it's hard to keep up with Kingfisher Bluez's prolific blast of activity. Thankfully, Tim was nice enough to tell us how he does it.
Kyle Valade: Does Kingfisher Bluez sell out of a lot of pressings?
Tim Clapp: No, not really. If mean, if I wanted to sell out of records, I'd just press 200 or whatever. The goal is to have the records, you know what I mean? I don't want to sell out of records. It's nice to sell records, but if I'm going to sell a thousand records I'll print 2,000. If I'm going to sell 200 records I'll print 300-400. I usually do 300 of my 7-inches and 500 of my LPs. The idea is that I'm building a label that I want to be running for the rest of my life. So I want to have enough records so that I don't have to repress them.
I am sold out of that Xiu Xiu record I did. I've got like maybe 10 copies left, so I've just sort of hoarded them, really. I usually stash like five copies of every record I do, so when it gets down to 10 copies, I tell my distributor it's sold out.
How did you get the idea to do a singles club?
I just thought "I wonder if there's a project I could to do to show my love of the city?" I looked at compilations like the Vancouver Complication, the Vancouver Independent and the Emergency Room comp. These are compilations that mean a lot to the people that were in those scenes, you know what I mean, like Emergency Room is these old fogeys that are like 30 years old now or whatever. And Vancouver Complication, I don't know when that was, like 1980 or something [Ed's Note: 1979]. But you look at these records and you just think "It's so cool that there's a document of that scene", you know what I mean, and there's always at least one band that just snuck on there. And that could be your new favourite band. So I thought, I want to do a compilation of all my favourite bands in Vancouver. I could just do a record, like a compilation record, but I thought "I want to do something big", you know? "I want to do a singles club and just have one song from each band" or whatever. So I chose the most expensive way to do it.
People were sayin' "you should do splits" or whatever. And I fuckin' hate splits. Like, how do you file a split? You just think "Oh, what band do I put this under?" The worst is when you have two covers and you don't know what one to face.
<<< read more >>>
The better band?
Yeah, but then you're telling the other band that they don't sound good enough. You want to listen to the other record and you don't know where to find it. So I thought I'd just make one-sided records so each of the singles club records is one side, one song, or whatever. And the other side's just blank. It costs the same amount as pressing two sides. But I thought it's better, you know? Each band deserves their own cover, their own side. I'd always rather press a single-sided record than a split.
The singles club is 80 bucks. You get 15 records. Well, it's 12 records and then three bonus records. If you sign up now — the bonus records are for people that are signed up at the time — so there's still one more bonus record. But really I've been chuckin' in the other records if I have a couple left. The first bonus record was Zen Mystery Fogg.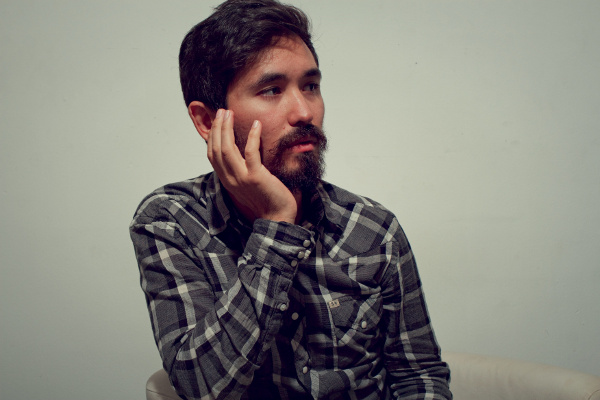 A lot of the artists you've released are from Vancouver. How do you choose them?
It's a lot of my friends' bands. I want to put out records by people that I really like. Music is available all the time, so I want to curate a really specific selection. I feel like people are going to remember Kingfisher Bluez as a Vancouver label, so I want to put out a lot of Vancouver bands, or whatever. And it sort of helps me give back to the community. I've been enjoying Vancouver music for so long. It's nice to be able to help out these bands in any way I can, even if it's just a little bit.
What made you decide to start the label?
I started the label in 2008 as a blog where I would post my friends' songs — like mp3s or whatever. In 2011, I was just feelin' a bit depressed and I thought "I should just kill myself, my life is so shitty." And I thought if I'm gonna do that I might as well just sell all my shit and then start that record label I've always wanted to do, you know what I mean? Cuz what's the point? "I'm so sad", or whatever. I've got so many fuckin' records and books and amps and stuff, I should just sell off this shit and have enough money to do all the things that I want to do — just give it a shot. I thought "What's stopping me from doing this?" What do I really need this shit for? The records of myself, Tim the Mute, will only cost me like a thousand bucks to make, so I'll just sell a thousand bucks worth of my shit. So I thought fuck it. Let's just do it. I mean, I guess people just go through weird periods of their life where they just think "What am I doin'?" Especially when they're 23. So I thought, "I'll just do it."
Do you do all of the work for the label yourself?
Yeah, I do everything myself. Except for a lot of the design — that's Ryan from Hockey Dad Records. The artists will choose images and then I'll vet them or whatever. All these records have sort of trees or outdoor stuff. I want to show a lot of what we see in our normal lives: Instagram photos, that sort of chillwave, hazy, summery stuff. I feel like that represents the current musical climate well. So I want something that looks like 2013. I want it to look like the records came out in 2013.
I try not to pick out stuff that looks tacky. I hate black and white collage. A lot of bands are doing it — it's sort of retro. I want something that's new. I don't use photos of dead animals or mangled limbs or dicks or anything like that. I don't want some grotesque drawing. I want everything to look really nice. And it's not because I want them to be easy to look at. I just want them to be nice looking, beautiful records. That's important to me. I just don't want to release anything that's mean-spirited.
Would you recommend starting a label?
Not as a business, I wouldn't recommend that. But I think it's great that more labels are starting up. It's a great community. A lot of people I know have record labels — I know people because they have record labels. We all hang out and talk shop and stuff. And it's fun, you know? We all compare. We all think we're givin' a better rate than the next guy. We're really tryin' to make the best stuff. And no one does it to make money. There's part of you that wants to curate this great selection of records. I wouldn't recommend that anyone does it to make money, but I would recommend that everyone just put out a record and start a label or whatever. Why not? It's as easy as doing it. As long you have a credit card you can do it. Just make a great collection of music.
Do you have any regrets?
No, but If I put out a band's record, I don't want them to break up right after. It's a little annoying. So usually I won't do a record for a band that has no other records. I want there to be a Discogs page for the band. I want there to be a history of the band. A band like Village with no records out is okay. I was there at the beginning of that band, so when they wanted to do a record, I thought that those guys were in for the long haul. And now I'm doing their second record, and hopefully doing their LP next year. And I hope they get signed to a bigger label than me.
Do you have any favorite records that you've released?
Oh yeah. I mean, anything where I get to play with the physicality of the medium. Like the record where you hear the sound of yourself turning it over. It's a bit wanky or whatever, but it's fun to do stuff like that. On my new record, Song, I say [singing] "I made this record for a girl / I put my number in the run-out groove / So call me if you think it's you." And my phone number is in the run-out groove for that record. If you hold the record up you can see my phone number written out. So anything where I get to play with that, you know? There's no way to get that unless you have one of 300 physical records, which is cool.
All of my records have little messages etched into them. The Zen Mystery Fogg record says "Everytime I listen to music I think I'm a bride." That line is from Nightwood by Djuna Barnes. I use a lot of books — a lot of weird queer lit and sort of alternative classic books. It's nice. It's fun. I get to reference my favourite books, my favourite songs, and stuff. Sometimes I just make them up, and sometimes I take something out of a song or whatever. All of my records also have a B-side message on the label as well. The Eeek record says "Something inside so strong." The Zen Mystery Fogg record says "Everything is meaningful right now." I just put these sweet little earnest messages on the label. As a record collector and a curator you're really hyper-aware. You want to reference things, and you want to have your spot in record history.
What do you think is the role of the record label?
Like I was saying before, in an age where all music is available on demand, the role of the record label is curation. There are labels that I will buy literally everything they put out without even listening to it, because I know it's gonna be good. Because I trust the people that run them. Labels like Shelflife, Mississippi or Neon Gold — I buy everything those guys put out. I want people to buy KFB releases knowing that I've chosen these records, and the way they're designed, like the white border around the 7-inches. I want people to see the way I've curated the label to be my favourite stuff without bias towards genre or any of that stuff. And all that. I'm really happy with it. I just put out stuff that I like and I don't worry about it.
KFB is a project made through sampling other music and making a bigger thing out of it. This is the one thing that I'm doing. I'm taking all of musical history and everything that songs and records and images stand for and making one thing out of all of it. It's a powerful tool, you know what I mean? The record label lets you say so much with just one thing.
Kingfisher Bluez Discography (To Date)
7"s:
KFB001 – Sebastian Fleet + Count Oak – Sun 7"
KFB002 – Teen Plaque – Teen Plaque Text Message / Fuck The Revolution!!!
KFB003 – Tim The Mute – Anything You Want
KFB004 – Eeek! – Potential
KFB005 – The Shiny Diamonds – Such A Sucker
KFB006 – Village – Nowhere
KFB007 – Zen Mystery Fogg – Raccoon
KFB008 – Xiu Xiu – Quagga
KFB009 – Tim The Mute / Old Phoebe – Kingfisher Bluez Christmas Single 2012
KFB010 – White Poppy – Mirage Man
KFB011 – Dirty Beaches – Elizabeth's Theme
KFB012 – Apollo Ghosts – Night Witch
KFB013 – Capitol 6 – No One Came
KFB014 – B-Lines – Tell Me
KFB015 – Dead Ghosts – 1000 Joints
KFB016 – Student Teacher – Left For Dead
KFB017 – Korean Gut – Lava Flow
KFB018 – Rose Melberg – Distant Ships
KFB019 – Love Cuts – Back To You
KFB020 – Wee'd – I Think I Just Wee'd Myself
KFB021 – Needles//Pins – Polaroid
KFB022 – Jungle Green – The One I Love
KFB023 – Tim The Mute – Song
KFB024 – The Albertans – Casual Encounters
KFB025 – Standard Fare – Rumours
KFB026 – Reverter – No More Haircuts
KFB027 – Village – Stranger Thoughts
KFB028 – Let's Talk About Space – Luna Oscillators
KFB029 – Laura Veirs – July Flame
KFB030 – Rose Melberg and Gregory Webster – Kingfisher Bluez Christmas Single 2013
KFB031 – Nice Try – Convinced
KFB032 – Tim The Mute – Doctor Who Cosplay
KFB033 – Mesa Luna – Shutting Down
KFB034 – The Stevens – The EP
KFB035 – The Passenger – jxpg
LPs:
KFB6001 – Eeek! – Move Real Slow
KFB6002 – OK Vancouver OK – Food. Shelter. Water.
KFB6003 – The Albertans – Dangerous Anything
KFB6004 – Adam Stafford – Imaginary Walls Collapse
KFB6005 – Bad Channels – Bad Channels
Du plumage vibrant de Kyle Valade:
(Traduit par Virginie Langlois)
S'il y a quelqu'un qui peut témoigner du dynamisme de la scène musicale de Vancouver, c'est bien Tim Clapp (plus connu sous le nom Tim the Mute). Depuis 2008, il a sorti 33 disques sur le label qu'il gère seul, Kingfisher Bluez. Ces disques sont sortis exclusivement sur vinyle – généralement des 7 pouces – et sont la plupart du temps l'œuvre d'artistes locaux. Les sons de la discographie de KFB sont très variés : cela va des douces mélodies de The Albertans aux fredonnements hantés de Dirty Beaches en passant par le power-punk de B-Lines. Comme à chaque fois que je vais chez le disquaire, on dirait qu'un nouveau disque est sorti, difficile de suivre le rythme prolifique de Kingfisher Bluez. Heureusement, Tim a eu la gentillesse de nous expliquer comment il fait.
Kyle Valade : Est-ce que beaucoup de disques sortis chez Kingfisher Bluez sont épuisés?
Tim Clapp : Non, pas vraiment. Ceci dit, si je voulais que des disques soient épuisés, j'en tirerais 200 exemplaires ou quelque chose du genre. Le but, c'est de sortir les disques, tu vois ce que je veux dire? Ce n'est pas qu'ils soient en rupture de stock. C'est bien de vendre des disques mais si je dois en vendre un millier, je vais en tirer 2 000 exemplaires. Si je dois en vendre 200, je vais en tirer 300 ou 400. En général je tire les 7 pouces à 300 exemplaires et les LP à 500. L'idée est de bâtir un label qui fonctionne pour le reste de ma vie. Alors je veux disposer de suffisamment de disques pour ne pas avoir à faire de retirage.
Ce disque de Xiu Xiu que j'ai sorti, il est en rupture de stock. Il me reste peut-être 10 exemplaires alors j'en ai fait des provisions, vraiment. En général je garde cinq exemplaires de chaque disque que je sors, alors quand on arrive au seuil de 10 exemplaires, je dis à mon distributeur que le disque est en rupture de stock.
Comment t'est venue l'idée de faire une collection de singles?
Je me suis juste dit « Je me demande s'il y a un projet que je pourrais faire pour montrer à quel point j'aime cette ville ». J'ai regardé les compilations comme Vancouver Complication, Vancouver Independent et the Emergency Room comp. Ce sont des compilations qui sont très importantes pour les personnes qui étaient sur ces scènes, Emergency Room par exemple, des types qui doivent bien avoir 30 ans aujourd'hui. Et Vancouver Complication, je ne sais pas de quand ça date, 1980 ou quelque chose dans le genre [Note de la rédaction : 1979]. Mais tu regardes ces enregistrements et tu te dis : « C'est tellement cool qu'il reste une trace de cette scène », et il y a toujours eu au moins un groupe qui s'est démarqué. Et ça pourrait très bien être ton nouveau groupe préféré. Alors je me suis dit que je voulais réunir tous mes groupes de Vancouver préférés. J'aurais pu tout simplement faire un disque, comme une compilation, mais je me suis dit : « Je veux faire un gros coup, je veux faire une collection de singles, avec juste une chanson pour chaque groupe ». J'ai donc choisi le moyen le plus cher de le faire.
Les gens me disaient : « tu devrais faire des split-disque ». Et moi je déteste les splits. Comment tu fais par exemple pour ranger un split? Tu dois te demander « Ah, à quel groupe est-ce que je mets ça? » Le pire, c'est quand tu as deux couvertures et que tu ne sais pas quoi mettre en évidence.
<<< read more >>>
Le meilleur groupe?
Ouais, mais après tu dois dire à l'autre groupe que leur son n'est pas assez bon. Tu veux écouter l'autre disque mais tu ne sais pas où le trouver. Alors je me suis dit que je sortirais des disques d'une face pour que chaque disque de la collection de singles ne comporte qu'une seule face ou une seule chanson. Et l'autre face est vierge. Ça coûte le même prix que de faire imprimer deux faces. Mais j'ai trouvé que c'était mieux. Chaque groupe mérite d'avoir sa propre couverture, sa face pour lui tout seul. Je préférerai toujours sortir un disque à une seule face plutôt qu'un split.
La collection de singles coûte 80 dollars. Pour ce prix-là tu as 15 disques. Enfin, 12 disques et ensuite trois disques bonus. Si tu t'inscris maintenant – les disques bonus sont pour les personnes qui s'étaient inscrites – il reste encore un disque bonus. Mais vraiment, j'en ai mis des deux autres quand j'en avait en rabe. Le premier disque bonus était Zen Mystery Fogg.
Beaucoup des artistes qui sont sortis sur ton label sont de Vancouver. Comment tu les choisis?
Ce sont souvent les groupes de mes amis. Je veux sortir les disques de gens que j'aime vraiment. La musique est disponible en permanence alors je veux documenter une sélection bien spécifique. J'ai le sentiment que les gens vont se souvenir de Kingfisher Bluez comme d'un label de Vancouver alors je veux sortir un maximum de groupes de cette ville. Et puis ça m'aide à redonner à la collectivité. J'apprécie la musique de Vancouver depuis tellement longtemps. C'est bien de pouvoir aider ces groupes comme je peux, même si ce n'est pas grand chose.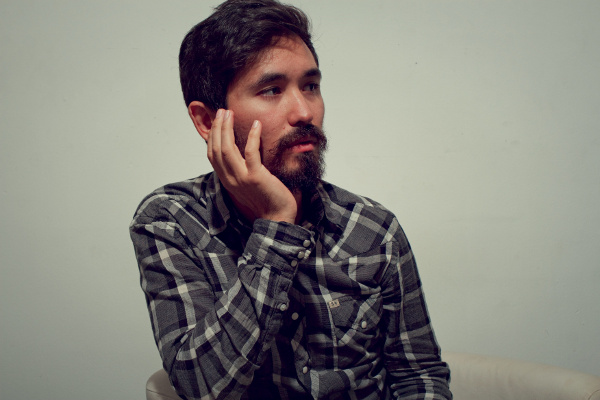 Qu'est-ce qui t'a décidé à créer le label?
J'ai lancé le label en 2008 sous forme de blogue sur lequel je postais les chansons de mes amis – des mp3 ou autres. En 2011, je me sentais un peu déprimé et je pensais « Je devrais me suicider, ma vie est tellement merdique ». Et je me suis dit que tant qu'à faire ça, autant vendre tout mon bordel et créer ce label que j'ai toujours voulu créer, tu comprends? Quel intérêt de te répéter « Qu'est-ce que je suis triste… ». Je possède tellement de putain de disques, de livres, d'amplis et tout le reste, je n'ai qu'à tout vendre et j'aurai alors assez d'argent pour faire toutes les choses que j'ai envie de faire – il faut juste essayer. Qu'est-ce qui m'en empêchait? À quoi ça me sert tout ce bordel? Pour faire mes propres disques, ceux de Tim the Mute, je n'aurai besoin que d'un millier de dollars, alors je vais juste vendre mes affaires de façon à récupérer 1 000 dollars. Allez! J'imagine que les gens passent par des périodes bizarres où ils se disent : « Qu'est-ce que je fous… ». Surtout à 23 ans. Alors je me suis dit « Vas-y, lance-toi ».
Est-ce que tu fais tout le travail du label toi-même?
Ouais, je fais tout moi-même. Sauf une grosse partie du design – ça c'est Ryan de Hockey Dad Records qui s'en occupe. Les artistes vont choisir des images et je donne mon accord ou pas. Tous ces disques ont des images d'arbres ou des vues en extérieur, ce genre de choses. Je veux montrer un peu ce qu'on voit dans nos vies normales : des photos Instagram, ce style de truc vaporeux, brumeux et estival. J'ai l'impression que cela représente bien le climat musical actuel. Je veux quelque chose qui reflète 2013. Je veux qu'on ait le sentiment que les disques sont sortis en 2013.
J'essaie de ne pas choisir des trucs qui ont l'air démodés. Je déteste les collages noir et blanc. Beaucoup de groupes font ça, c'est un peu rétro. Je veux quelque chose de neuf. Je n'utilise pas de photos d'animaux morts ou de membres estropiés ou de bites ou quoi que ce soit du genre. Je ne veux pas de dessins grotesques. Je veux que tout soit vraiment beau. Et ce n'est parce que je veux que soit facile à regarder. Je veux juste que ce soient de beaux disques. C'est important pour moi. Je ne veux rien sortir qui soit mal intentionné.
Est-ce que tu conseillerais de créer un label?
Pas pour en faire un négoce. Mais je trouve que c'est bien que de nouveaux labels se créent. C'est une communauté géniale. Je connais beaucoup de gens qui ont des maisons de disques – en fait je connais des gens parce qu'ils ont des maisons de disques. On sort tous ensemble et on parle boutique. On compare. On pense tous qu'on a des tarifs plus intéressants que les autres. On essaie sincèrement de faire le meilleur truc possible. Et personne ne le fait pour l'argent. Il y a une partie de toi qui veut inventorier cette belle sélection de disques. Je ne recommanderais à personne de le faire pour gagner de l'argent, par contre je recommande à tout le monde de se lancer et de créer son label. Pourquoi pas? Rien de plus simple. Du moment que tu as une carte de crédit, pas de problème. Vas-y, crée une belle collection de musique.
Des regrets?
Non mais si je sors le disque d'un groupe, je n'ai pas envie que les mecs se séparent juste après. C'est un peu pénible. Alors, en général, je ne vais pas faire le disque d'un groupe qui n'a pas d'autres disques. Je veux qu'il y ait une page Discogs pour le groupe. Je veux que le groupe ait une histoire. Un groupe comme Village qui n'a pas de disque à son actif, ça va. J'étais là au tout début du groupe, alors lorsqu'ils ont voulu faire un disque, j'ai pensé que ces mecs iraient jusqu'au bout. Maintenant je sors leur deuxième disque et peut-être leur album l'année prochaine. Et j'espère qu'ils signeront avec un plus gros label que le mien.
Parmi les disques que tu as sortis, il y en a que tu préfères?
Ah ouais. En fait, tous ceux où je peux vraiment jouer avec l'aspect physique de l'objet en lui-même. Comme le disque où tu entends le bruit que tu fais toi-même en le retournant. Cela ne sert pas à grand chose mais c'est marrant à faire. Sur mon nouveau disque, Song, je dis [il chante] « J'ai fait ce disque pour une fille / J'ai mis mon numéro dans le sillon intérieur / Alors appelle-moi si tu penses que c'est toi ». Et effectivement mon numéro est dans le sillon intérieur sur ce disque. Si tu regardes bien le disque, tu peux voir mon numéro de téléphone écrit. Donc tous les disques où je peux jouer de cette manière, tu vois? Il n'y a pas moyen d'avoir ça sauf si tu as l'un des 300 disques physiques, c'est ça qui est super.
Tous mes disques ont des petits messages gravés dessus. Le disque Zen Mystery Fogg dit : « À chaque fois que j'écoute de la musique je pense que je suis une mariée ». Cette phrase est tirée de Nightwood by Djuna Barnes. J'utilise beaucoup de livres – beaucoup de litté queer étrange et des livres classiques alternatifs. J'aime bien ça. Je fais souvent des références à mes livres préférés, à mes chansons favorites, etc. Parfois je les invente, et parfois je récupère quelque chose dans une chanson ou autre. Tous mes disques ont aussi un message de face B sur l'étiquette aussi. Le disque Eeek dit : « Quelque chose de si fort à l'intérieur ». Le disque Zen Mystery Fogg dit « Tout a un sens en ce moment ». Je mets juste ces petits messages sur l'étiquette. En tant que collectionneur de disques et curateur, tu es forcément très à l'affût de ce type de choses. Tu veux faire référence à de choses et tu veux avoir ta place dans l'histoire du disque.
D'après toi, quel est le rôle d'une maison de disques?
Comme je l'ai déjà dit, à une période où toute la musique est disponible à la demande, le rôle de la maison de disques, c'est la documentation soignée. Il y a certains labels auxquels je vais acheter tout ce qu'ils sortent, sans même écouter la musique, parce que je sais que ce sera bien. Parce que je fais confiance aux gens qui s'en occupent. Des labels comme Shelflife, Mississippi ou Neon Gold — j'achète tout ce que font ces mecs. Je veux que les gens achètent des disques du label KFB en sachant que j'ai choisi ces disques, et la façon dont ils sont conçus, y compris la bordure blanche autour des 7 pouces. Je veux que les gens voient la façon dont j'ai bâti le label pour mettre en avant tout ce que je préfère, sans préjugé vis-à-vis d'un genre ou autre. Je suis vraiment content de ça. Je sors ce qui me plaît et je ne me fais pas de souci. KFB est un projet réalisé grâce à l'échantillonnage d'autres musiques pour en faire un truc plus gros. C'est la chose que je fais. Je prends tout le bagage musical et tout ce que les chansons, les disques et les images représentent et je crée un nouveau produit à partir de tout ça. C'est un outil puissant, tu sais. Avec une maison de disques, tu peux exprimer tellement de choses avec seulement un élément.
Kingfisher Bluez Discography (To Date)
7"s:
KFB001 – Sebastian Fleet + Count Oak – Sun 7"
KFB002 – Teen Plaque – Teen Plaque Text Message / Fuck The Revolution!!!
KFB003 – Tim The Mute – Anything You Want
KFB004 – Eeek! – Potential
KFB005 – The Shiny Diamonds – Such A Sucker
KFB006 – Village – Nowhere
KFB007 – Zen Mystery Fogg – Raccoon
KFB008 – Xiu Xiu – Quagga
KFB009 – Tim The Mute / Old Phoebe – Kingfisher Bluez Christmas Single 2012
KFB010 – White Poppy – Mirage Man
KFB011 – Dirty Beaches – Elizabeth's Theme
KFB012 – Apollo Ghosts – Night Witch
KFB013 – Capitol 6 – No One Came
KFB014 – B-Lines – Tell Me
KFB015 – Dead Ghosts – 1000 Joints
KFB016 – Student Teacher – Left For Dead
KFB017 – Korean Gut – Lava Flow
KFB018 – Rose Melberg – Distant Ships
KFB019 – Love Cuts – Back To You
KFB020 – Wee'd – I Think I Just Wee'd Myself
KFB021 – Needles//Pins – Polaroid
KFB022 – Jungle Green – The One I Love
KFB023 – Tim The Mute – Song
KFB024 – The Albertans – Casual Encounters
KFB025 – Standard Fare – Rumours
KFB026 – Reverter – No More Haircuts
KFB027 – Village – Stranger Thoughts
KFB028 – Let's Talk About Space – Luna Oscillators
KFB029 – Laura Veirs – July Flame
KFB030 – Rose Melberg and Gregory Webster – Kingfisher Bluez Christmas Single 2013
KFB031 – Nice Try – Convinced
KFB032 – Tim The Mute – Doctor Who Cosplay
KFB033 – Mesa Luna – Shutting Down
KFB034 – The Stevens – The EP
KFB035 – The Passenger – jxpg
LPs:
KFB6001 – Eeek! – Move Real Slow
KFB6002 – OK Vancouver OK – Food. Shelter. Water.
KFB6003 – The Albertans – Dangerous Anything
KFB6004 – Adam Stafford – Imaginary Walls Collapse
KFB6005 – Bad Channels – Bad Channels
---
---
---