Cityscape :: Québec City
---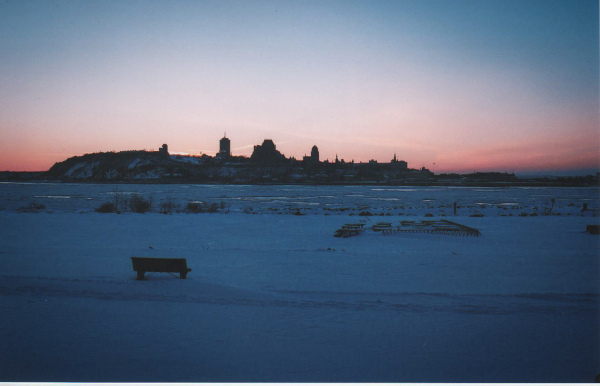 From the hometown haunts of AnneMarie Papillon:
(Translated by AnneMarie Papillon)
Perhaps it is the dramatic, daunting effect of its massive ramparts, the multicoloured facades of St-Jean-Baptiste's brickwall buildings. Maybe it is the tendency I have to burst into a lively conversation whenever someone asks where I am from. Whatever the reason, Québec warms my heart in the best of ways. Winter seems endless and summer is over in a short breath, but there is a poetic bravery in the abdication to such harsh weather. There is a meaningful sense of self found in witnessing the drastic changes of my favourite landscapes every season. A similar ever-changing scheme to the one I noticed in its art scene: impulsive and reckless yet tender and sensible. Québec has a peculiar spirit: a young adult with an old soul, fighting for both personal identity and inclusiveness. The province's capital shows off its daring local art scene within the intimacy of house shows, chummy venues, inviting book/record stores and idiosyncratic art projects. There are an extensive number of them, so here's a tour of the ones I dig.
Oromocto Diamond – Three Sisters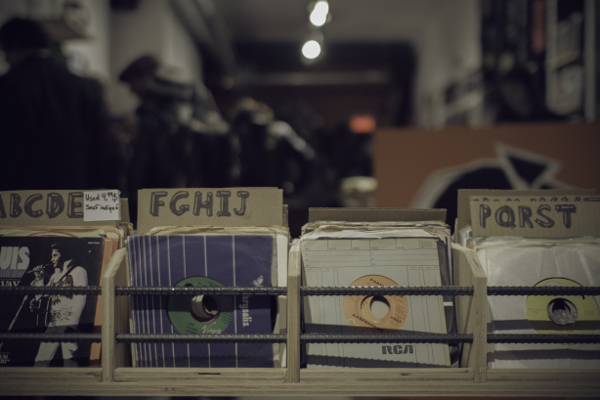 (Vinyl, local CDs/cassettes, shows)
832, rue St-Joseph Ouest, G1K 3C9
Contact: leknockout@gmail.com
[LGBTQ-friendly, wheelchair accessible.]
In St-Roch's new hip and chic boutique area, a bright and loud newborn record store has set up camp. It's not very chic and only vaguely hip but it certainly is everything I need in a record store. Its main area of expertise is punk, noise, grunge, metal and indie-rock coolness pressed on vinyl with a special love for local acts. Inspired by a record store they visited during SXSW in Austin, TX and a desperate need to stock physical copies of what they could only find online, owners Jean-Philippe and Rox (Machinegun Suzie) turned their will to promote and shake up Québec's scene into this dream space. I am particularly fond of the knowledgeable and helpful staff and their engaging in-store gigs.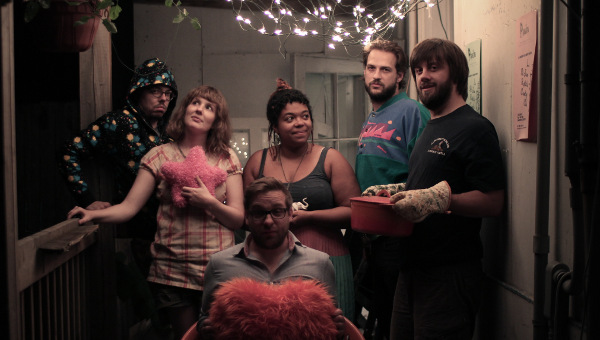 I remember a chilly night last spring when the music of Gianna Lauren and her musicians washed all over me, in a tiny cathedral ceiling attic. Sitting on the hardwood floor of the small, twinkle-lighted setup, the experience was spellbinding. This was my first time in one of the homes of DIY label 'La Palette'. Not only are their concert nights magnificently intimate, but they also brew joyous ideas. Six friends recording folky tunes on different formats, writing zines and jamming together as Le St-Jean-Baptiste Country Club. I have a sweet spot for music collectives (especially ones with such a rad band name); the way they take turns at being 'center stage'; the way they genuinely seem to make music for the sheer fun of it. It blends perfectly. Bandcrush
<<< read more >>>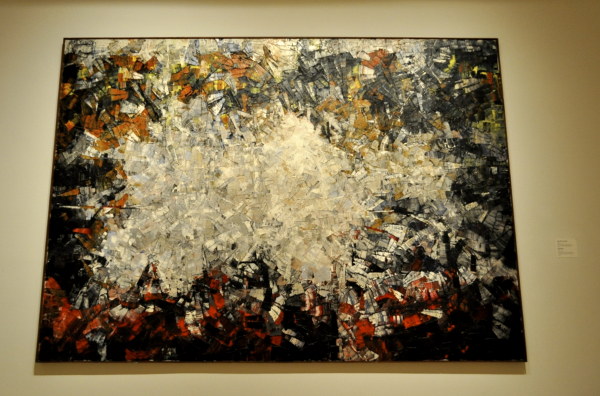 My love and appreciation for museums came at an early age, before I was in a position to vocalise why I was in awe in front of a piece of art. It comes from the splendour of the great rooms, from the enchantment of the climbable structures and the tiny nooks in the corners, the ones I felt were made just for me to play in. MNBAQ is part of where I grew up and shaped my little self. In and around it. It's set in the heart of Plains of Abraham, surrounded by hills, green (or white) land, numerous trees and an impressive view of the St Lawrence River. I can rarely resist the temptation to walk in and sit by Riopelle's Poussiere de Soleil, contemplating. Or hike up the old prison's tower to its lookout that oversees my city. It is in these very rooms that I stood still, gazing at the first Frida Kahlo piece I ever saw. The museum's room and surroundings are free to enjoy, except for travelling exhibits. Its content is spread through three very different buildings but equally majestic. Another one is on the way.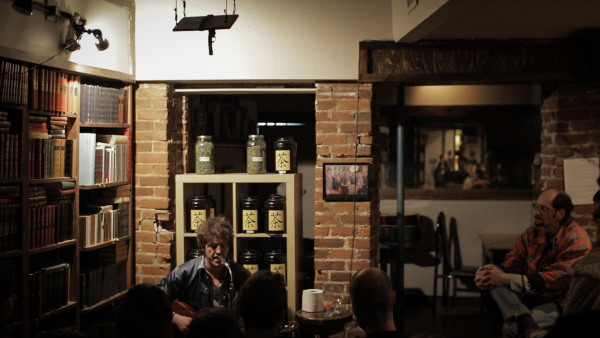 Meandering around the Quartier St-Jean Baptiste, I often stop by the library of the same name. A little flight of stairs brings me to this apartment converted into a bookstore. The building is old, it smells musty and the walls are lined with a superabundance of books. French and Quebecois fiction, a few translated classics, philosophical essays and politically flavoured zines. It has the comfort of a friend's living room; they serve beer, coffee, they have local artists exhibiting on their walls, and they host intimate gigs/book launches, etc. The owner, David Tranche-Montagne, is not shy to say that what he offers is ''an alternative to the surrounding idiocy ''. It's a place to share, debate, laugh and learn. I have to say I am always surprised to notice this establishment isn't the home of cats. I never asked why. (*Photo: Al Tuck)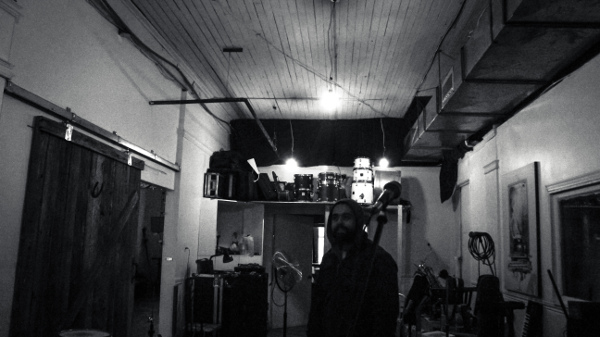 In another, more rugged part of town, musicians Jean-Michel and Jean-Etienne turned their apartment into a hotbed of musical creation and it's safe to say I'll be eternally grateful. It's called Pantoum-LePhoque. It's a label, a recording studio, a jam space, and a venue. It has screenprinting equipment, grilled cheese sandwiches and a BYOB policy. The catalytic venture, inspired by other semi-clandestine spaces, invites expertise sharing; several music projects burst into life within these very walls in the last year. This speed-punk retch is my favourite.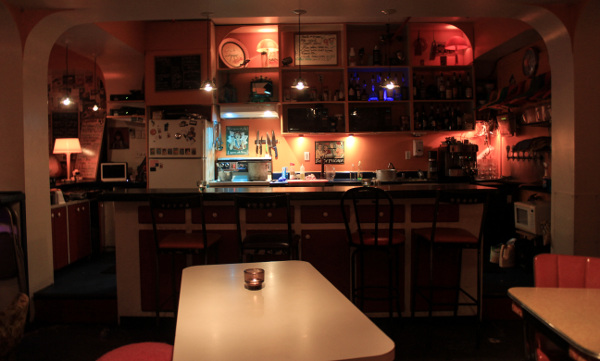 I'll admit I get excited effortlessly. The smell of home-cooked shepherd's pie. Brightly coloured lamps. First and second generation Nintendo consoles. Choosing the best chair at a table of odd ones. Dancing to catchy old tunes in that no-one-is-watching (but-they-should-definitely-join-in) fashion. It's slightly strange how La Cuisine combines a quirky decor and delicious smells in the same way my grandmother Fleurette used to. It has the same comfort as her apartment. Think handicrafted luminaires, DIY tapestry, potted plants aplenty, and parties with all of the household comforts.

I remember the gruesome bass of Drogue pounding through the stairs as I first walked in for a show. A cloying sense of claustrophobia tinged with unfamiliar sounds. One of Quebec's most established venues holds a space within its lair-ish basement for gloomier, louder shows. An initiative of phenomenal full time booker Jean-Claude Anto and Max Chiasson (Ponctuation), the idea of turning the barely used basement of Le Cercle came from a desire to showcase unconventional projects, in a DIY manner, at a low cost. The result is performances and gigs with obscure lineups that can only rival your haziest dreams of musical discoveries. (*Photo: Leafer, Sean Nicholas Savage, TONSTARTSSBANDHT, Olenka & The Autumn Lovers)
Des repaires bien-aimés d' AnneMarie Papillon:
Peut-être est-ce l'effet dramatique et intimidant de ses massifs remparts ou les façades aux multiples couleurs des murs de briques du quartier St-Jean-Baptiste. Peut-être est-ce cette manie que j'ai à déraper dans une conversation animée chaque fois que quelqu'un m'interroge sur ma ville natale. Peu importe la raison, Québec a le don de me réchauffer le coeur. L'hiver semble ne jamais vouloir se terminer et l'été, ne durer que le temps d'une chaude brise mais il y a une bravoure poétique à abdiquer face à de si pénibles températures. Il y a une conscience de soi significative à être témoin des changements si drastiques dans la composition de mes paysages favoris. Une évolution constante similaire à celle que je perçois dans sa scène artistique; impulsive et téméraire mais tendre et sensible. Québec possède un esprit particulier: un jeune adulte doté d'une vieille âme, se battant autant pour l'inclusivité que pour sa propre identité. La Capitale Nationale fait valoir sa scène artistique locale à travers l'intimité de concerts de salon, de salles de spectacles confortables, de librairies/boutiques de disques invitantes et de projets artistiques idiosyncratiques. Il y a une foule de trucs intéressants: en voici quelques-uns qui me plaisent:
Oromocto Diamond – Three Sisters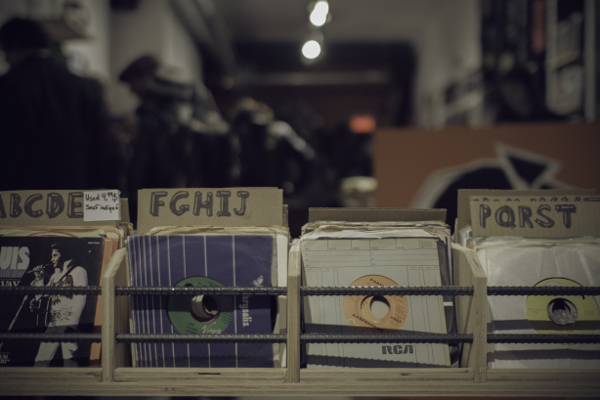 (Vinyles, disques et cassettes, concerts)
832, rue St-Joseph Ouest, G1K 3C9
Contact: leknockout@gmail.com
[Les gens s'identifiant comme LGBTQ sont bienvenues, accessible en chaise roulante.]
Au travers de tout le mélange de nouvelles boutique super-chic-et-à-la-mode que St-Roch offre, un nouveau-né orange "pétant" et vraiment bruyant a ouvert ses portes. C'est vaguement à la mode, ce n'est pas vraiment chic et c'est certainement tout ce dont j'ai besoin d'une boutique de disques. Ses domaines d'expertise sont le punk, le noise, le grunge, le métal et le rock 'indie' pressés sur vinyles avec une attention toute spéciale pour les groupes locaux. Les proprios Jean-Philippe et Rox (Machinegun Suzie) se sont inspirés d'une boutique qu'ils ont visitée lors d'un voyage au SXSW à Austin TX, et du besoin flagrant d'approvisionner la ville en copies physiques de ce qu'ils ne trouvaient qu'en ligne. Ils ont concentré leur envie de promouvoir et de 'réveiller' la scène musicale de Québec pour créer cet espace de rêve. Je suis particulièrement friande des employés avenants et connaisseurs et de leurs concerts de boutique super personnels.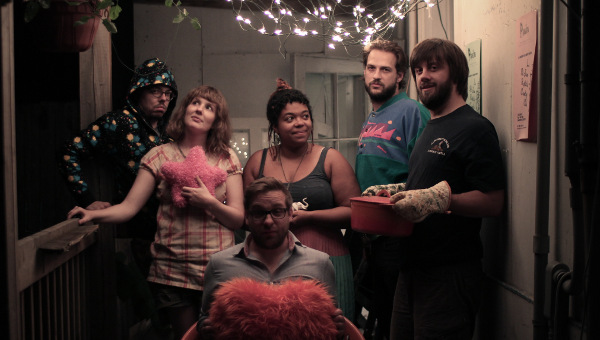 (Studio d'enregistrement, fanzines, concerts)
Contact: sebastien@lapalettemusique.com
[Les gens s'identifiant comme LGBTQ sont bienvenues, plusieurs marches à monter pour accéder au grenier.]
Je me souviens d'une froide soirée du printemps dernier, où la musique de Gianna Lauren et de ses musiciens m'a complètement engloutie, dans un petit grenier au plafond cathédrale. Assise sur un plancher de bois, entourée de lumières de fêtes blanches, l'expérience était magique. C'était ma première fois dans une des maisons de l'étiquette DIY ''La Palette''. Non seulement leur soirées de concerts sont magnifiquement intimes, mais ils mijotent d'allègres idées. Six copains qui composent et enregistrent, sur différents formats, leurs chansons folks, qui écrivent des fanzines et qui jouent ensemble dans Le St-Jean-Baptiste Country Club. J'ai un petit faible pour les collectifs musicaux(spécialement ceux avec un nom de groupe si chouette; la manière dont ils ont de se prêter le tour à l'avant-scène, le fait qu'ils laissent vraiment l'impression de jouer par pur plaisir, ça donne un mélange harmonieux. ''Béguin''
<<< read more >>>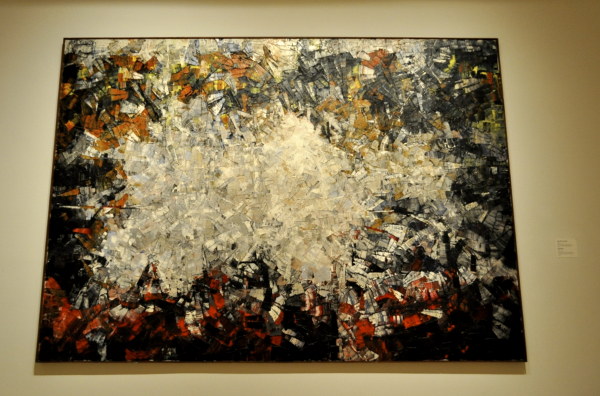 (Art visuel, histoire, concerts, bouffe)
Parc des Champs-de-Batailles, G1R 5H3
[Les gens s'identifiant comme LGBTQ sont bienvenues, accessible en chaise roulante.]
Mon appréciation et amour pour le monde muséal me sont venus très tôt, avant même que je sois dans une position où mes connaissances me permettaient de vocaliser pourquoi j'étais en admiration devant une pièce d'art. Cet amour vient de la splendeur des grandes salles, de l'enchantement que procurent les structures que l'on grimpe, les petits recoins dans les murs, ceux qui semblaient avoir été construits spécialement pour que je m'y amuse. Le MNBAQ fait partie des endroits où j'ai grandi et façonné ma petite personne. Son intérieur et ses alentours. Il est construit au beau milieu des plaines D'Abraham, entouré de collines vertes(ou blanches), de nombreux arbres et entouré d'une vue impressionnante sur le St-Laurent. Je peux difficilement résister à l'envie d'y entrer et d'aller m'asseoir devant Poussière de Soleil de Riopelle. Ou de monter les escaliers jusqu'à la tour de l'ancienne prison d'où je peux admirer la quasi entièreté de ma ville. C'est dans ces salles que je suis restée debout à admirer la première oeuvre de Frida Kahlo que j'aurai vue. Les alentours du musée, comme ses salles d'expositions, sont accessibles gratuitement sauf pour les expositions non permanentes. Son contenu est partagé entre trois édifices très différents mais également majestueux. Un autre est en construction.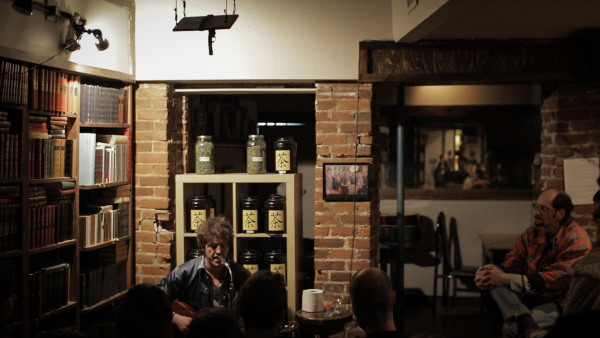 (Livres, coupe-soifs, sièges confortables)
565, rue St-Jean, G1R 1P5
Contact: librairesjb@gmail.com
[Les gens s'identifiant comme LGBTQ sont bienvenues, cinq marches à monter pour accéder à la librairie.]
En serpentant les rues du Quartier St-Jean-Baptiste, souvent je m'arrête à la Librairie du même nom. Un petit escalier me mène à cet appartement converti en magasin de livres. L'édifice est vieux, ça sent un brin l'humidité et les murs sont littéralement couverts de livres. De la fiction française et québécoise, quelques classiques traduits, des essais philosophiques et des fanzines à saveur politique. L'endroit est confortable comme le salon d'un ami; on y sert de la bière, du café, des toiles d'artistes locaux sont exposées sur les murs et on y présente des concerts intimes, des lancements de livres/projets, etc. Le proprio, David Tranche-Montagne, ne se gêne pas pour dire que ce qu'il offre est «une alternative à la débilité ambiante». C'est un lieu pour partager, débattre, rire et apprendre. Je suis à chaque fois surprise de réaliser qu'aucun chat ne règne en maitre dans ce lieu. Je n'ai jamais demandé pourquoi. (*Photo: Al Tuck)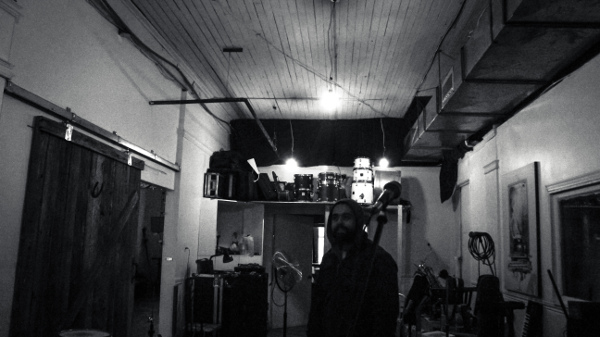 (Ouvert à tous les soirs d'évènements, studio d'enregistrement, locaux de pratique, sérigraphie, concerts)
Contact/booking: pantoum@gmail.com
[Les gens s'identifiant comme LGBTQ sont bienvenues]
[plusieurs marches à monter pour accéder à la salle de spectacle.]
Dans une différente partie du centre-ville, un coin un peu plus glauque, les musiciens Jean-Michel et Jean-Étienne ont fait de leur appartement un lieu rassembleur de création musicale et c'est le cas de dire que je leur en serai éternellement reconnaissante. Ça s'appelle Pantoum-LePhoque. C'est une étiquette, un studio d'enregistrement, un lieu de pratique et de concerts. Il y a sur place de l'équipement de sérigraphie, des grilled-cheeses et un concept 'Apportez votre boire'. L'endroit catalyseur, inspiré d'autres lieux semi-clandestins, invite le partage d'expertises; dans la dernière année, plusieurs projets musicaux sont nés entre ses murs. Ce vomissement punk ultrarapide est mon favori.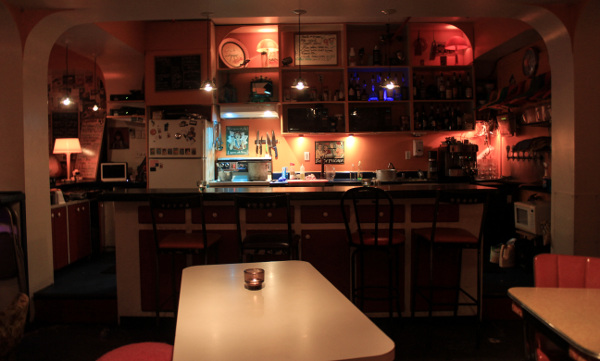 (Bouffe géniale, coupe-soifs, soirées DJ, concerts)
205, rue St-Vallier Est G1K 3P2
Contact: barlacuisine@hotmail.com
[Les gens s'identifiant comme LGBTQ sont bienvenues, une marche à monter pour accéder au lieu.]
Je dois admettre qu'il m'en faut peu pour m'émerveiller. L'odeur du pâté chinois dans le four. Des lampes aux couleurs vives. Une console nintendo et/ou super nintendo. Choisir la meilleure chaise à une table où elles sont dépareillées. Danser sur des vieilles chansons 'catchy' à la manière j'en-ai-rien-à-foutre-de-ce-que-les-gens-pensent. C'est un peu étrange la façon dont La Cuisine combine un décor excentrique et des odeurs délicieuses de la même manière que le faisait ma grand-mère Fleurette. L'endroit a le même confort que son appartement, dans le temps. Des luminaires faits à la main, de la tapisserie DIY et des plantes vertes en veux-tu, en v'la. Et le party y prend facilement.

(Ouvert les soirs d'évènements, coupe-soifs, concerts et performances, soirées DJ)
228, rue St-Joseph, G1K 3A9
Contact/booking: booking@le-cercle.ca
[Les gens s'identifiant comme LGBTQ sont bienvenues, plusieurs marches à descendre pour accéder au sous-sol.]
La première fois que j'y suis descendue pour un concert, je me souviens de la ligne de basse terrifiante de Drogue qui faisait vibrer la cage d'escalier. Un sentiment de claustrophobie envahissant, teinté de sons peu familiers. Une des salles de spectacles les plus établies de la ville possède un espace presque caché pour les trucs lugubres et bruyants. Une initiative de leur extraordinaire 'booker' à temps plein Jean-Claude Anto et de Max Chiasson, l'idée d'utiliser l'espace pratiquement inoccupé du sous-sol du Cercle est venue du besoin de trouver un endroit où présenter et faire jouer les projets de musique pas trop conventionnels, ceux qui ne cadrent pas dans les 'vraies' salles de spectacles. Tout en le faisant le plus DIY possible, à faible coût. Le résultat: des performances et des concerts avec des programmations obscures qui ne peuvent que rivaliser avec vos rêves les plus f(l)ous de découvertes musicales. (*Photo: Leafer, Sean Nicholas Savage, TONSTARTSSBANDHT, Olenka & The Autumn Lovers)
---
---
---