New Canadiana :: Tough Age – Tough Age
---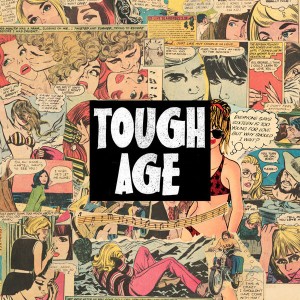 Tough Age
Tough Age
Vancouver, BC
From the dream date of Joel French:
It's a strange feeling to have heard a band's entire catalogue live before hearing a single recorded song. After touring with Tough Age I was afraid to listen to their debut on Mint Records as I thought it would be hard to carry the live energy — now as much a part of the songs for me as the impeccable songwriting itself — to vinyl. I was wrong. Chris Martell's monster drumming, Lauren Smith's neverending smile above driving basslines, Penny Clark's shy mystique and Jarrett Samson's boisterous personality can all be felt just fine on this slab of plastic. What a great pop record by some West Coast pals. Makes me want to eat a sack of 'burgs and dance on some old exercise equipment.
Du rendez-vous galant rêvé de Joel French:
(Traduit par les papillons dans le ventre de Catherine Gaucher)
C'est un sentiment étrange d'avoir entendu en concert le répertoire complet d'un groupe avant même d'avoir écouté un seul de leur enregistrement. Après avoir effectué une tournée avec Tough Age, j'appréhendais l'écoute de leur premier album sur Mint Records pensant qu'il serait difficile de transposer sur vinyle leur énergie live faisant, pour moi, tout autant partie intégrale des chansons que leur impeccable écriture. J'avais tort. Les percussions gargantuesques de Chris Martell, le sourire sans fin de Lauren Smith au contrôle de puissantes lignes de basse, le mystère timide de Penny Clark et la tumultueuse personnalité de Jarrett Samson se ressentent très bien sur cette galette de plastique. Quel grand album pop par quelques-uns de mes copains de la côte ouest. Ça me donne envie de manger un grand sac rempli de hamburgers et de danser sur de vieux appareils d'exercice.
---
---
---