New Canadiana :: Strange Attractor – Back To The Cruel World
---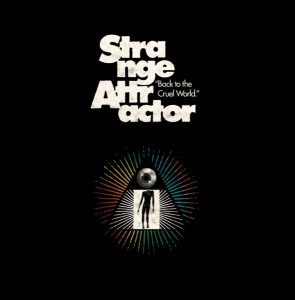 From the akashic record of Brendan Lehman:
From only the finest of decrepit driveways and dingy, rock-filled basements of Sudbury come the latest wonder from Strange Attractor. This garage punk trip hits you in the best of strange ways, like somebody fiddled with the knobs on the way out of the time machine, freaking out as the jams swirl in a sweaty haze of indignant distortion. Throw the Stooges out into the woods for a while and this is what you'll get. That, or it'll just make you want to get naked and climb the rafters. Loud, capricious, and making bad decisions. Mammoth Cave said it's too bad nobody will listen to this record. Prove them wrong.
Des annales akashiques de Brendan Lehman:
(Traduit par les griffes Joannie Pharand)
C'est uniquement sortie des plus belles entrées délabrées et des sous-sols défraîchis remplis de roches de Sudbury que la plus récente merveille de Strange Attractor surgit. Ce voyage garage punk vous frappe d'une façon des plus étranges et agréables à la fois, comme si quelqu'un avait manipulé les poignées en sortant d'une machine à voyager dans le temps, paniquant, pendant que les jams tourbillonnent en une brume moite de distorsion indignée. Jetez les Stooges dans les bois pour un certain temps et voilà le résultat. Soit ça, ou vous aurez une envie de vous dénuder et de grimper sur les chevrons. Bruyant, capricieux et prenant de mauvaises décisions. Mammoth Cave a dit que ce sera bien dommage que personne n'écoute cet album. Prouvez-leur qu'ils ont tort.
Strange Attractor – Escape From DMT
---
---
---