New Canadiana :: Bernard Gagnon – Musique Électronique (1975-1983)
---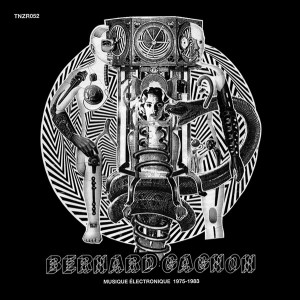 Bernard Gagnon
Musique Électronique (1975-1983)
(Tenzier)
Montréal, QC
From the sea lunch of Jesse Locke:
Musique Électronique (1975-1983) is another fascinating archival dig from Tenzier, the vinyl reissue label exclusively dedicated to Quebec's avant past. Bernard Gagnon's roots run deep into the Montreal subterrain with woefully under-documented projects ranging from the "speed-psych" band Gandarhva to MetaMusic alongside Kevin Austin, founder of Concordia's Electroacoustic Studios. After rubbing shoulders with no less than Xenakis and Cage, Gagnon hunkered down to workshop his own radiophonics, seven of which are collected in this snazzy reish.
The multi-part Moog suite "Gwendoline Descendue!" leads things off with a series of brain-tickling passages self-dubbed "musical giallo", but to these ears sounding closer to a Gristleized El Topo. "Dictée" warps a harried vocal phrase and scribbling pencil into mutant concrete, while closer "Gololo-Mashta" refigures rock group samples into rhythmic shards presaging the sound of Zs. Best of all is "Totem Ben", an aqueous outernational head-nodder created on Synclavier II that bangs like proto-Hobo Cubes. Stylish b&w cover art from the hyper-talented Felix Morel makes this a must-grip.
Du goûter océanesque de Jesse Locke:
(Traduit par le tricotin à mots d'Aliké Harel)
Musique Électronique (1975-1983) est un autre trésor dépoussiéré par Tenzier, maison de rediffusion de vinyles dédiée exclusivement à l'avant-garde québécoise d'autrefois. Les racines de Bernard Gagnon plongent au creux de l'underground montréalais avec des projets lamentablement sous-documentés tels le groupe psychédélique ultra rapide Gandarhva en passant par MetaMusic formé avec Kevin Austin, fondateur de Electroacoustic Studios à l'Université Concordia. Après avoir côtoyé rien de moins que Xenakis et Cage, Gagnon se retire dans son antre pour travailler sur ses propres radiofréquences, dont sept sont réunies dans cette réédition bichonnée.
« Gwendoline Descendue! », suite en plusieurs mouvements au synthétiseur Moog, ouvre le bal avec une série de passages titilleurs de neurones, un enregistrement qualifié par Gagnon de « giallo musical », mais qui se rapproche plutôt à mes oreilles d'El Topo joué par Throbbing Gristle. « Dictée » distord une phrase anxieuse et un crayon gribouilleur pour obtenir un mutant de musique concrète, alors que la finale « Gololo-Mashta » remanie des extraits de groupes rock en éclats rythmés et annonce le son de Zs. La meilleure piste demeure toutefois « Totem Ben », une création exonationale diaphane sur Synclavier II qui bûche comme du proto-Hobo Cubes et vous fera hocher de la tête en cadence. Avec en prime une pochette signée par l'hyper talentueux Félix Morel, sautez sur cet album immédiatement.
Bernard Gagnon – Gololo-Mashta
---
---
---