New Canadiana :: Average Times – Average Times
---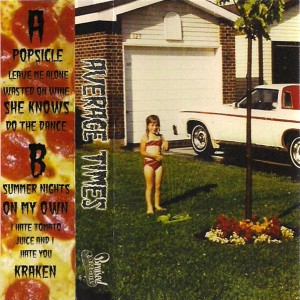 Average Times
Average Times
Ottawa, ON
From the exceedingly average Alex Hamlyn:
The first band in a while to provide the audio equivalent of a devious and mischievous 12-yr-old with a slingshot, Average Times have already set our capital's bruised tongues a wagging. Fuzz-laden guitars buzz like nectar-drunk honey bees, leading the charge with horn-like riffs until the rest of the band is ready to dogpile on you with hook after hook. If you can't be with the cool dude or dudette you like, your boss is a jerk and the pizza you ordered is late, pop this on and turn it all the way up. Day improved 100%, guaranteed — just be prepared for the sugar high you'll be feeling all week.
Du démesurément moyen Alex Hamlyn:
(Traduit par les 400 coups de Nicolas Coutlée)
Premier groupe depuis un bail à nous offrir l'équivalent audio d'un vilain garnement de douze ans armé d'une fronde, Average Times a déjà commencé à faire parler les langues meurtries de la capitale. Les guitares croulantes de fuzz bourdonnent comme des abeilles ivres de nectar et mènent la charge avec leurs riffs aux allures de cor tandis que le reste du groupe s'apprête à fondre sur vous mélodie après mélodie. Si vous ne pouvez être avec ce gars ou cette fille qui vous plait, que votre patron vous fait chier et que le livreur de pizza est en retard, faites tourner ce disque et montez le volume au max. Votre journée s'améliorera de 100%, c'est garanti — préparez-vous seulement à être sur un high de sucre toute la semaine.
---
---
---