Ex Libris :: Everything Is So Political [Sandra McIntyre]
---
Everything Is So Political
Edited by Sandra McIntyre
Calgary, AB
From the ubiquity of Jenya Doudareva:
Jumping from a story of life during the war in Northern Ireland to a narrative of a young woman selling her body for a water bottle that she can then exchange for money, and then to a tragedy of a man whose job it is to photograph prisoners about to be executed, you might ask: "Is everything around us really so political? Why does everything have to be political?"
Many of us don't think of ourselves as political people, because politics is almost a dirty word with a reputation for being duplicitous and ruthless. For this reason we might be compelled to ignore the political aspects of our everyday experiences, which is easy to do if we avoid dealing with the government, laws, and regulations. And when we do come in contact with these things, we accept them as much as an invasive physical exam – necessary but unpleasant.
Nevertheless, the word politics comes from Greek, where politikos means "of, for, or relating to citizens". In that sense, everything is political. Everything Is So Political – a compilation of short fiction by Canadian authors edited by Sandra McIntyre – is exactly that. This collection is exceptionally Canadian in nature, and highlights one of our nation's most distinctive aspects – that of culture and identity. It can be easy to take Canadian multiculturalism for granted and not to dissect how it has been shaping the country; it is very difficult to make sure that everyone's experience is honoured. Everything Is So Political shows how hauntingly distinct the stories that create the fabric of our society can be. The contrast between each individual narrative is as harsh as a slap in the face, and it must be that way if you want to send a message.
De l'ubiquité de Jenya Doudareva:
(Traduit par Alexandre Allouch-Micati)
Alors que vos yeux virevoltent d'une histoire se déroulant lors de la guerre en Irlande du Nord à une autre tournant autour d'une jeune femme qui vend son corps pour une bouteille d'eau qu'elle échangera ensuite contre de l'argent, en passant par la tragédie qu'éprouve un homme qui photographie des prisonniers sur le point d'être exécutés, vous vous demandez : « Est-ce que toutes les choses qui nous entourent sont à ce point politiques ? Pourquoi doivent-elles l'être ? »
La plupart d'entre nous ne nous considérons pas politiques, car le mot en soi est une quasi-insulte, un terme fourbe et sans pitié. C'est pourquoi nous sommes portés à ignorer les aspects politiques de nos expériences quotidiennes, la manière la plus facile étant d'éviter de s'occuper des affaires gouvernementales, des lois et des règlements. Lorsque nous entrons en contact avec ces éléments, nous les acceptons dans la même perspective qu'un examen physique invasif : nécessaire mais déplaisant.
Cependant, le mot politique provient du mot grec politikos qui signifie « du citoyen, pour le citoyen, relatif au citoyen ». En ce sens, tout est politique. Everything Is So Political, une compilation de courts textes de fiction écrits par des auteurs canadiens et édités par Sandra McIntyre, se situe dans cette optique. La collection de nature tout à fait canadienne jette la lumière sur l'un des aspects les plus significatifs de notre pays : la culture et l'identité. Il peut être facile de tenir le multiculturalisme canadien pour acquis et de ne pas analyser l'influence qu'il a pu avoir sur le pays ; il est très difficile de s'assurer que les expériences de chacun sont honorées. Cet ouvrage montre à quel point les histoires qui créent notre société peuvent différer. Le contraste entre chaque récit est aussi fort qu'une claque en plein visage et c'est la meilleure façon de faire pour passer un message.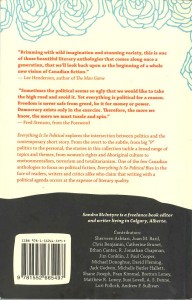 ---
---
---