Weird Stage :: PIG [Tim Luscombe]
---
PIG
Written by: Tim Luscombe
Toronto, ON
From Fouad Oveisy:
Perhaps the pinnacle of PIG is the play's powerful prelude by Harry/Barry/Larry/Garry (Bruce Dow). Is that too many Ps for the preface to a play review? The characters of Tim Luscombe's play do it all on the stage, short of peeing on it: in the span of two hours, they kill, torture, fuck, swear, shout and most significantly engage with some very provocative subject matter. So beware! PIG takes you right out of your comfort zone, into one queer queer world. Ever heard of conversion (voluntary-transmission-of-HIV) parties? I saw it with my own eyes.
There are two main subplots in PIG that run parallel to one another: first, the love story of CUNTBOY (Paul Dunn) and GOURGEOUS FUCKER (Blair Williams) that begins with their online date, and second, Pig/Joe and Knife/Stevie's nightmarish, explicitly detailed sex scenarios. And even though all the flashbacks and flash-forwards in between make Brendan Healy's version of PIG hard to follow, nonetheless, he succeeds in telling a difficult story using a single doorframe and a pair of chairs. One of the main challenges of directing such a complicated script is the successful construction of 'spaces.' The director must be able to successfully morph the homogenous space-time, which hovers abundantly over the empty stage, into tangible localities and temporalities. Spaces that appear and disappear out of thin air in between succeeding acts. And this is where PIG stands out.
Martin Heidegger, the German philosopher, has an interesting conception of space and place. For him, 'space' is not the scientific coordinates that extend into X, Y, Z. Rather it is the openness that exists around places. Also, 'place' is not the mere position of a thing: it is where things, chairs and doors, begin their presence on the stage and create the spaces around them. Similarly, in PIG, chairs let me know that I am inside the bar where the crafty Stevie seduces the simple Joe. It is the 'shut door' of their bedroom that invites you to their lovemaking bed. The same door opens like a closet over and over to more and more spaces: a wedding reception, a nightclub, the torture cell, and, eventually, the conversion party. This scene is simply intolerable: it is the heart of the spatial labyrinth to which you have been artfully and unsuspectingly lured. And its painful rendering cracks open a fissure inside the heteronormative gaze. Joe's character, fragile, sick, and sweet, indiscriminately reflects on the homosexual alterity that is often outcast to the margins of the society, and PIG forcibly includes him back in the view.
This is also why Harry's opening monologue delivers so much impact. His words portray the everyday late capitalist consumer that stands for nothing but his own concerns: he votes for both "David Cameroon and Ed Miliband," "shops at Costco," and gets off from eliminating (murdering) Joe. PIG lets you know, loudly, melodramatically and uncannily, that this average British man can be found in Toronto. Buddies in Bad Times' daring season debut is not a simple British play brought to our local context. Its mutually awkward and suspenseful spaces gradually and effectively tell the life and death of a peculiar gay man in its many facades, multiplicities, and complexities. And it frankly tells you about the Harry(s) that scare him into hiding behind closed doors. I don't recommend PIG for its drama or schizophrenic pace. I recommend it for its BIG playful balls, if you have the heart for it.
De Fouad Oveisy:
(Traduit par Alexandre Allouch-Micati)
Le clou du spectacle est, sans contredit, le prélude puissant que livre Harry/Barry/Larry/Garry (Bruce Dow). Les personnages de cette pièce, écrite par Tim Luscombe, n'ont aucune limite. Ils font presque tout sur scène (tuer, torturer, baiser, injurier, crier et même discuter de sujets controversés). La seule chose qu'ils n'oseraient pas faire sur la scène, c'est pisser sur cette dernière. Prenez garde! PIG va vous sortir de votre zone de confort, avant de vous plonger dans un monde fortement homosexuel. Avez-vous déjà entendu parler des soirées de conversion, durant lesquelles le VIH est transmis de façon volontaire? Je l'ai vu, de mes propres yeux.
Deux grandes sous-trames parallèles se trouvent dans cette pièce. La première tourne autour de l'histoire d'amour entre deux personnages, CUNTBOY (joué par Paul Dunn) et GOURGEOUS FUCKER (joué par Blair Williams). Cette histoire d'amour a débuté par leur rencontre en ligne. La seconde sous-trame se trouve autour des scénarios sexuels explicites et cauchemardesques vécus par Pig/Joe et Knife/Steve. Bien que tous les flash-back rendent cette pièce (mise en scène par Brendan Healy) difficile à suivre, il n'en demeure pas moins que le metteur en scène arrive à nous raconter une histoire difficile, en n'utilisant qu'un cadre de porte et une chaise. L'un des défis de mettre en scène un tel scénario est de bâtir un espace réussi. Le metteur en scène doit être capable de transformer l'homogénéité de l'espace-temps, qui survole abondamment la scène vide, et de la placer dans des endroits et des temporalités tangibles. Des espaces apparaissent et disparaissent, sans préavis, entre les actes. De ce point de vue-là, PIG se démarque.
Le philosophe allemand Martin Heidegger avait une conception intéressante de l'espace. Pour le penseur, l'espace ne se limite pas aux coordonnées. C'est également l'ouverture entre les endroits. Heidegger disait également que l'endroit n'est pas seulement défini par la position des choses et que c'était également là où les choses (des chaises et des portes) prennent vie. Dans le spectacle, les chaises me font comprendre qu'à un moment, je me trouve dans le bar, où l'astucieux Steve séduit Joe, un être simple. La porte fermée de leur chambre, quant à elle, vous invite à voir leur nid d'amour. La même porte (ouverte cette fois) nous permet de voir une réception de mariage, une boîte de nuit, une cellule de torture et, éventuellement, la soirée de conversion. Cette scène précise, qui est la pièce maîtresse de ce labyrinthe spatial auquel vous avez été attirés, est tout simplement intolérable. Le fait qu'elle ait été jouée de façon si douloureuse représente une fissure dans l'air hétéronorminatif. Le personnage de Joe (fragile, malade mais doux) reflète le sentiment d'altérité, que l'on retrouve chez la population homosexuelle. Cette dernière est souvent réduite à jouer un rôle en marge de la société. PIG s'efforce de ramener Joe sous les feux de la rampe.
C'est également la raison pour laquelle le monologue d'ouverture d'Harry a tellement d'impact. Ses mots dressent le portrait du défunt consommateur capitaliste de tous les jours, qui ne se dresse pour rien d'autre que ses propres principes, qui votent à la fois pour David Cameron et Ed Milliband, qui fait ses courses chez Costco et qui jouit lorsqu'il élimine (tue) Joe. PIG vous fait comprendre (dans un mélange de fracas et de mélodramatique) que le Britannique moyen peut se trouver à Toronto. L'émission marquant le début de la saison de Buddies in Bad Times, fort audacieuse, n'est pas que le fruit d'une pièce britannique trnasposée dans notre univers. Ses espaces, à la fois remplis de malaises et de suspense, racontent la vie et la mort, avec toutes les façades, complexités et multiplicités que cela peut comporter, d'un homosexuel particulier. De plus, cette série parle, avec franchise, des Harrys, qui pousseront notre homme à l'isolement. Je ne recommande pas PIG pour le niveau excessif de drame ou pour le flux schizophrénique qu'elle comporte. Par contre, si vous avez l'estomac solide, je vous la recommande, en raison des couilles qu'elle possède.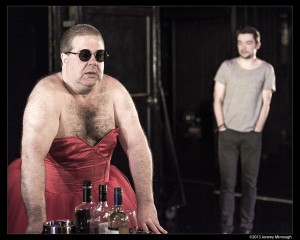 ---
---
---