New Canadiana :: The Moas – The Moas
---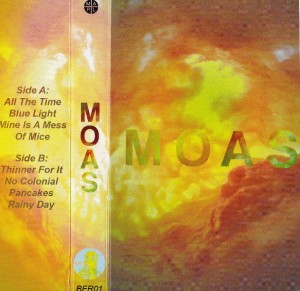 The Moas
The Moas
(Beaumont Records)
Saskatoon, SK
From the emancipation of Joshua Robinson:
Creative enclaves are as diverse as the territories breeding them, infusing artistries that are by no means bound to the hallowed grounds of the dimly lit streets and fractured skylines rendered so by the sonic stirrings of frantic limbs. The prairies, perhaps due to their endearing vastness, seem to be the breeding grounds for the upbeat melancholy sought by dream-pop addicts, whose starving ears can now lasciviously consume The Moas. With their self-titled debut, the band delivers a sonorous expansiveness that rises above the day's relative mundanity. Theirs is a quiet brilliance, conveying a dreaminess hitherto existing solely in the deepest recesses of our estranged sleep. This is a place where intelligibilities are blurred and The Moas reign supreme as the emancipators of the uninspired and dreamless.
De l'émancipation de Joshua Robinson:
(Traduit par le sommeil agité d' Andréanne Dion)
Les enclaves créatives sont aussi diverses que les territoires qui les voient naître, infusant les talents artistiques qui ne sont d'aucune façon liés au sol béni des rues faiblement éclairées et aux horizons fracturés par les vibrations acoustiques de membres effrénés. Les Prairies, peut-être à cause de leur immensité attachante, semblent être un terrain propice à la mélancolie enjouée recherchée par les accros de pop rêveuse, dont les oreilles affamées peuvent maintenant lascivement dévorer The Moas. Avec ce premier album éponyme, le groupe nous livre une exubérance retentissante qui s'élève au-dessus de la banalité relative de la journée. Leur génie est calme, transmettant un état rêveur qui n'existait jusqu'ici que dans les recoins les plus profonds de notre sommeil aliéné. C'est un endroit où l'intelligibilité est brouillée et où The Moas règnent en maîtres en tant qu'émancipateurs de ceux qui manquent d'inspiration et qui n'ont pas de rêves.
---
---
---