New Canadiana :: Sandro Perri – Spaced Out
---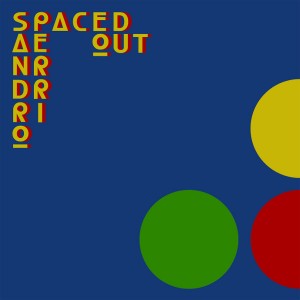 Sandro Perri
Spaced Out
Toronto, ON
From the undulating euphoria of Gabe Girard:
Sandro Perri's Spaced Out EP sounds like a prolonged epiphany. These remixes of songs from his 2011 release Impossible Spaces repurpose the album's largely unplugged selections into an electronic/ambient setting. Perri and Ryan Driver's vocals soar over the dreamscapes, and are made especially interesting by the interaction between drum loops and loose-feeling acoustic drums. The strings, electronics and fuzzy reverbed vox on Le Révélateur's "Wolfman (Sky Mix)" blend well together to form an undulating, euphoric wall of sound.
The original material takes a back seat to the mixes here, where frequencies are calculated and treated with the utmost care. The approaches to the source material are diverse; there are so many different ideas, sounds, frequencies, riffs, etc. going on from tune to tune that you never know what's coming next. Spaced Out is eclectic, surprising, and comes with enough acoustic instrumentation to keep you grounded to earth amongst the electronics.
De l'euphorie ondulante de Gabe Girard:
(Remixé en fréquences francophoniques par Mathieu Bédard)
Le EP Spaced Out de Sandro Perri donne l'impression d'une épiphanie prolongée. Ces remixes des chansons de son album de 2011 Impossible Spaces donnent une nouvelle vocation à ses morceaux largement acoustiques, les remodelant dans une perspective ambiante/électronique. Les voix de Perri et Ryan Driver s'élèvent au-dessus de paysages oniriques, et se font particulièrement intéressantes grâce à l'interaction qui se crée entre les percussions en boucle et le relâchement plus libre des tambours acoustiques. Les instruments à cordes, les sonorités électroniques et les voix troubles en réverbérations sur Wolfman (Sky Mix) de Le Révélateur, s'harmonisent bien pour former un mur de son ondulant et euphorique.
Ici, le matériel original cède la place au mixage qui manipule et recalcule les fréquences avec le plus grand soin. Les morceaux d'origine sont repris au moyen d'approches diverses ; il y a tant d'idées, de sons, de fréquences et de riffs différents d'une chanson à l'autre que nous ne savons jamais à quoi nous attendre. Spaced Out est éclectique, surprenant et comporte une instrumentation acoustique suffisamment solide pour réussir à garder nos pieds sur terre parmi les électrons libres.
Sandro Perri – Wolfman (Sky Mix)
---
---
---