New Canadiana :: Broken Deer – Unseen World
---
Broken Deer
Unseen World
(Self Released)
Halifax, NS
From the kaleidoscopic contours of Joshua Robinson:
Broken Deer's Unseen World is a waking attempt to corporealize the sleeping spirit. Lindsay Dobbin exhumes her slumbering cosmos from the depths of her sleep, pensively thrusting it into the fabric of her awakened day. Enriching consciousness with the palette of dream colours, sleep and wakefulness merge at the point where the hues of one meet the shades of the other.
In these songs Dobbin finds herself in the golden eyes of humpback whales; in the marvelling precipices of oceanic cliffs; in the hazy dream space that exists between harsh tangibility and the warm embrace of the endlessly abstract wilderness of our kaleidoscopically contoured sleep. And she does so with the vigour of an experienced traveller, almost as if cartography means less to her about mapping-out and more about breathing-in the brilliances of the newly discovered.
Unseen World, in both its written and musical forms, is the map of the soul stenciled as its most personal: dreams cast as water-coloured worlds. Here, Dobbin is as much the whale in her dreams as she is the Broken Deer in her everyday.
Des contours kaléidoscopiques de Joshua Robinson:
(Traduit par les onze heures de sommeil de Nicolas Coutlée)
Unseen World de Broken Deer cherche à matérialiser l'esprit du dormeur dans la réalité éveillée. Lindsay Dobbin extirpe son cosmos somnolent des profondeurs de sa nuit et le brode pensivement au tissu du jour lumineux. Enrichie par la palette des couleurs du rêve, la conscience éveillée se fond au sommeil, mélange des teintes de l'une avec les ombres de l'autre.
Avec ces chansons, Dobbin se retrouve dans la prunelle dorée de baleines à bosse, dans les précipices stupéfiants de falaises océaniques, dans l'espace vague séparant la violence du monde concret de la chaude caresse des étendues abstraites infinies qu'offrent les contours kaléidoscopiques de notre sommeil. Elle parcoure ces landes avec la vigueur de l'exploratrice expérimentée, ne cherchant pas tant à cartographier mais à humer les reflets chatoyants de ses découvertes.
Autant dans sa forme manuscrite que musicale, Unseen World est la carte de l'âme reproduite dans tout ce qu'elle a de personnel : des rêves comme une série d'univers à l'aquarelle. Ici, Dobbin incarne tout autant la baleine de ses rêves que le cerf blessé de son quotidien.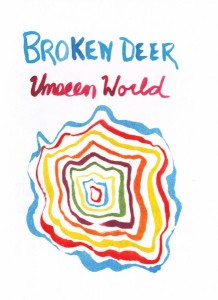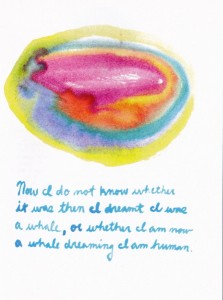 ---
---
---