New Canadiana :: Weed – Deserve
---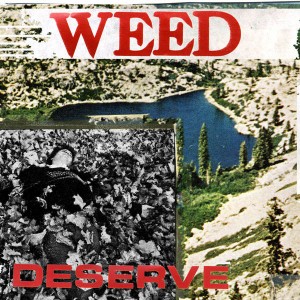 Weed
Deserve
Vancouver, BC
From the scrawled sheets of Bryce Warnes:
Weed's bummed-out love music has always been delivered on tsunami-magnitude fuzz waves, Will Anderson's vocals deep six in the mix and almost incomprehensible. The murk fits with sludge-pop's other aesthetic signifiers: scrawled lyrics sheets, all-ages shows, a blog full of tour pics that could have come from a thrift shop photo cube. On earlier releases this haze threatened to swallow superior songwriting and musicianship, nonetheless leaving intact bittersweet melodies that hang around like old takeout boxes in the back of a station wagon.
Deserve is a new story. The sludge is still there, but it pops. Anderson screams himself hoarse on "Gun Shy", Hugo Jr.'s bass propels "Silent Partner" with diabolic intensity, and on album opener "Heal," Bobby's toms are almost hypnotic. Lyrically, it's still all (obliquely) about the touring life, estranged love, failure. Amber and Ryan, liner note protagonists since With Drug b/w Eighty, continue to make appearances. It's all familiar, but so, so fresh. For the newcomer, this record is a high-fidelity gateway into Weed's sonic universe. For the aficionado, it's a long-awaited long-play debut, one that gives the band the space and sound they deserve.
Des feuilles griffonées de Bryce Warnes:
(Traduit par le flegme bouillonnant de )
La musique d'amour vagabonde de Weed a toujours été servie par vagues distorsionnées de l'ampleur d'un tsunami, la voix de Will Anderson submergée à la limite de l'incompréhensible. Le brouillard convient aux autres signifiants du sludge-pop : pages de textes griffonnées, spectacles pour tous les âges, un blog rempli de photos de tournée qui auraient pu provenir d'un cube photo dans une boutique d'occasion. Dans les parutions précédentes cette brume menaçait d'avaler la composition et la musicalité supérieure, gardant tout de même intactes des mélodies aigre-douce qui traînent comme de vieux plats pour emporter à l'arrière d'une station wagon.
Deserve est une autre histoire. Le sludge est toujours là, mais il éclate. Anderson hurle de sa voix rauque sur "Gun shy", la basse de Hugo jr propulse "Silent Partner" avec une intensité diabolique, et sur la piste d'ouverture "Heal", les toms de Bobby sont presque hypnotique. Côté lyrique, tout se ramème encore (obliquement) à la vie en tournée, l'amour à distance, l'échec. Amber et Ryan, protagonistes des textes de pochette depuis With Drug b/w Eighty, continuent de faire des apparitions. Ça demeure familier, mais tellement, tellement frais. Pour le nouveau venu, cet album est une incursion haute-fidéité dans l'univers sonique de Weed. Pour le mordu, c'est un long-jeu longuement attendu, qui donne au groupe l'espace et le son qu'il mérite.
---
---
---