New Canadiana :: TV Freaks – Two
---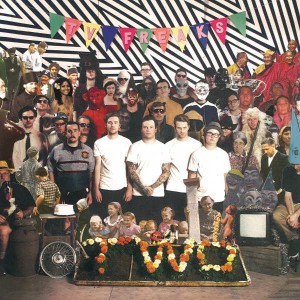 TV Freaks
Two
Hamilton, ON
From the TV eye of Joel French:
If Iggy Pop looked less like a catcher's mitt and more like a tattooed shit-disturber with a beer gut. If the Stooges played spastic punk at breakneck speeds. If they all still had the early energy of the Funhouse days. Then maybe they could hold a candle to these Hamilton punks' live performance. This record sounds and feels just like that. I dare you to stay calm.
De l'œil télévisuel de Joel French:
(Traduit par la danse effrénée d'Andréanne Dion)
Si Iggy Pop ressemblait moins à un gant de baseball et plus à fouteur de merde tatoué avec une bedaine de bière. Si The Stooges jouaient du punk spasmodique à une vitesse casse-cou. Si ils avaient encore l'énergie du début, au temps de Funhouse. Alors peut-être pourraient-ils arriver à la cheville de la performance en direct de ces punks d'Hamilton. Cet album évoque ce son et ces sentiments. Je vous défie de rester calme.
---
---
---