New Canadiana :: 54M1 – 54MP132
---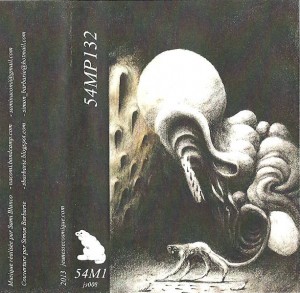 54M1
54MP132
Montréal, QC
From the amorphous impressions of Adam Bradley:
Iridescent tendrils syrup through the temporal skin, flicking seconds, caressing the periphery of awareness. Cold, amorphous impressions squint and tangle, exhaling a dream language. Flitting and glitchy pinpricks of static are contained as a nucleus within the pendulating coelum of some great star beast. Insert the vessel, don the helmet and experience heliotropic growth of thought towards a bright black semi-oblivion.
Des impressions informes d'Adam Bradley:
(Traduit par l'électricité statique d'Andréanne Dion)
Des vrilles irisées glissent à travers la peau temporelle, parcourant les secondes, caressant les périphéries de la conscience. Des impressions froides et informes se penchent et s'enchevêtrent, expirant une langue rêveuse. Des points de statique tordus papillonnent et forment un noyau à l'intérieur du cœlome balançant d'une grande étoile monstrueuse. Embarquez à bord du vaisseau, revêtez votre casque et expérimentez la croissance héliotropique de vos pensées en direction d'un demi-oubli noir vif.
---
---
---