New Canadiana :: Burro – Tangerine Rising
---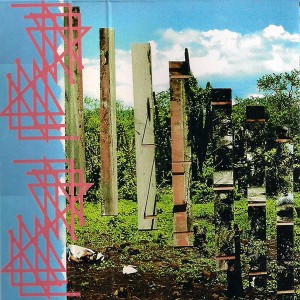 Burro
Tangerine Rising
(USSR)
Calgary, AB
From the strange grassland of Claire Guimond:
"How long have I been here?" Seems like it takes more effort than usual to access your short-term memory, yet it must be there, somewhere, under these heavy planes of uncharted cognition. There's no solar time reference in this strange grassland, though you can barely remember what the sun feels like — is it always so dark at this time of day? If you could just clear your head, block out the noise from the freak sandstorm pressing in on all sides…
But for near-massless particles of sand, like yourself, this storm is your providence and you're not quite ready to be alone and invisible. How could you even go anywhere without a weather system? You're just obeying laws, looking for lower pressure zones, trusting the driving dynamics of the atmosphere. This chaos is controlled, right? How dangerous could it be?
You realize the only way to go is up, so you wait for the countdown that will launch you into space. T minus 2… 1… 0.5… 0.25… 0.125…
De la prairie étrange de Claire Guimond:
(Traduit par Jehane Yazami)
« Depuis combien de temps suis-je ici? » Il semble que l'accès à ta mémoire à court terme demande plus d'efforts que d'habitude, mais pourtant elle doit bien être là, quelque part, sous ces lourds plans de connaissances inexplorées. Le temps solaire n'offre pas de point de repère dans cette prairie étrange, et tu peux à peine te rappeler de la sensation du soleil – fait-il toujours aussi sombre à cette heure? Si seulement tu pouvais remettre de l'ordre dans tes idées, repousser le bruit de la tempête de sable insolite qui t'entoure…
Mais pour une particule de sable qui n'a presque pas de masse, comme toi, cette tempête est une providence et tu n'es pas tout à fait prêt à être seul et invisible. Comment pourrais-tu aller où que ce soit sans un système météorologique? Tu obéis aux lois, cherchant les zones de basse pression, faisant confiance aux dynamiques motrices de l'atmosphère. Il s'agit d'un chaos contrôlé, n'est-ce pas? Pourquoi est-ce que ce serait dangereux?
Tu réalises que le seul endroit où aller est vers le haut, et donc tu attends le compte à rebours qui te lancera dans l'espace. T moins 2… 1… 0.5… 0.25… 0.125…
---
---
---