Festivities :: SappyFest VIII (August 2-4, 2013)
---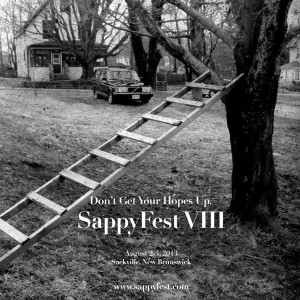 Various Artists
SappyFest VIII
(August 2-4, 2013)
Sackville, NB
From the swan pond of Jesse Locke:
Don't get your hopes up. Those humble words serve as both tagline and mantra for Sackville, NB's annual gathering, yet prove tough to follow with this year's stacked line-up! The next wave of Halifax crashes in with Monomyth, Heaven For Real, Old & Weird and hazy-brained hip-hop crew Weirdo Click. Toronto's Tranzac jazz scene is repped by Alex Lukashevsky and island-timed troupe Eucalyptus (captained by Brodie West), while the forecast for Colin Stetson shows volcanic blowouts. JFM and Karneef bring the brain-warping beats, and for softer ear-candy, catch soul sister Snowblink, Construction & Deconstruction or ol' faithful Chad. But wait… 2013's dark horse could be Sackville locals Kappa Chow, the latest project from the motley Killer Haze crew, with a name swiped from Pootie Tang. Wa da ta!
p.s. Need a pause from the music? Skip on down to Why Nowhere?, Sappy's self-dubbed 'smalltown music conference' featuring a panel from WC's own Marie LeBlanc Flanagan!
De la mare aux cygnes de Jesse Locke:
(Traduit dans la nostalgie des festivals d'été par Andréanne Dion)
N'ayez pas trop d'attentes. Ces paroles modestes sont à la fois le slogan et le mantra du rassemblement annuel de Sackville au Nouveau-Brunswick, mais s'avèrent pourtant difficiles à respecter vu l'impressionnante programmation de cette année! La prochaine vague de musiciens d'Halifax déferle avec Monomyth, Heaven For Real, Old & Weird et le collectif hip-hop des brumes Weirdo Click. La scène jazz Tranzac de Toronto est représentée par Alex Lukashevsky et Eucalyptus, la troupe aux rythmes des îles dirigée par Brodie West, alors qu'on se prépare à des éruptions volcaniques avec Colin Stetson. JFM et Karneef s'amènent avec leurs rythmes à vous tordre le cerveau, et pour vous régaler de sons plus doux, ne manquez pas Construction & Deconstruction, les reines de la soul Snowblink ou encore le bon vieux Chad. Mais attendez… la surprise de 2013 pourrait bien être le groupe local de Sackville, Kappa Chow, le plus récent projet de la bande hétéroclite de Killer Haze, avec leur nom tiré directement du film Pootie Tang. Wa da ta!
p.s. Besoin de prendre une pause de la musique? Allez faire un tour à Why Nowhere? la "conférence musicale de petite ville" de Sappy, où Marie LeBlanc Flanagan de WC animera une discussion!
---
---
---